Imagine a destination wedding and chances are you are visualizing sun, sand and a laid-back tropical vibe. And what if we told you all of that doesn't need to be found so far afield?
By: Robin Westen
The islands of St. John and St. Thomas in the U.S. Virgin Islands deliver big time on romantic inspiration with top catch-your-breath views, silvery white beaches and easy breezy marriage laws. Plus, each packs its own unique spin on the perfect wedding destination.
Caneel Bay Resort, St. John
In 1955 mega-financier and conservationist Laurance Rockefeller realized his dream of a natural resort worthy of Shangri La on St. John. Today this rustically elegant getaway reflects a simpler time with seven pristine beaches set on 170 untouched and spectacularly lush acres. Perfect for couples who want to leave their harried lives behind, there are 166 rooms each with wow views of secluded beaches, tropical gardens and free-to-roam deer, mongoose, donkeys and tropical birds galore. 

Photo courtesy of Caneel Bay Resort
With few electronic diversions, guests can step back in time to enjoy a picnic island jeep tour, day of sailing, guided hike or just loll on one of the many beaches. Wedding planning and arrangements are totally taken care of by the hotel's wedding specialists. Choose the "SImply Us" package for a just-the-two-of-you, swept-away ceremony and romantic dinner on the beach. Larger affairs can include the resort's signature sunset cruise and a menu featuring some popular regional treats such as callaloo (a root vegetable) soup and local lobster. No matter your guest count, most ceremonies happen at Turtle Bay Point, which is perched above the sea (wedding packages start at $3,500 and include an officiant, site fee, bouquet and boutonniere, a bottle of champagne, wedding cake and more; caneelbay.com). 

Photo courtesy of Caneel Bay Resort
The Ritz-Carlton, St. Thomas
This opulent resort with 180 luxurioulsy appointed rooms (each with its own balcony) is set across 30 tropical blooms and affords sweeping views of the sparkling Great Bay. The cove's namsake beach with its golden sands and towering palms is the most popular setting for ceremonies and feet-in-the-sand receptions. For brides who prefer some formality with their seaside celebration, there is the grand marble ballroom. The enormous space has vaulted ceilings, glittering chandeliers, water views and an adjacent stone terrace.

Photo courtesy of The Ritz-Carlton
Daytime activites include hopping on the resort's 53-foot catamaran for snorkeling and sunset excursions. For those who see pampering as a priority, there are dozens of sensual treatments offered in the spa. Off premises, shopping is hopping in the main town, Amalie, where U.S. citizens enjoy a duty-free quota of $1,600 — twice that of any other island in the Caribbean (wedding packages start at $5,000 and include an officiant, some ceremony decor, a bouquet and a boutonniere; ritzcarlton.com). 

Photo courtesy of The Ritz-Carlton
Frenchman's Reef & Morning Star Marriott Beach Resort, St. Thomas
This 478-room, newly renovated resort overlooks the turquoise Caribbean waters from its terraced perch. And as if the sea views from each of the guest rooms weren't enough, the hotel's outdoor glass elevator down to the beach offers an awesome "ah ha" moment. The Morning Star Beach Club is a cool hangout spot to enjoy the island vibe. Tip: Don't be fooled by the Caribbean's tranquil appearance. Waves can be roughh. Good news: Several of the hotel's impressive outdoor pools are of the infinity variety and entice a glorious soak or swim.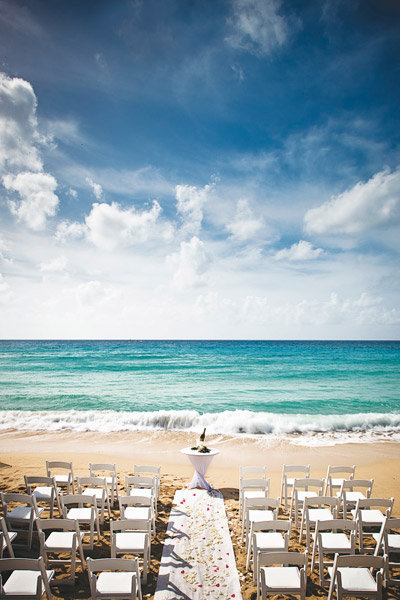 Photo courtesy of Paradise by Marriott
Weddings at this St. Thomas property are often held barefoot-style on the golden beach or in the picturesque, bluff-top wedding gazebo. For an intimate experience, reserve the Beacon Lounge, a wine cellar space the accommodates up to 12. For groups as large as 1,000, there's the formal Grand Harbor ballroom with its enormous windows that look onto the azure sea. After the festivities, guests can kick back at the resort's spacious spa (wedding packages start at $1,099 and include an officiant, ceremony location fee, room category upgrade and more; marriott.com). 
FYI: As a territory of the United States, the U.S. Virgin Islands have fairly simple wedding requirements. All couples must receive a license by applying via mail to the Superior Court of the Virgin Islands. The applications, which must be processed at least eight days prior to the wedding, require a fee of $200, the dates of visit to the island, the date on which the couple is to pick up the license in person, and, if applicable a divorce decree or death certificate. Couples must furnish photo identification upon receiving the license at the federal court building.