Few things are more romantic than a private-island resort; that's why they're such a favorite with honeymooners. But that castaway feeling is also what makes them the perfect spot to say "I do" in front of family and friends.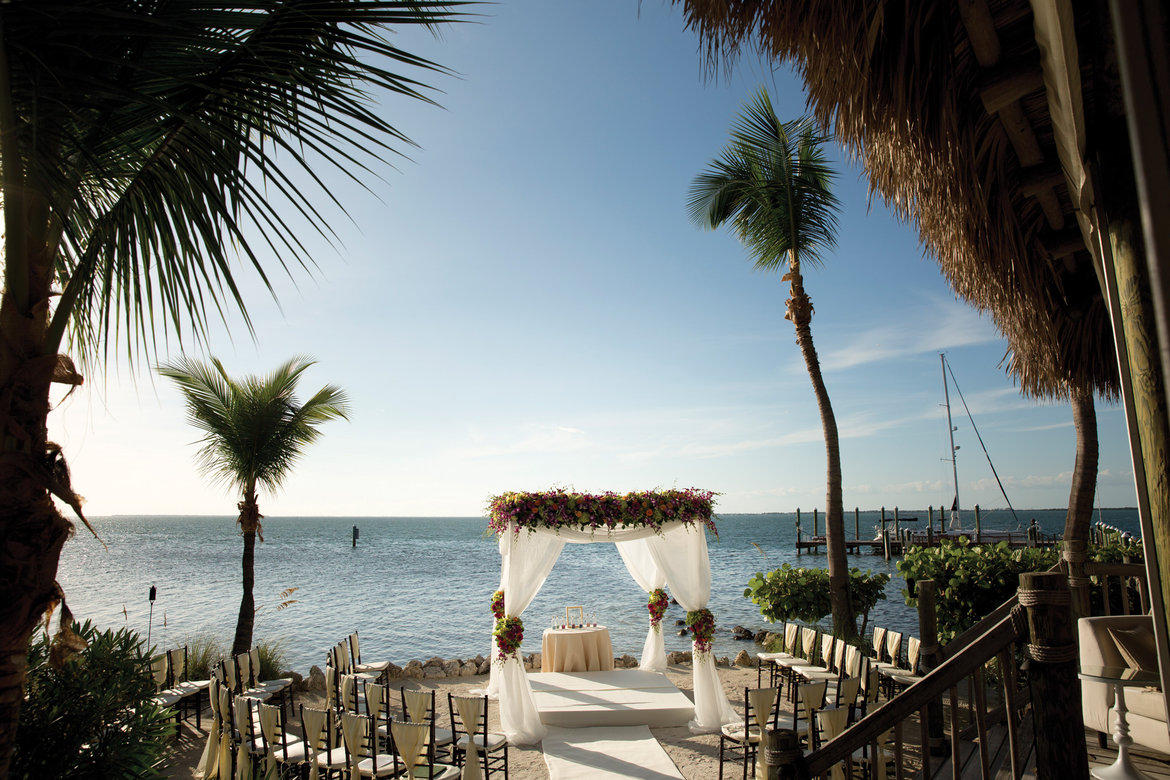 A wedding at one of these three intimate resorts is a wonderful way to share your special day surrounded by the ones you love.
Little Palm Island, Florida
While some private islands are at the ends of the earth, Little Palm Island is just at the end of U.S. Highway 1 in the Lower Keys. The five-and-a-half acre oasis is at mile marker 28.5, but once you board the private launch for the 15-minute ride to the island, the real world drifts away. This romantic favorite recently underwent an extensive renovation, refreshing the lagoon-style pool and adding new amenities, such as deckside hot tubs, and building paths from the suites to a private beach. Have your ceremony on the west-facing sun- set dock for beautiful photos and portraits. Then hold a four- course reception dinner at a long candle-filled table in the sand under palm trees lit with colored lights — shoes are optional, but the key lime pie is required. The resort only allows guests 16 and over, so if you want to include a cute flower girl or ring bearer, you'll need to buy out the entire property (for 41 to 60 guests). Reception fees start at $125 per person; buyout weddings with 60 guests start at $175,000.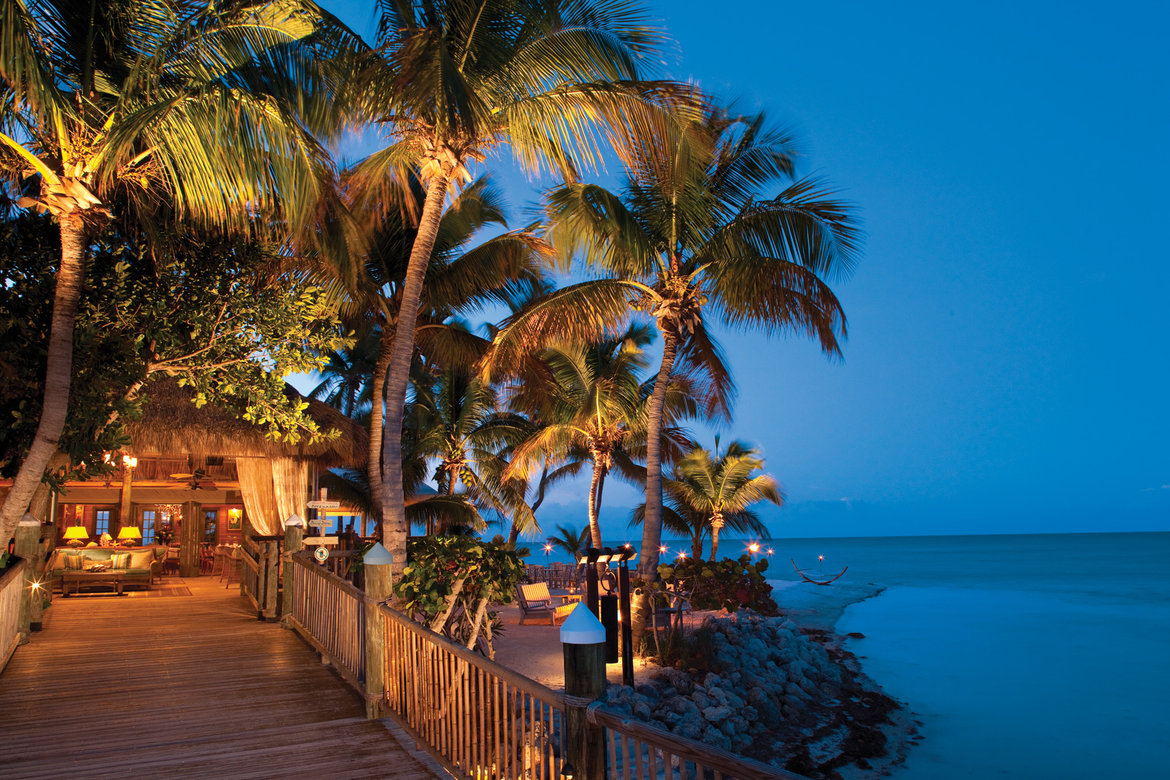 Photos courtesy of Little Palm Island
Turtle Island, Fiji
Turtle Island put Fiji on the map as a dream South Seas island destination for loved-up couples when it opened over 30 years ago. The resort hosts a maximum of just 14 couples, who stay in thatched-roof bures (bungalows) with canopied king beds, Jacuzzi tubs and shady verandas over-looking the South Pacific. Celebrate your big day in true Fijian style with a Polynesian party. The bride arrives by raft and is carried in by two warriors to the sound of thundering drumbeats, and the ceremony takes place on one of the island's 14 white-sand strands (Long Beach is the favorite) or in the onsite chapel, complete with live choir. Afterwards, pass the ceremonial kava cup before dinner under the stars on a floating pontoon or the wooden dock. The resort holds just one wedding per week, ensuring supreme privacy and the staff's complete focus, plus all-inclusive pricing for you and your guests. (The resort is adults-only, but allows children a few times per year, including the winter holidays.) Wedding package rates start at $3,000 and include ceremony with Methodist officiant, reception, kava ceremony and champagne toast.

Photos courtesy of Turtle Island
Kamalame Cay Private Island Resort, Bahamas
The 96-acre island is separated by a marine channel from Andros, one of the Bahamas' most pristine and undeveloped islands, which makes it perfectly suited for destination weddings. Up to 70 guests can stay in cottage-chic hotel rooms or one of six stand-alone villas, which range in size from one to six bedrooms, with vaulted ceilings, wraparound porches and full kitchens — they're ideal for families. Hold a welcome cocktail party at the Colonial-style Great House; it's the gathering place for meals as well as evening cocktails. Your ceremony takes place on the beach, followed by a tented reception with fresh seafood, live reggae band and late-night snacks served around the bonfire. Incorporate local color with tropical linens and hand-dyed fabrics from Androsia Batik Factory just down the road. Wedding packages start at $800 and include license, officiant, wedding cake, bottle of champagne and private picnic lunch.

Photo Credit: Danilo Scarpati
Legally Wedded
In the Bahamas, applications for a marriage license must be filed a minimum of two weeks before arrival, plus the couple must be on the island at least 24 hours before their wedding. Marriage licenses are required in Florida and are valid for 60 days from date of issue. Couples at Fiji's Turtle Island can send a notarized form along with their birth certificates, and the resort will obtain the wedding license before their arrival. Otherwise they need to apply for a license at the nearest registry or district office at least three days before the ceremony.