Of course, your love is better than chocolate, better than anything else that you've tried, just like Sarah McLachlan sang. But for many, the classic confection is a very close second.
By: Carrie Bell
-AS SEEN IN BRIDAL GUIDE MAGAZINE-

Photo: Jade Mountain
Why not marry the two by getting hitched at a hotel that's also crazy for cacao? These wedding packages are as decadent as they are delicious.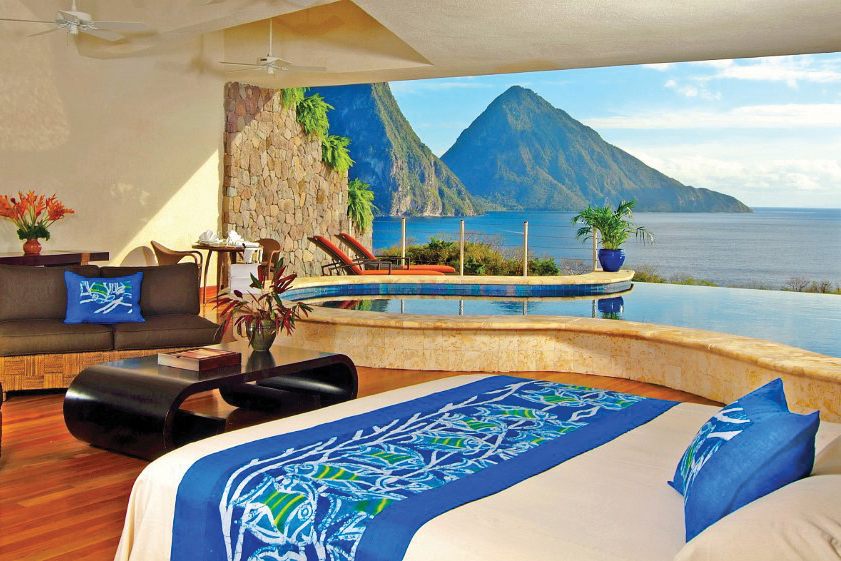 Photo: Jade Mountain
Add sun, sand, surf and sugar to your celebration at this spectacular resort on St. Lucia. Home to an expansive as-seen-on-The Bachelor terrace with panoramas of the island's emblematic Piton peaks, the remains of an 18th-century sugar plantation, a lush hillside farm, two beaches, a treehouse and more, the resort is the embodiment of a romantic hideaway. Punctuating the 600-acre property are about 2,000 cacao trees. Like the fruits of the on-site gardens, the cacao beans are harvested and used for bean-to-body spa treatments like the mocha massage and chocolate-oil third-eye drips, as well as in candied cocktails, catering and dessert buffets. The in-house, full- time chocolate alchemist holds tastings and workshops in his lab. And he's on hand to sculpt edible centerpieces and cake toppers, and custom candy-bar favors featuring your favorite liquor, nuts or local fruit for your wedding weekend. Tip: Grab some chocolate to savor while stargazing from your private plunge pool. Add an extra layer of saccharine detail by picking a date in August, the island's of cial Month of Chocolate (wedding packages start at $1,395 and include ceremony site fees, an officiant, a bouquet, a cake, a champagne toast and more).

Photo: Rocco Forte Hotels
Brussels, the home of Godiva, praline inventor Neuhaus, and Leonidas, is so cuckoo for cocoa that there's one chocolatier for every 2,000 residents. Positioned next to the awe-inspiring Grand Palace this 174-room hotel has partnered with a chocolatier Chic Hotel Amigo in Brussels for a palate-pleasing package that includes a behind-the-scenes tour and a chocolate-making master class at the atelier of maître chocolatier Laurent Gerbaud. Have it made into a private experience for your wedding guests and leave a bevy of bonbons as a welcome treat. Partake in Bar A's elegant afternoon tea with truffles and serve their renowned barrel-aged negronis at the reception.

Photo: Rocco Forte Hotels
Smaller soirées are celebrated on the top-floor suite's expansive terrace with city hall's gothic spire overhead adding drama. Bonus: Romantic symbolism abounds — this is a heart-shaped city in the geographic heart of Europe (wedding packages start at about $134 per person and include cocktail hour canapés, three-course dinner, dessert, some owers, the venue site fee and more).

Photo: Uxua Casa Hotel & Spa
Cacao trees are native to the Amazon, and South American chocolate consumption dates back 4,000 years, so why not revel in its delectable history? This boho-modern eco-conscious resort, a collection of 13 reimagined homes (some are 500 years old) and an organic spa that offers a seed-to-skin facial, sits in a quaint traffic-free town square in a remote Brazilian fishing village. Exchange vows in the town's simple white church — the country's second oldest — or in the sand amid mangroves. Then feast on homey Bahian dishes and vegetarian fare (introduced when hippies relocated to Trancoso in the '70s) at the beach bar made out of repurposed boats. Save room for dessert, which should include scoops from the on-site ice cream parlor. The house specialty is chocolate pepper, made from cocoa and peppers grown on site, but brides can invent a custom flavor as well (wedding packages start at $65 per person. Venue site fees start at about $1,302).