A Miami couple shared their amor at this charming Central American village hideaway.
By: Jenna Mahoney
-AS SEEN IN BRIDAL GUIDE MAGAZINE-
"I fell in love with Guatemala when I first visited in 2013, says Luisana née Suegart Cruz. "The remoteness of it, the colors, the charm, the culture — it's unforgettable." Add the fact that her first weekend getaway with her now husband Jeremy Cruz was to a wedding in the Colonial Guatemalan town of Antigua, hosting their own celebration in the Central American country was destined. "Guatemala became our spot," Luisana explains. The Miami couple got engaged in photogenic Antigua and celebrated months later at Casa Palopó, an intimate hideaway perched above Lake Atitlan.
Picture-Perfect Location
"Lake Atitlan can and will take anyone's breath away," says Luisana. "The location is absolutely photogenic. And it's a hidden gem that is transformative and intimate," she explains. The crystalline body of water, framed by a trio of volcanoes and verdant hills topped by tiny villages, is actually a caldera —a volcano that collapsed into itself after a massive explosion. Boating (an activity the couple hosted for guests) is a hallmark activity. Hiking is, too — the Indian Nose Trail is especially spectacular at sunrise. The day-long trek up the San Pedro volcano promises unbeatable views.
Each of the 12 villages on the rim of Lake Atitlan is known for a particular tradition. Not only does that translate into up-close tours of family-run producers, but it also means excellent shopping. Luisana's picks include textiles (San Juan La Laguna is home to weaving cooperatives), handmade jewelry (Santiago has beading), coffee and champurradas (crisp, buttery sugar cookies). "The outdoor fireplace that's poolside at Casa Palopó's villa is the perfect, romantic perch to enjoy the sunset with a glass of wine. It's pure magic."
Spirituality
One of the charming pueblos is Santa Catarina Palopó, home to an equally quaint — and uber Instagrammable — church. A religious ceremony was important to the couple, who worked with their local parish to make sure they had the Catholic church's blessing. As a bonus, the town was undergoing transformation via the "Pintando Santa Catarina Palopó" initiative, a project in which homes are painted with murals depicting Mayan heritage.
Shamanism — the spiritual practice of reaching altered states of consciousness to achieve transcendence — is widely practiced in the villages of Lake Atitlan. Visitors can receive blessings from the traditional local healers. The rituals often feature chanting, drumming, the burning of incense, and strategic placement of candles. At Casa Palopó, guests can request a private blessing, which often takes place on the highest point of the property at sundown.
On the Menu
Guatemala may be best known for its coffee — Starbucks sources much of its java from the Central American country — but its cuisine is equally outstanding. "Our welcome dinner was 100% Guatemalan," says Luisana. They served mini enchiladas, tostadas with guacamole and black beans, and mini quesadillas. There were Gallo beers (the national brew) and a rum bar featuring local spirits. The main attractions: A local woman, who handmade tortillas on a comal (smooth, flat griddle made of clay), and weavers, who demonstrated traditional Mayan textile techniques.
 Where to Stay
Lake Atitlan is one of Guatemala's most recognized sites. Its name — a Mayan word that means "the place where the rainbow gets its colors" — is as magical as the setting. Check into Casa Palopó and observe the natural kaleidoscope from one of its expansive, sun-drenched stone patios.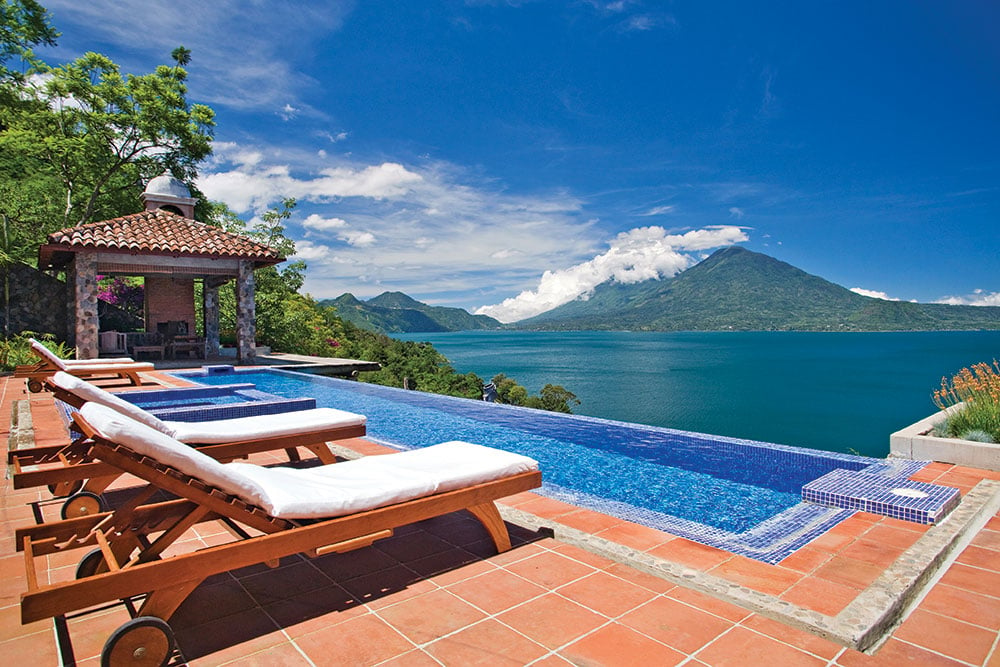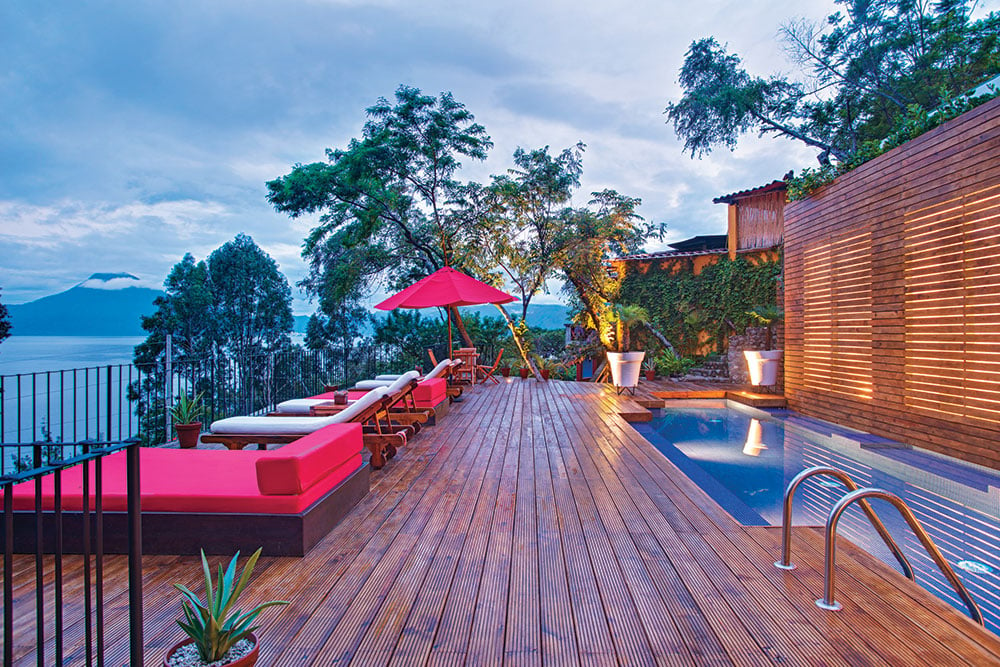 Thanks to its intimate setting (there are just 15 guest rooms) and excellent personalized service, a stay at this decadent property positioned on the rim of the cobalt lake feels like being welcomed to an aunt's grand home. Each of the accommodations is individually appointed in vibrant colors and local wood accents, and features jaw-dropping views of Lake Atitlan. Many have posh touches including rain showers, original artwork and private balconies.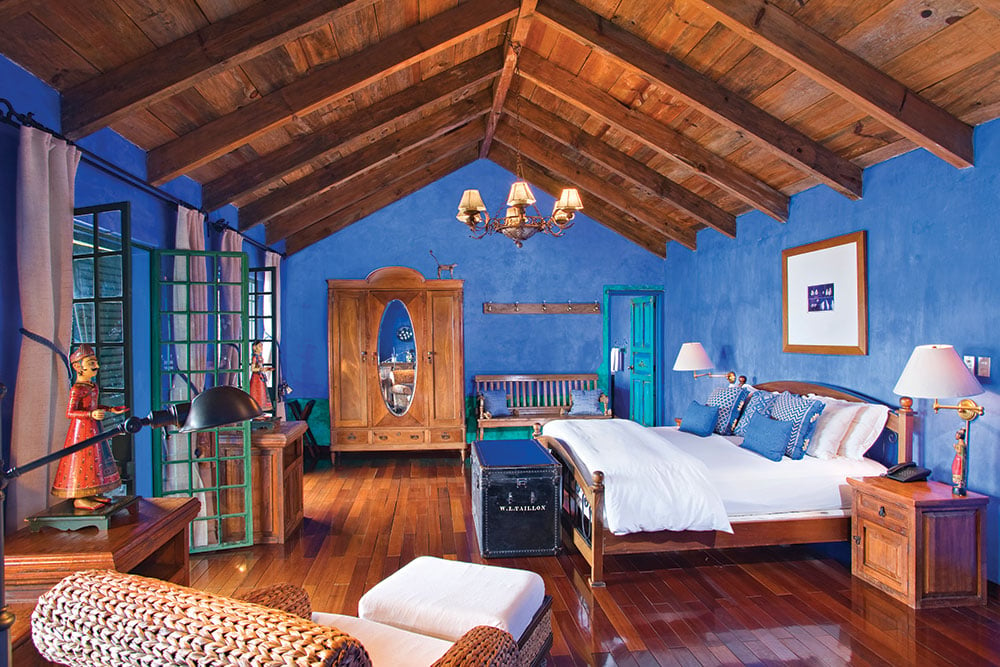 Spend a day kicking back on your patio, sipping local coffee and watching the sun glitter across the shimmering water. Or splash around one of the two pools as you gaze upon the surrounding mountainous landscape dotted with collections of colorful buildings and winding roads that snake to and fro. When you do choose to venture out, the concierge can arrange boating excursions to the surrounding towns complete with guides. And before you village hop, you'll want to fuel up on the fantastic Casa Palopó breakfast with local coffee, of course, served on the hotel terrace. The desayuno chapin is an awesome showcase of the best of Guatemala — farm-fresh eggs, warm tortillas, puréed black beans and queso fresco (room rates start at $331 a night and include breakfast). 
 Legally Wedded
Licenses are required to wed in the country of Guatemala. Proof of age (birth certificates) and, if applicable, divorce decrees or death certificates, along with libertad de estado (affidavit or letter of intent to marry) must be presented and authenticated by a Guatemalan embassy or consular office in the United States. The $50 fee for the notarization process, payable in cash only, can be paid with American dollars or Guatemalan quetzales. The marriage does not need to be authenticated by foreign consular officers in order to be valid outside of Guatemala.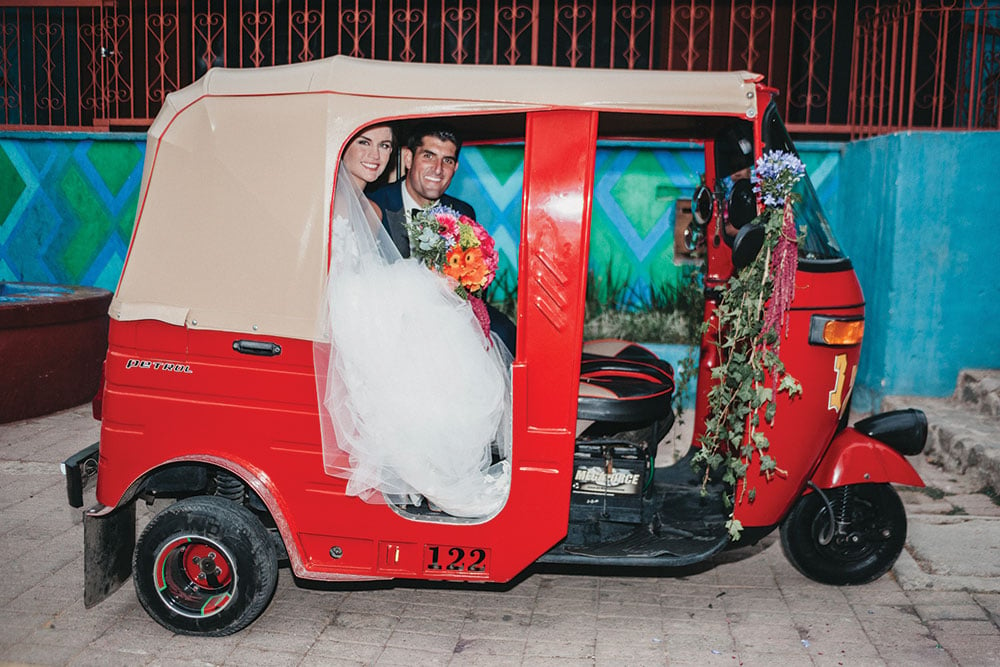 Vendors