-AS SEEN IN BRIDAL GUIDE MAGAZINE-
It's a place that exudes romance. It's a place where classic Colonial architecture is accented by pretty flora and leafy trees, and cobblestoned streets wander in the shadow of Mexican mountains. This jewel of a destination is San Miguel de Allende, a Mexican national monument and site of the wedding of expat Katharine Hibberts Quero and local José Antonio Quero. The couple, who each work in the travel industry — she's the owner of Premier San Miguel House Rental & Concierge, a villa rental company; he's the owner of SMXperience, a transportation and tour outfit —  live locally and wanted to share the photogenic destination with their guests. And in addition to celebrating their love, Katharine and José Antonio toasted to local cuisine and traditions.
Wedding Parade
One of the most memorable moments of Katharine and José Antonio's wedding weekend is also one of San Miguel's most memorable traditions. The callejona is a procession of the wedding couple, guests, a mariachi band and mojigangas (giant puppets and streamers). The couple's parade featured dancing by the participants and began in the main square, El Jardín.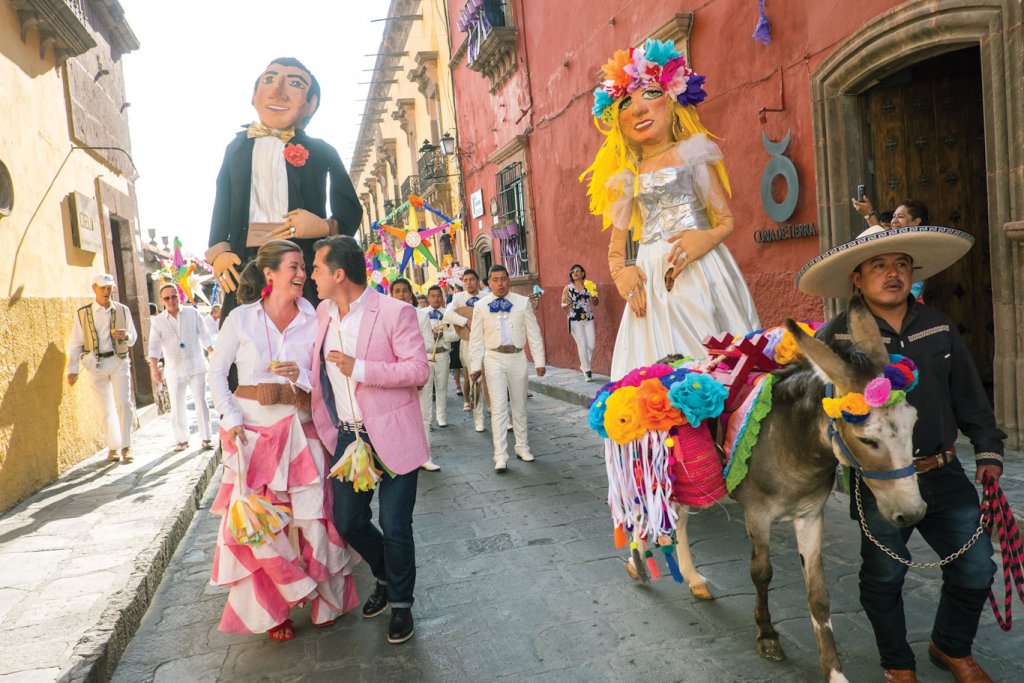 What to See
As a travel pro, Katharine often gives advice on the best bets in town. Some of her favorite San Miguel spots include the pool at Casa Hyder — "it's so romantic positioned under the Jacaranda tree." The couple hosted their rehearsal dinner dance party here. She also says the Luna Rooftop Tapas Bar at the chic Rosewood Resort is the top perch for watching the sunset. "The views of San Miguel are amazing and they have live music," says Katharine. And "La Parroquia de San Miguel Árcangel — the iconic church that has become the symbol of San Miguel de Allende," is a must-see for all visitors, she claims.
The houses of San Miguel de Allende are Colonial style, with understated facades and oversized doors that open onto manicured courtyards.
What to Pack
She may be an expat local, but Katharine still has some must-pack secrets for visitors to her adopted city. First you must have good shoes — "we have cobblestone roads," and layers, since the mountain desert climate can change quickly. And don't forget the sunscreen — the city enjoys 280 days of sun during the year.
"The food scene is fantastic!" says Katharine. "And some of the street vendors are my favorite spots: The best taco cart (for tacos al pastor) is located on San Francisco street," she explains. "Senor Hamburguesa (that is what I call him, he laughs) – has the best hamburgers; he's in front of the Banamex bank in the Jardín," Katharine adds. Her favorite lunch is at Posadita, which excels in traditional dishes and margaritas. "It has one of the best views of Parroquia." Dinner at Atrio, a rooftop terrace also overlooking the church, is her pick for Asian/Mexican fusion cuisine.
In the garden It's common for visitors to be serenaded by mariachi bands in El Jardín, San Miguel de Allende's leafy main square. For the most romantic experience, head there at night and gaze upon the Parroquia (San Miguel's emblematic church) aglow in its evening magnificence, suggests Katharine.
Legally Wed
The requirements for saying "I do" in Mexico are extensive. All couples must be 18 or older and not currently married. You'll need to present a valid passport, tourist card (issued upon arrival), birth certificate, blood test results (done in Mexico), completed marriage application forms from local registry and four witnesses. All foreign documents, with the exception of your passport, will need to be translated, apostatized and notarized. The couple, plus their witnesses, must arrive in Mexico four business days before the wedding day for legal ceremonies. 
Travel Notes
Set in Mexico's central highlands is San Miguel de Allende, a city that flourished thanks to a silver boom in the 17th century. It has long beckoned expats and explorers in search of a romantic escape that's equally sun- drenched as it is culture-rich. At the centerpoint of this gem of a city, which was named a Mexican national monument in 1926, stands the emblematic la Parroquia de San Miguel Arcángel, a neo-gothic dual-spired pink cathedral that anchors the central plaza known as El Jardín.
San Miguel (or SMA as it is sometimes referred) is a lattice of historic cobblestone streets lined with classic Colonial homes, some painted in vibrant colors. Many of the homes are artist residences, studios and galleries. Among the most celebrated are the Escuela Universitaria de Bellas Artes, one of the city's original expat art schools that occupies a former convent, and the newer Fabrica La Aurora, a former textile factory that now houses a showcase of local makers, antique dealers and gallerists.
San Miguel's cuisine is also a hallmark and cooking schools and day-long market and culinary instruction excursions are common. For a true taste of "the heart of Mexico" (another SMA nickname), book into a private villa. Casa Hyder, Casa Chorro and Villa Xido all flaunt gorgeous gardens with pools that may be called cinematic — they are that impressive and accommodate up to 22 guests — the perfect amount for an ultra-intimate destination wedding celebration (villa rentals start at $1,500 a night. There is a three-night minimum).
Vendors