It's kind of incredible to think that enchanting, retro, glam Hawaii is part of the United States. And although it may feel far-flung, the island group has all the convenience of being one of the 50 states — no passports, no currency exchange and no language barrier. All of that translates into a dreamy tropical wedding.
By: Heidi Mitchell
Choose between the aptly named Garden Isle of Kauai and the more urbane beaches of Maui, where luaus and surfing are part of everyday life. Whatever your pleasure, you'll find the ultimate beachy scene on one of these paradises.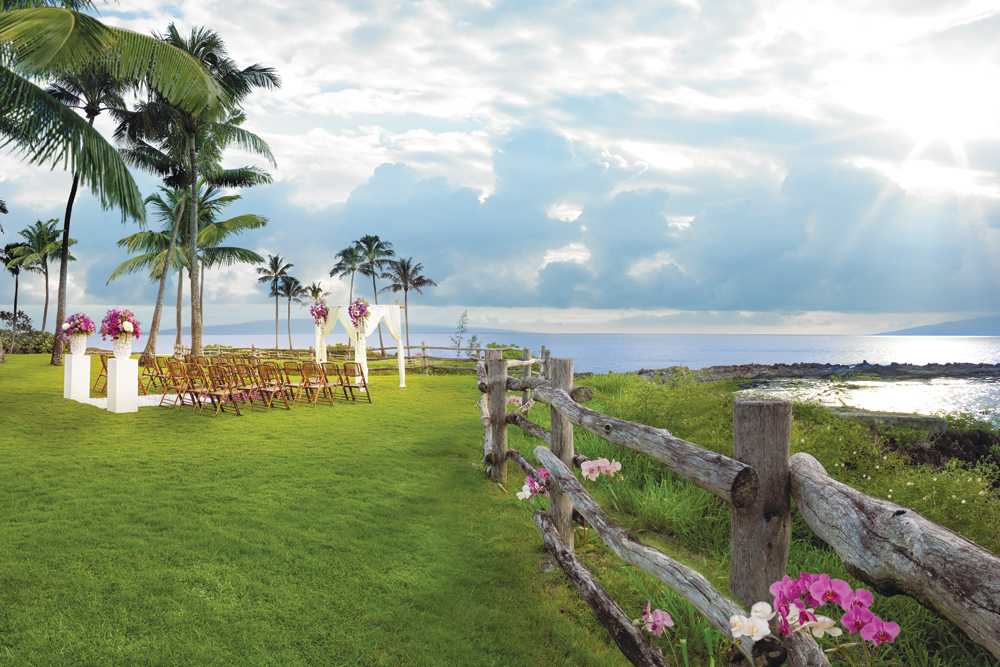 Photo courtesy of Montage Kapalua Bay
For an active wedding, this luxe hideaway set on 24 beachfront acres of Maui is your spot — even if being adventurous means chillaxing on a stand-up paddleboard or indulging in a pedicure. Guests will be awestruck as you walk down the aisle toward the Cliff House, a national landmark on a peninsula that juts way out into the bay. Host the reception on one of the great lawns able to accommodate anywhere from 60 to 580 guests. Wedding packages can include videography, a traditional luau, and custom leis, as well as whatever your inner Hawaiian desires (Specialty flip-flops? Done. Signature cocktail? Easy.) Because the hotel is surrounded on three sides with water, every room has a stellar view.

Photo courtesy of Montage Kapalua Bay
Bonus: the cutest town in Hawaii, Lahaina, is just down the road, where true Hawaiian culture still lives on through shave-ice shops, surfing lessons, local beaches and impromptu barbecues (reception packages start at $200 per person and include a three-course meal and open bar).
This gated community on the southern coast of Kauai has everything to entertain guests during an extended destination wedding. Because it's a real estate venture with owned homes and condominiums, guests have a wealth of options (and price ranges) from which to choose — from a one-room cottage to a three-bedroom villa with an expansive backyard. The Plantation House, the property's hub (we love the honor bar with ice cream and Almond Joys), with its awesome ocean views and traditional porches and lanais makes a picturesque spot for Hawaiian nuptials. Brides can dramatically exit the house onto the lawn overlooking the Pacific, or, for more barefoot luxury, opt for the organic Upcountry Farm with sweeping vistas of the mountains and ocean. On-site wedding planners work with Martin Roberts, a local design firm, to craft specialized events from sit-down receptions at one long table to poolside cocktails. Pre- and post-reception activities are virtually limitless: Take your posse whale watching, biking on cruisers, golfing on the Tom Weiskopf-designed 18-hole course or dining at Roy Yamaguchi's lively, authentic Eating House 1849 (reception packages start at $275 per person and include passed pupus (appetizers), three-course meal, wedding cake and an open bar).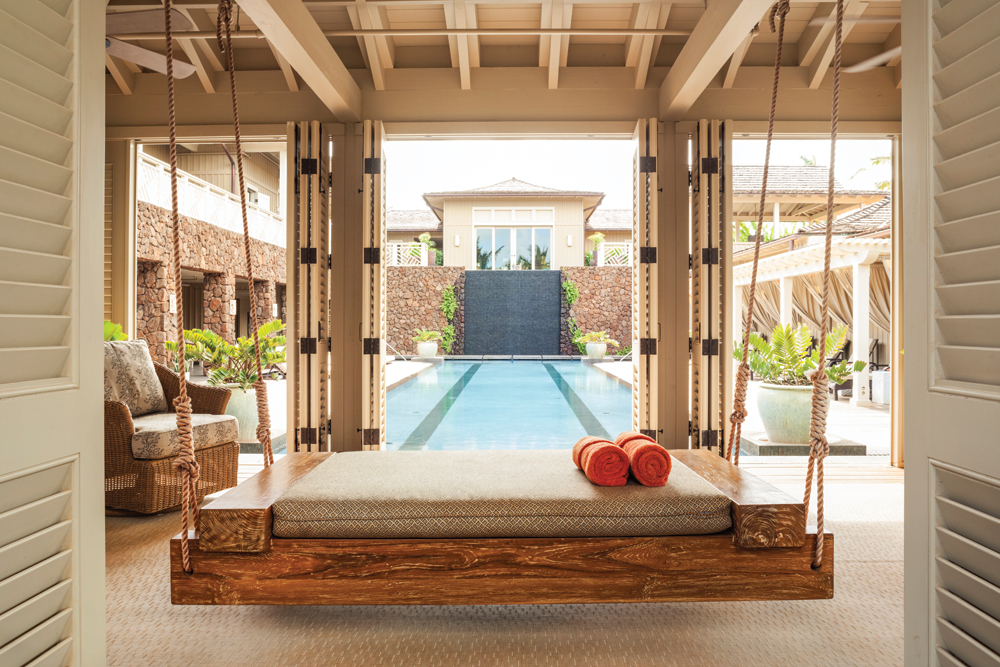 Photos courtesy of Kuku'iula
Sunset doesn't get any more romantic than here, on the north shore of Kauai. Choosing your ceremony location, however, can be a challenge. There's the cliffside Hanalei Terrace, with dramatic vistas of Hanalei Bay and the Na Pali Coast; Kamani Cove, beneath the shade of palm trees; or grand indoor ballrooms (like the famous Astor Room). A dedicated events team meticulously plans every detail down to the in-room goodie bags and precise timing for saying "I do" as the sun melts into the Pacific. They can also arrange only-in-Hawaii experiences for your traveling friends, like hula dancing and luaus. The breaks in and around the Bay are great for beginners and advanced surfers alike (lessons can be arranged, too). And you and your groom can go home with the ultimate wedding gift: a hand-drawn portrait from fashion illustrator Dallas Shaw — a fantastic memento to frame. It's the St. Regis, after all, so rooms are spectacular, with butler service and access to the Remede Spa (reception packages start at $250 per person and include linens, passed canapés, three-course meal, wedding cake, and four-hour bar). 

Photo courtesy of the St. Regis Princeville Resort
Legally Wedded: Saying "I do" in Hawaii is a breeze. Most resorts help with the paperwork and some include transportation to the Health Department (which is where marriage licenses are issued) in the wedding package. The couple must both be present to apply. Each must furnish, along with the application, a certified birth certificate or other valid ID, such as a driver's license, and if applicable, an original divorce decree or death certificate, as well as the $60 fee in cash. There is no waiting period and the license is valid for 30 days.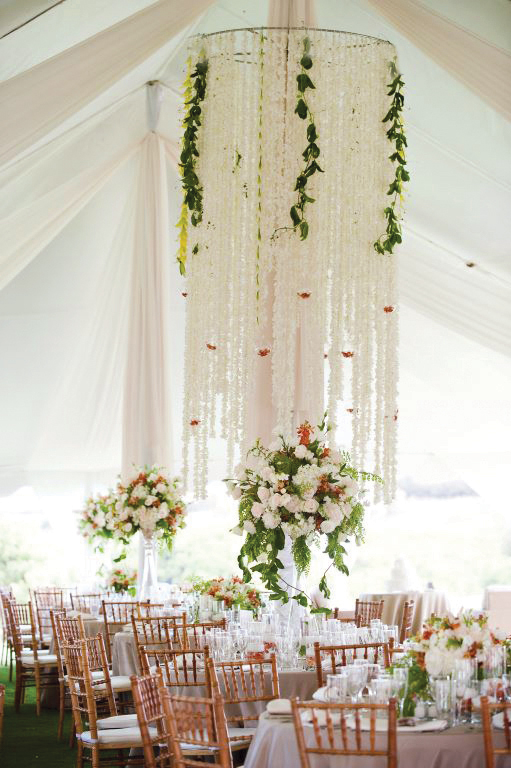 Photo courtesy of Kuku'iula