This formal fete was as big and bold as it was bellissimo! Here's an intimate look at an amazing big day in Florence.
By: Jenna Mahoney
-AS SEEN IN BRIDAL GUIDE MAGAZINE-
La dolce vita — it's a romantic fantasy composed of good food, food wine, and food fun enjoyed on a sun-drenched terrace set in a landscape dotted with gnarled olive trees and parallel lines of growing grapes. Any trip to Italy captures the essence of sweet living in a photogenic locale that's robust with historic attractions and bordered by sparkling waters. And that's just what Oksana and Matthew Barbey wanted to experience during their spectacular wedding celebration. "The classic appeal of Italy and the beautiful embrace of life was exactly what we were looking for in a destination to have our wedding," they say.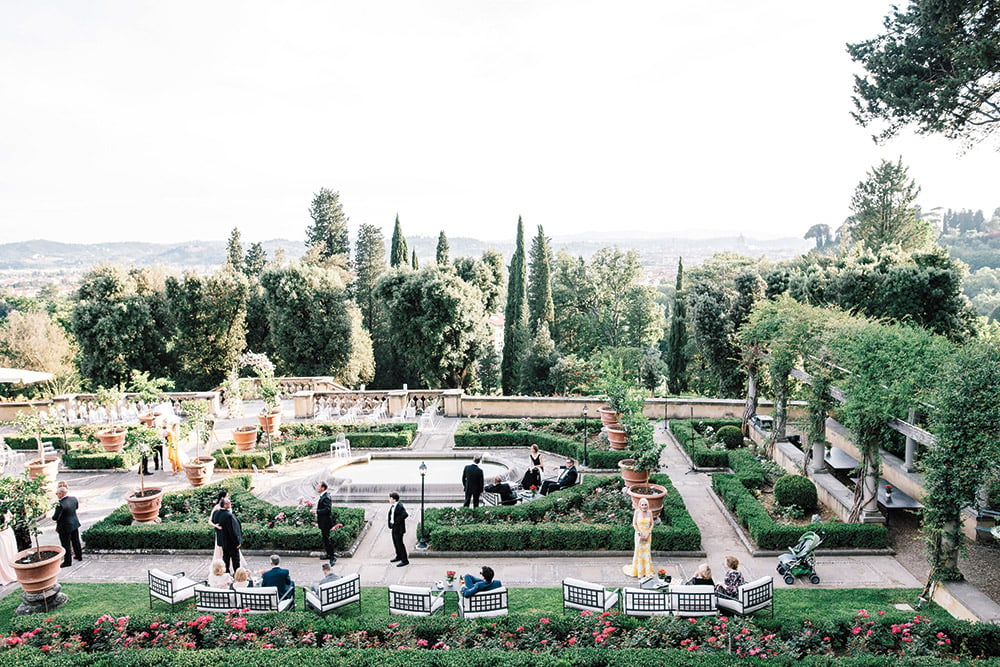 The Tuscan-chic hide-away Il Salviatino ensconced in the picturesque Florentine hills promised this — and more. "The elegance of a historical villa on a Fiesole hillside along with the impeccable staff and service at the hotel was what really sealed the deal in our decision to have our wedding in Italy."
There is a Castle
Most of the weekend events — welcome party, farewell brunch, ceremony and reception — were hosted at the impressive Il Salviatino property. The rehearsal dinner, however, saw the group of revelers on a memorable excursion to the heart of Tuscany's Chianti region. The couple, along with their international guests, savored a 15 ("yes literally a 15 course!") dinner at the jaw-droppingly gorgeous Castello di Verrazzano, an Etruscan era castle and vineyard. The gorgeous estate, which was once the home of explorer Giovanni da Verrazzano (namesake of the famous New York City bridge), offers excursions for visitors. Each guided tour of the organic wine-, oil- and honey-producing expanse includes wine tasting; some also offer meals. Visitors may also opt to enjoy a meal ("made by Italian grandmothers," says Matt) at the farm restaurant.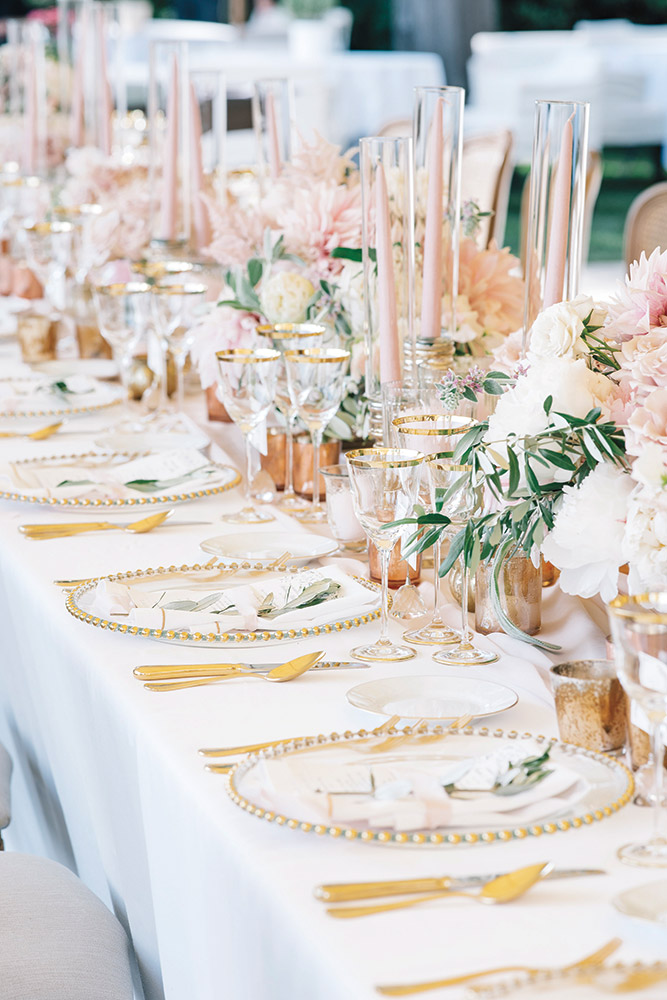 Hot Takes
Matt says, "Rent a Fiat 500 Cabriolet — everyone needs to experience speeding down a winding road through the hillside vineyards of Tuscany in a little Italian convertible!" Oksana suggests checking out Scuola del Cuoio, a historic custom leather workshop that's hidden away in a former Franciscan monastery in Florence. "Our favorite piece is a bespoke leather wedding album made here," says the couple.
Tradition
The couple adopted some delightful new daily habits during their stay at the idyllic Il Salviatino. "We never missed a chance to have an affogato (vanilla gelato or ice cream topped with a shot of espresso), they say. Oksana and Matt also savored the sunset view from one of the property's stone terraces every evening. "The aperitivo service on the patio in the evening was something we never missed," and the couple also reminisces about the excellent melon gelato.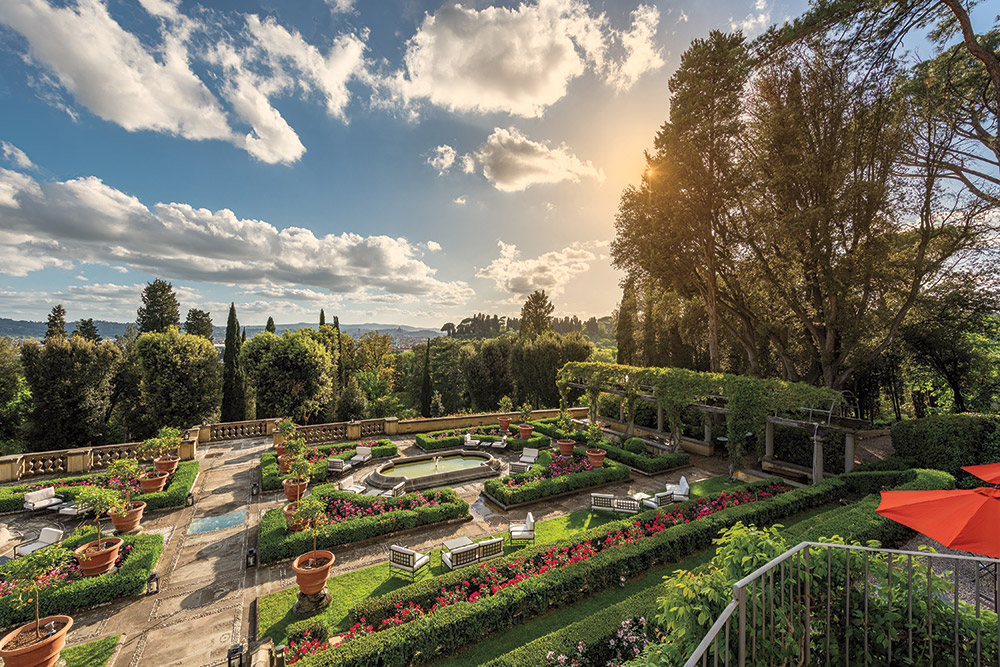 Fresh Baked
Pastry artist Melanie Secciani of Tuscan Wedding Cakes crafted the most magnificent cake for the wedding. And it was a chance encounter: "We discovered our baker when we were walking near the Boboli Gardens and passed her storefront a year before our wedding," they say. "When we went for our tasting, we tried all the traditional flavors (vanilla, chocolate, etc.) but ultimately settled on an unexpected choice — apricot." The fruit was sourced from the baker's orchard at her family home.
Legally Wed
The requirements for non-residents to marry in Italy are extensive, and all documents must be officially translated and apostilled. Marriage licenses are required and should be obtained before traveling to Italy (law requires the license be issued two weeks before the ceremony). Passports, birth certificates and, if applicable, divorce decrees and death certificates must be translated into Italian and authenticated by an Italian Consulate. An Atto Notto (appointment with Italian officials to ask permission to marry) must be requested before arrival in Italy. At that session, the couple along with two witnesses and the interpreter must show proof of entry to Italy or, if applicable, a visa. The Nulla Osta (document stating there are no impediments to marry) is to be completed at this time, as should an intention to marry.
Travel Notes
Its simplicity is stunning. Its scenic expanse is pure and cinematic. Italy's storied region of Tuscany is synonymous with romance. And the robust daydream-realized quality is further enhanced by the region's most memorable cuisine. It's equally as revered as the landscape from which it is born. Visitors here are welcomed to this vibrant life with a homey embrace and the simplest in gracious hospitality, all of which is exquisitely detailed. Add ancient castles and vintage farm estates revamped to be high-end resorts and there's no doubt why this is one of the most desired destinations on earth.
The haute Il Salviatino, a 41-room boutique hideaway tucked into a 15th century villa set in the Tuscan hills with peek-a-boo views of the imposing Duomo of Florence, is the embodiment of all of the region's rich offerings. Each of the guest rooms at this pastoral retreat is individually appointed. Favorites include the Ojette suite, a sumptuous space that sprawls over two floors and includes a private rooftop terrace with Jacuzzi.
True to their name, the greenhouse suites have glass-enveloped living rooms that open to the lush gardens and property's park. Activities are equally bespoke. There are private tours with local makers — perfumers, paper makers, olive-oil and wine producers — and only-in-Italy experiences like gondola rides and grappa tastings. On-property amenities are, of course, high-end and uber luxe, like the new spa and the pool house, while much of the food is gathered from the same surroundings that beckoned guests (room rates start at about $480 a night and include breakfast).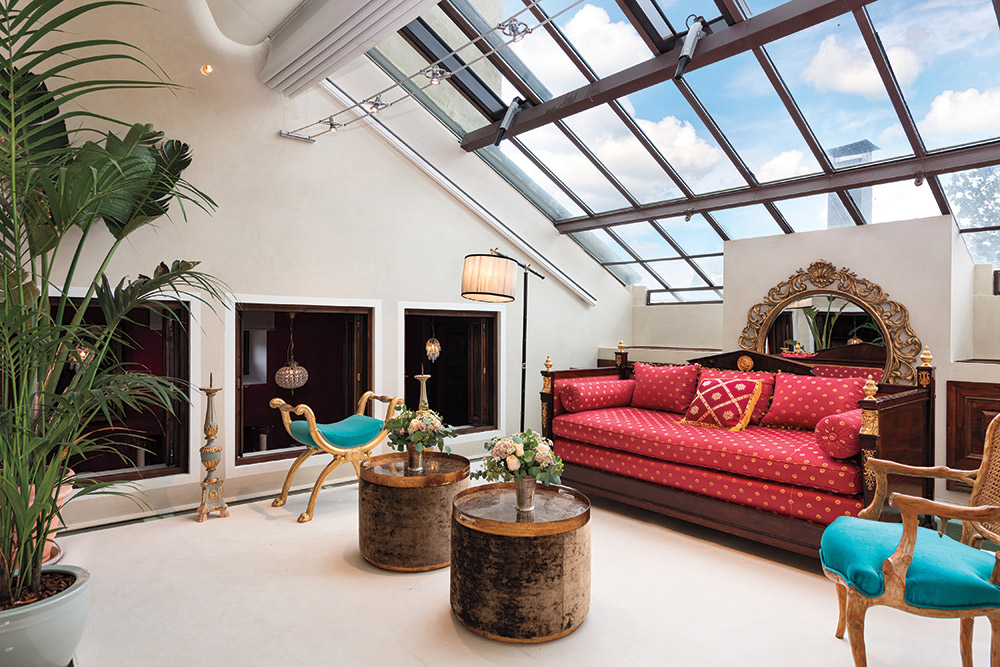 Wedding Details
Venue: Il Salviatino
Catering: Il Salviatino
Wedding Planner: Sara Mazzei, Infinity Weddings
Photographer: Gianni di Natale Photographers
Flowers: Tuscany Flowers
Cake: Melanie Secciani, Tuscan Wedding Cakes
Band: Pop Party Band
Wedding Dress: Peter Langner
Shoes: Miu Miu
Jeweler: Nicole Wegman, Ring Concierge