As the motto goes, "Virginia is for Lovers" — so gather your nearest and dearest, and head to one of America's original 13 colonies to celebrate your union.
With miles of Atlantic Coast shoreline, historic mansions and lush vineyards, there are plenty of scenic spots in this southern state at which to get hitched.
Inn at Warner Hall

Photo Credit: Jumping Rocks Photography
History rules at this romantic, 11-room inn in the southeast tidewater area. Not only is the hotel located on acres of waterfront property developed in 1642 by George Washington's great-grandfather (set a short drive from Colonial Williamsburg and key historic sites), but the beautifully restored mansion is also listed on the national register of Historic Places. Here, couples tie the knot on the West river Lawn (backed by views of the Severn river and a stand of ancient pecan trees), under the majestic silver maple tree in the Front Circle or on the stunning Front Hall Staircase. The Inn can accommodate weddings for up to 175 guests; buyouts are required for any event with more than 10 guests. Most couples opt to do everything from the rehearsal dinner to the day-after brunch on-site. In addition to the history and the lovely setting, a big draw here is the attentive staff that makes each couple feel like a VIP. They've arranged bespoke touches including an on-site "carnival" rehearsal dinner (complete with games and food stands), pre-ceremony skydiving, bonfires, scavenger hunts and a getaway boat to whisk the happy couple away after the vows. Reception meals can include chef favorites like sweet potato biscuits with ham and apple butter, Chesapeake Bay crab cakes, and spinach- and goat cheese-stuffed quail (buyout rates start at $5,000 and include use of house and grounds, on-site coordinator, some decor and more. Ceremony fees are $350. Reception packages start at about $40 per person; warnerhall.com).

Photo Credit: Jumping Rocks Photography
BarboursvIlle VIneyards

Photo courtesy of Barboursville Vineyards
Views of the Blue Ridge Mountains, award-winning wine, and a mansion designed by Thomas Jefferson — you can't get more Virginia than that. Positioned along the plateaus and foothills of the Southwest Mountains in the Virginia Piedmont region, Barboursville produces a number of notable wines on land that belonged to James Barbour, one-time Governor of Virginia. The 900-acre grounds now also hold the intimate the 1804 Inn, as well as three cottages and a three-suite farmhouse. Governor Barbour's friend and neighbor, Thomas Jefferson — himself a winemaker — designed the property's original home, and today the picture-perfect grounds around the mansion's ruins are by far the top pick for ceremonies. Other favorites for vows include the gardens behind the Inn, the Octagon Barrel Room, the terrace of the Piedmont Arcades Banquet Room, Library 1821, featuring historical artifacts, a terrace and views of the vineyards and Shenandoah National Park. Receptions can be held on the Palladio Restaurant's terrace (for up to 22 guests), in the Main Restaurant (for 23-42 guests), in the Banquet Room (up to 200 guests) or in a tent on Governor Barbour's Racetrack, once the front lawn of the mansion. The in-house events team can organize unusual touches (couples have incorporated camels and horses into their festivities), and set up group events. Reception meals are prepared at the on-site Palladio restaurant, which specializes in Northern Italian-inspired fare using local seasonal ingredients (reception packages start at $75 per person and include some canapés and a three-course meal. Location rental fees start at $1,500; bbvwine.com).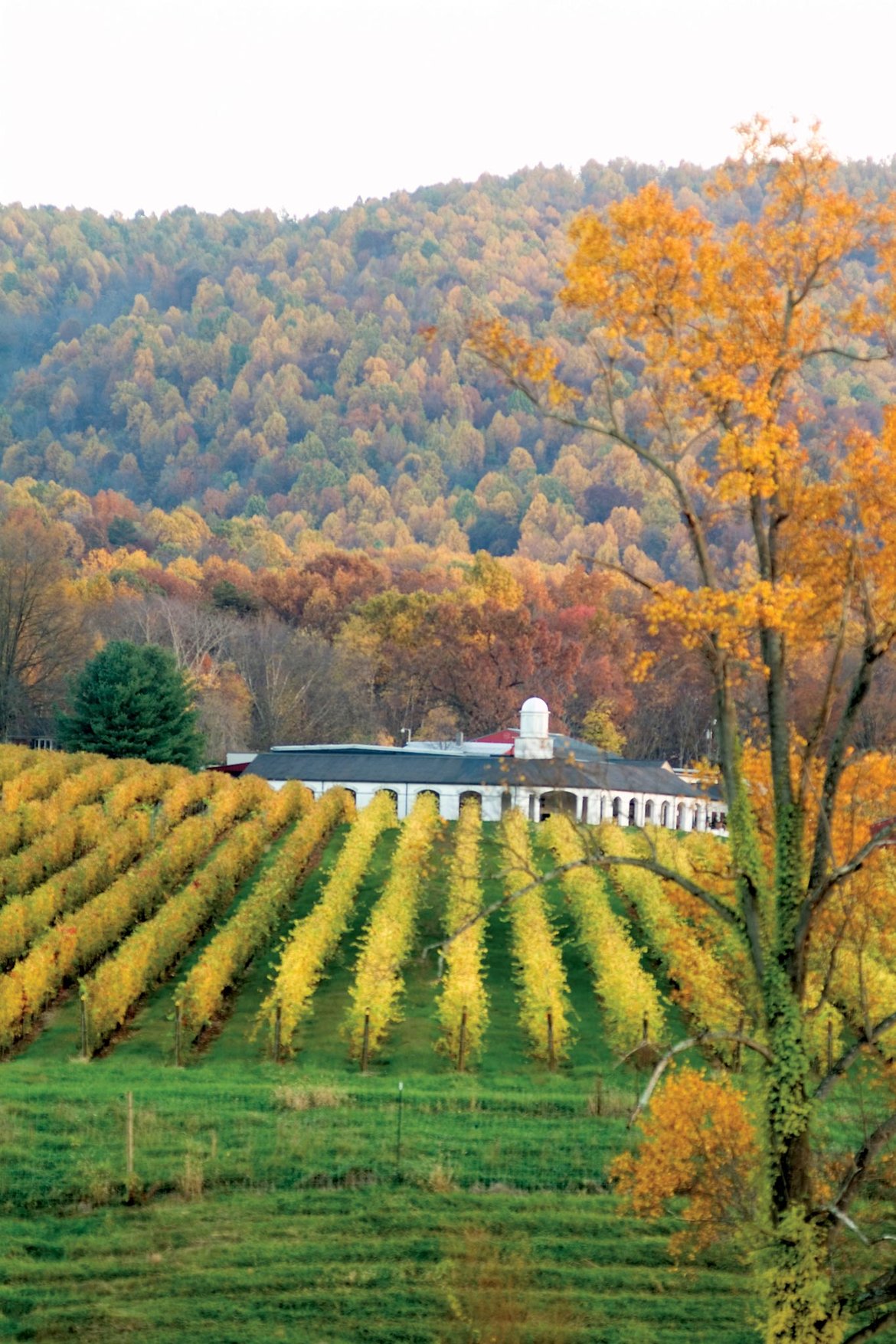 Photo courtesy of Barboursville Vineyards
Lorien Hotel & Spa 
Set on a brick-lined street in the heart of Old Town Alexandria, the Lorien Hotel & Spa offers the best of both worlds: a city setting that's surrounded by boutiques and galleries and close to major area attractions, as well as easy access to Virginia horse country and all its scenic glory. Known for its beautiful spa and destination dining, this 123-room Kimpton brand hotel has become a popular wedding pick both for the elevated cuisine and the varied location choices. Ceremonies with as few as 10 guests have been held in the Presidential Suite, while up to 90 can celebrate on the rooftop terraces and up to 50 can watch the vow exchange on the Freedom Terrace, a private courtyard with an ivy-covered trellis and exposed brick backdrop. From there, many parties head to the Lorien Living Room for cocktail hour, before going into the Liberty Room for the reception. The hotel earns raves for its service and dedicated events team. Then, of course, there's the food: fresh, seasonal, gourmet dishes prepared by the same kitchen as the lauded restaurant Brabo by Robert Wiedmaier. Chefs are happy to customize menus. Fun past add-ons have included a street food-themed reception and coffee or lemonade bars where you guests can spike drinks with flavored liqueurs (dinner wedding packages start at $93 per person and include passed hors d'oeuvres, a champagne toast, a wedding night suite and more; lorienhotelandspa.com). 

Photo Credit: Fred Light
Legally Wedded
Marriage licenses are required to wed in Virginia. There is no waiting period and the license is valid for 60 days. Prices vary from county to county, but are limited to no more than $50. Applications must be made in person at the local circuit court. Couples should furnish, if applicable, any divorce decrees or death certificates. Some applicants may be asked for proof of age.