For wanderlusting couples with a penchant for vintage style, these funky, not-your-grandma's trailer parks promise a charming way to honor your inner road warrior and celebrate your love.
By: Becca Hensley
-AS SEEN IN BRIDAL GUIDE MAGAZINE-

Photo Credit: Nick Simonite
Steer your motor home to new horizons with parties that celebrate the great outdoors, your sense of adventure and your quirkiness as a couple. As Jack Kerouac wrote: "The road is life." Cheers to starting yours together at these three cool spots.
Texan Robert Earl Keen's song "The Road Goes On Forever" becomes a truism in far west Texas' Marfa, a cowpoke brimming artists' colony, where Giant (the western epic starring Elizabeth Taylor) was filmed. Amid the otherworldly high desert, dusty landscape, complete with starry nights, tumbleweeds, and a revitalized two-bit town (now home to an atelier, boutiques and fine dining), El Cosimico occupies 18 acres of nostalgic, cool-kid repose.

Photo: Nick Simonite
Rent out the whole shooting match – a composite that holds seven refurbished, circa-1950 mobile homes (painted in hues from turquoise to pink), yurts, teepees, tents, a performance stage, shared kitchens and more. Proclaim your love in the retreat's ceremony space (for wedding groups of 50 or less), which has a rustic-fashioned altar.

Photo: Nick Simonite
Flowers, décor, extra furniture, and catered dinners beneath the big sky can be arranged by staff (ceremony site fees start at $500. Wedding dinner packages start at $35 per person. Tent rates start at $80 a night and full property buy-outs start at $13,000 a night).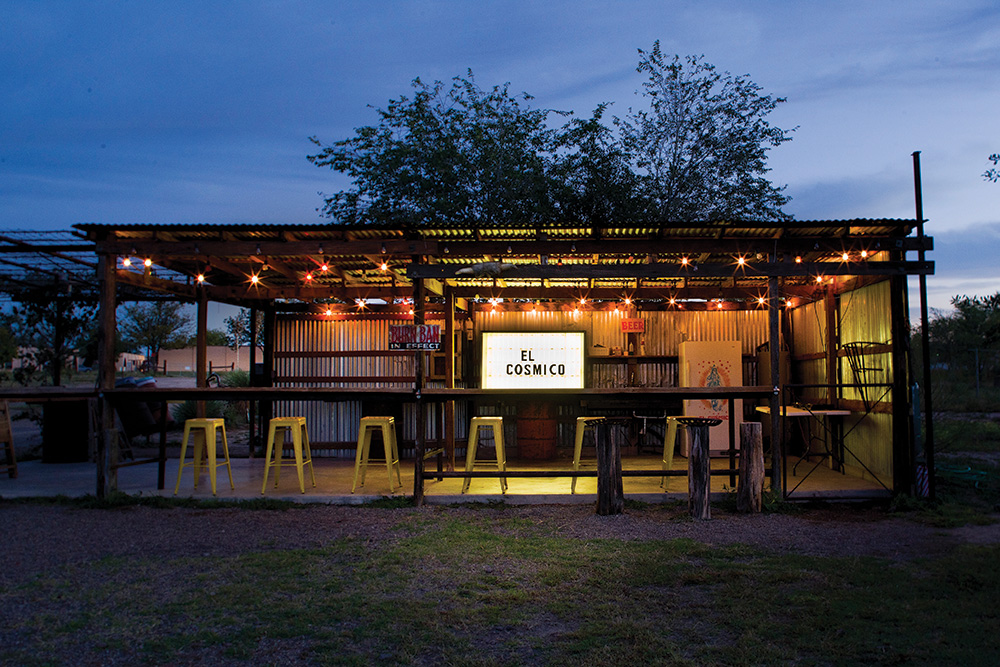 Photo: Nick Simonite
Wedding parties can gaze at the immense western sky — or watch a movie at this old-timey retreat's drive-in-style, outdoor theater, replete with restored, classic cars for seating. Located just a stone's throw from Scenic Byway 12 in southern Utah, the aptly named Shooting Star RV Resort pays homage to silver screen's heyday with its nine Airstreams; each designed to evoke the romance of old movies, their stars and bygone, film-set dressing rooms. Created by sustainable-design maven Mark Gudenas, the park strives to keep a light footprint, following a rigorous reuse program.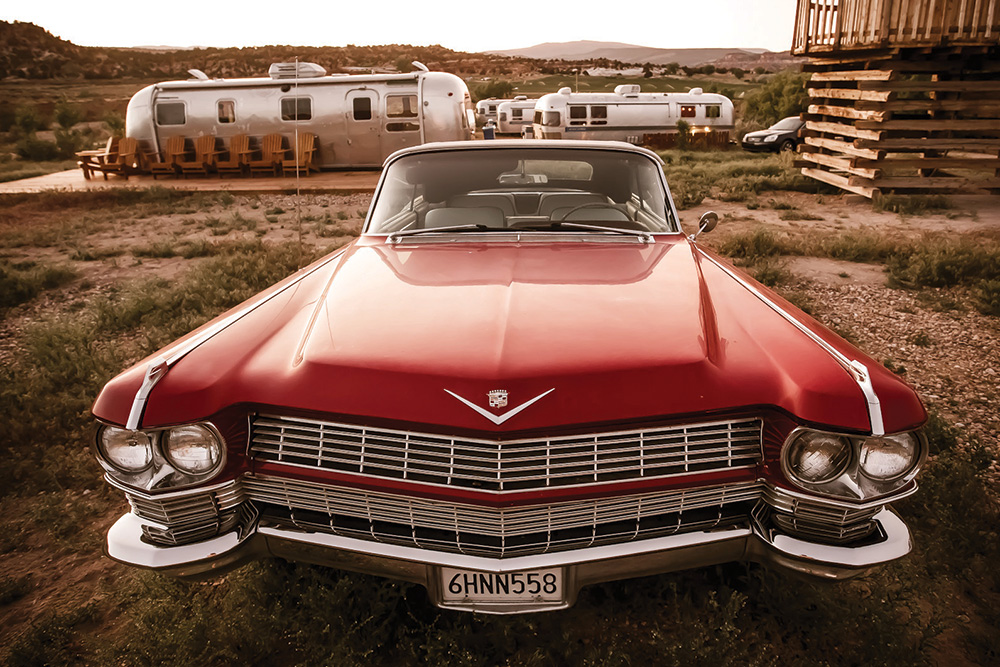 Photo courtesy of Shooting Star RV Resort
Its location, amid two million acres of wilderness, makes it the ideal base for visiting some of the state's national parks, such as Arches, Bryce and Zion. In addition to the Airstreams, guests can rent the party pavilion and park their own RVs on dedicated sites (site fees start at $75. Trailer rates start at $129 a night, full property buy-outs start at $1,261 a night with a two-night minimum). 

Photo courtesy of Caravan Ojai Outpost
Hang out at quirky Caravan Outpost Ojai, where the vintage cut-steel sign that marks the property foretells the hip factor that awaits. Found in a valley in the heart of Southern California's Ojai (90 minutes north of Los Angeles and 15 minutes from Ventura Beach), Caravan Outpost stretches over a picturesque garden surrounded by orange and tangerine groves. Its 11 retrofitted Airstreams and one tiny house, aesthetically arranged, provide a perfect takeover spot for a wedding fête. From an inviting main street packed with smart boutiques, New Age stores, art galleries, restaurants and yoga studios to activities that range from hiking and surfing to wine tasting and music venues, the area promises guests a plethora of options. Don't miss the famous pink sunset from Meditation Rock. Weddings on site are customized for each couple's needs (wedding dinner packages start at $50 per person. Trailer rates start at $180 a night and full property buy-outs start at $10,000 a night).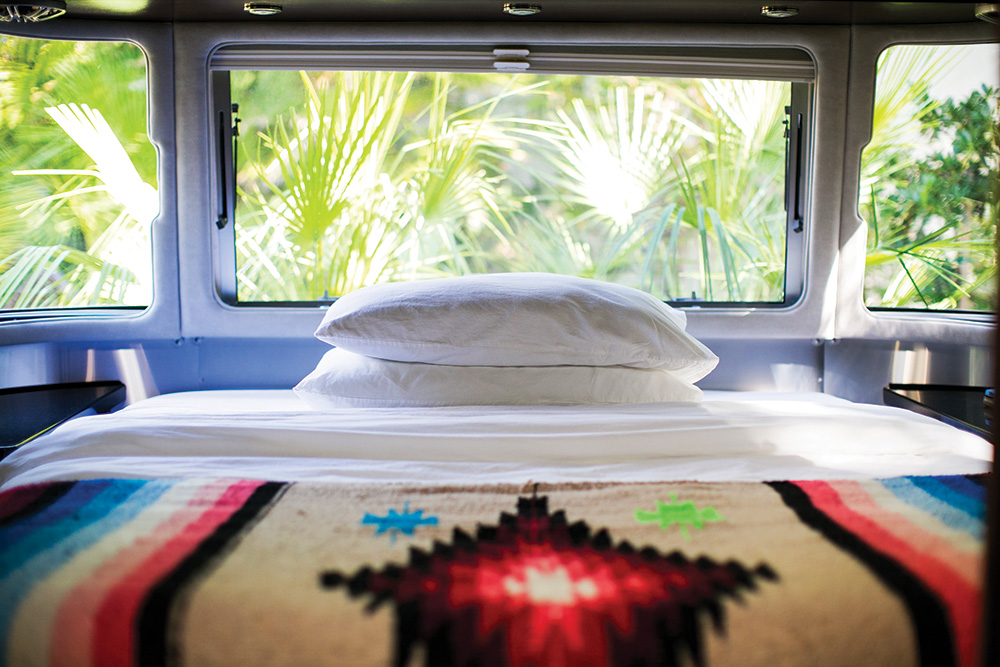 Photo courtesy of Caravan Ojai Outpost
Legally Wedded: Marriage licenses are compulsory in California, Texas, and Utah. All three states require couples appear in person to apply or sign online forms. Proof of age, marital status, and fees must be furnished. Actual documentation and fees vary not only from state to state but also county to county. Check with the local county clerk for exact needs.