This N.Y.C. couple shared the undeniable charm of Charm City with their guests at this elegant wedding celebration.
By: Jenna Mahoney
-AS SEEN IN BRIDAL GUIDE MAGAZINE-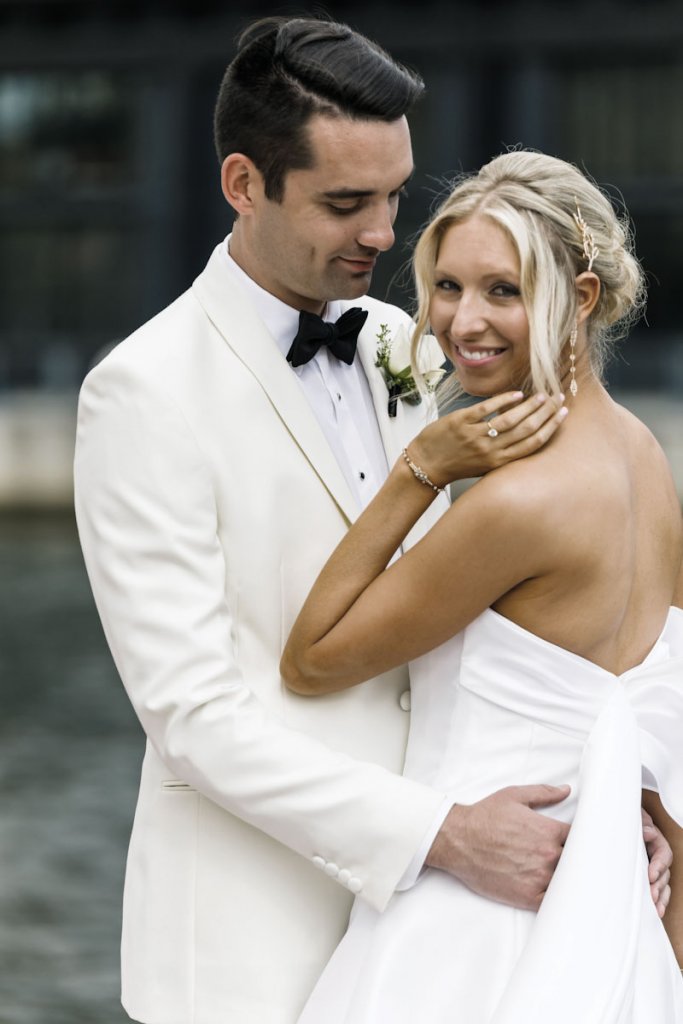 Old met new, and classic met modern when New York-based couple Amanda née Feldman Jay and Jeff Jay joined with family and friends in her hometown to swap vows at the Sagamore Pendry Baltimore. "I'm a history buff," Amanda says. Looking for a venue that exuded beauty, elegance and, yes, history, she fell in love with the recently opened hotel that's housed in a circa 1914 building on a Charm City pier known for having welcomed thousands of new immigrants to America'' shores in the mid 19th century. "Hosting our wedding here meant that more of our guests were able to celebrate with us," she adds.
Positioned at the head of the Patapsco River, North of the Chesapeake Bay, Baltimore was established in 1729 and was named for the Irish barony. Its history is a tumult of immigration, shipping and industrial stories that were eclipsed by a deteriorating cityscape. Charm City has experienced a revival that's heavy on small shops, regional cuisine and local lore. Some of Amanda's favorite cultural sites include a trio of museums — Edgar Allen Poe's former home; The American Visionary Art Museum, a collection of "outsider art;" and The National Great Blacks in Wax Museum, a showcase of important American Black figures.
Amanda has a must-do list for the perfect day: Start in the Fell's Point neighborhood, where the Sagamore Pendry Hotel is located. "Grab fresh pastries and coffee from Pitango Bakery + Cafe and walk along the cobblestone streets by the water," she says. Next, hop a water taxi to explore the rest of the city by boat. She suggests lunch at Thames Street Oyster House and a cocktail at The Horse You Came In On Saloon, America's oldest continuously operated lounge since 1775. "Conclude with dinner by renowned chef Andrew Carmellini at The Pendry's Rec Pier Chop House," she adds.
"The Fells Point neighborhood is super pedestrian friendly. It was so nice to have the whole weekend centered there. No one needed to worry about driving anywhere."
Amanda's picks for souvenirs include the city's ubiquitous Old Bay seasoning — "I sprinkle it on everything, including my avocado toast." She also loves the only-found-in-Baltimore, hand-dipped, fudge-covered Berger Cookies. Top shops include the Black-owned KSM Candle Co., which stocks vegan-friendly candles; Tigerlillyshop, that sells one-of-a-kind pieces crafted from local found objects; and the independent Ivy Bookshop.
Ask anyone in town what's the number one dish and you'll hear— crab. "Whenever I'm in Baltimore for the weekend, I'll have crab cakes, fresh salads topped with jumbo lump crab meat, crab omelettes and more!" says Amanda. Some of the best crab cakes in town are at Samos, a cash-only BYOB place in the Greektown neighborhood. "For an authentic Baltimore tavern experience, stop in Thames Street Oyster House or Ale Mary's," she suggests. The Bygone at the top of the Four Seasons Baltimore offers awesome city views and an upscale menu.
The striking 128-room Sagamore Pendry Baltimore Hotel inhabits a site that was first established in 1914 as an immigrant processing station on Baltimore's popular Rec Pier. Launched in 2017, the boutique hideaway showcases the best of Baltimore's revitalized Fells Point neighborhood. And it's all easily accessed via a boat docked at the hotel's private pier. Guest rooms literally float over the water and evoke the sensation of being on a boat. The design here is all industrial chic with oversize factory windows showcasing sweeping harbor views, custom furnishings in deep cognac and lightsand tones with brass accents, as well as locally sourced artwork. Gathering spaces, such as the pool bar and a whiskey bar, are at once clubby and inclusive. At the intimate Cannon, the eponymous whiskey — the Sagamore Rye, crafted each spring at Sagamore Farm — is at the center of the cocktail program. Meals at the hotel are a celebration of the best of Maryland. The Rec Pier Chop House helmed by Chef Andrew Carmellini is a locavore ode to traditional Italian cuisine and that of an American Steakhouse—the Maryland blue crab cake and Peroni roasted chicken are standouts; the homemade pasta is a must-try (room rates start at $388 a night).
"The dramatic seven-foot-wide, two-story, red-carpeted staircase is the most stunning spot at the Sagamore Pendry," says Amanda. The couple bookended their Big Day here, with their first look and final exit happening at the photo-perfect place. "It feels so grand with soaring ceiling and big windows above it, and the color is simply striking," Amanda adds.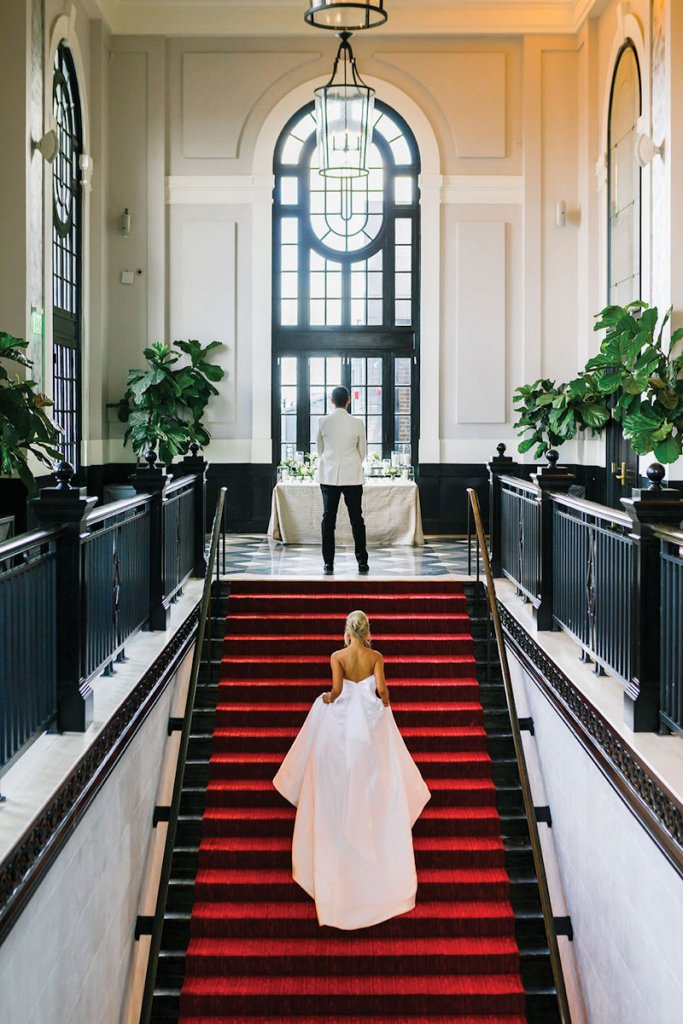 "There is no other pool quite like the Pendry's. The expansive open-air oasis features panoramic views of the harbor, marina and skyline, as well as an outdoor seasonal bar and grill."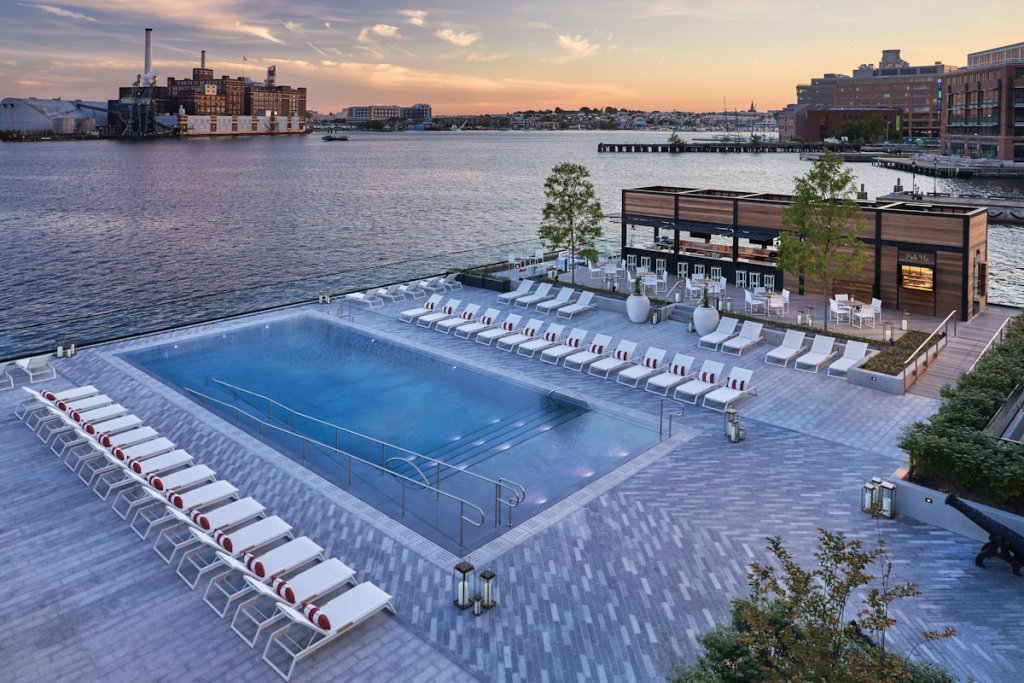 Wedding Details