Say yes to prize pinots (and award-winning craft beers), bucolic splendor, catering menus inspired by the seasonal bounties of just-down-the-road farms, and a unique mix of rural warmth and Portland cool when you exchange vows in the vineyard-covered valleys of Oregon wine country.
By: Carrie Bell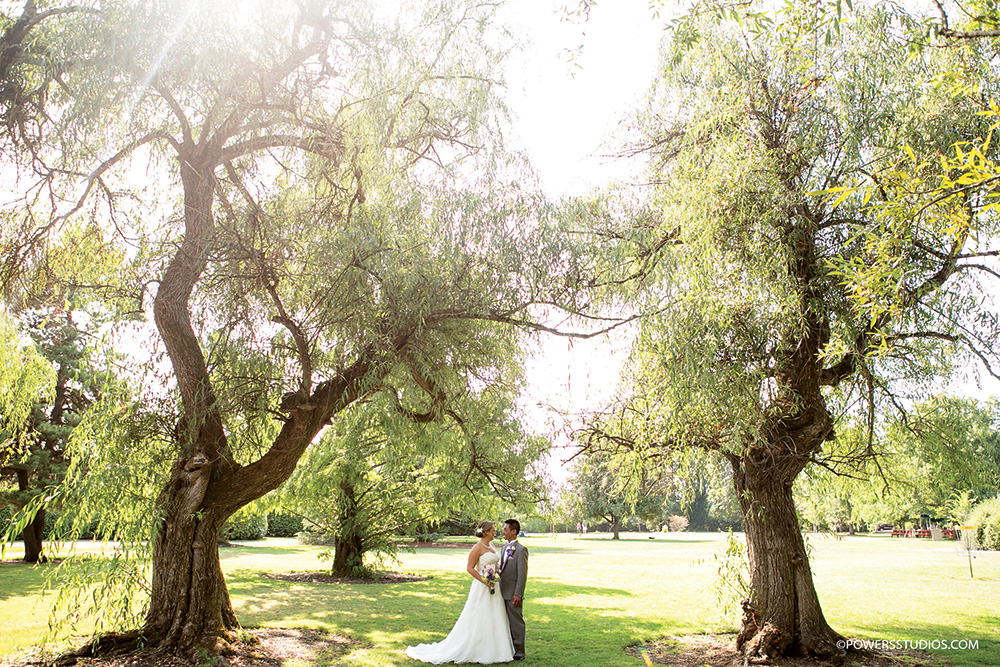 Photo Credit: Power Studios
The verdant expanse, which is home to more than 500 wineries, has quickly become one of the country's most romantic spots to tie the knot. Sure, the food and wine is fantastic, but the other appeal is the pure photogenic splendor of rolling landscapes and rustic-chic wedding venues. Here, we highlight three pampering — and did we mention, pretty? — properties that promise to fulfill all your nuptial grape expectations.

Photo courtesy of The Allison Inn & Spa
Set on 35 hillside acres, this 85-room hotel is the ideal blend of laid-back and luxurious. Settle pre-wedding jitters with private yoga, light bites and massages in the Sky Suite of the 15,000 square-foot spa, which also houses a full-time makeup and nail salon to prep your big-day look. Then it's off to the on-property vineyards, used to make two house vintages, for a stunning first-look backdrop. While the sculpture garden is a fun place for photos, the lush Meadow Garden is an equally photogenic ceremony setting. It, like the ballroom, can seat 150 guests. Sip cocktails with herbs from the impressive acre-and-a-half chef's garden and honey from on-site hives while snacking on cucumber-ginger oyster shooters and savoring the valley view from the terrace.

Photo courtesy of The Allison Inn & Spa
Like Jory, the signature restaurant named after the region's characteristic terroir, the catering menus highlight local purveyors, fresh products (hazelnut anything is a must here) and refined recipes like seafood saffron risotto with melted leeks and chervil. The private dining room, with its grand custom walnut table and peekaboo window into the kitchen, is a good option for rehearsal dinners or more intimate parties. Guest rooms, which showcase an autumnal color palette, are equipped with gas fireplaces and private balconies that are perfect for sunset viewing (site fees start at $4,000; food and beverage minimums are $155 per person or $15,500).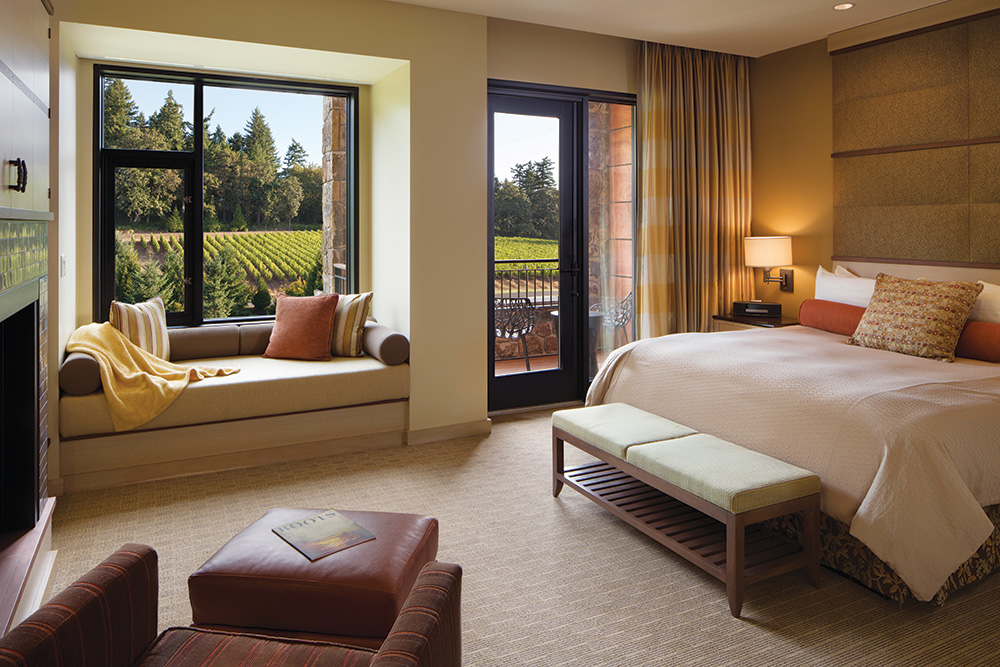 Photo courtesy of The Allison Inn & Spa
McMenamins is a household name in the Pacific Northwest. Not only does the brand make respected ales, wine, spirits and ciders (and roast coffee beans), it operates numerous hospitality outposts, many in historic or creatively repurposed buildings like schools or, in the case of the Grand Lodge, a Masonic & Eastern Star hangout. There will never be a dull moment in the wedding weekend when you host your celebration at this Forest Grove compound comprised of 90 rooms, a movie theater, pool, spa, pool hall, bars, cafe and eateries. There are games and live music on the regular. They even tout a resident ghost. There's just as much variety when it comes to spots to tie the knot, from cozy 20-person parlors to a serene willow grove, a sprawling lawn and a retro 2-story children's cottage. DJs, bands and ring-bearing dogs are welcome. And for something truly memorable, hire a costumed llama or alpaca to work the reception (site fees are waived when the food and beverage minimums, which range from $300 to $8,000, are met).

Photo courtesy of Grand Lodge

Photo courtesy of Abbey Road Farm
Come together for fab fresh-air festivities with up to 200 guests at this sprawling 82- acre working Yamhill County farm. Say "I do" in rose-filled gardens, under a modern gazebo or on a deck overlooking the Trappist Abbey. Add über local flair by using the monks' famous fruitcake as favors or earn a church bell concert with a donation to the monastery. Receptions feature feasts at long king's tables between orchard rows, followed by dancing under the stars adjacent to fields of gold. Opting for an outside reception at this mostly blank slate site will require a touch of creativity and imagination when it comes to decor and rentals. The new owners, respected Rose City restaurateurs behind Portland's much-praised Quaintrelle, have lots of immediate improvement plans like starting a wine line with personalized labels and overhauling the barn to add indoor space. (Currently, the only plan B in the rainy region is tenting.) Individually appointed accommodations for 22 are available in the original ranch house. There are also guest rooms housed inside the property's converted grain silos (site fees start at $2,400).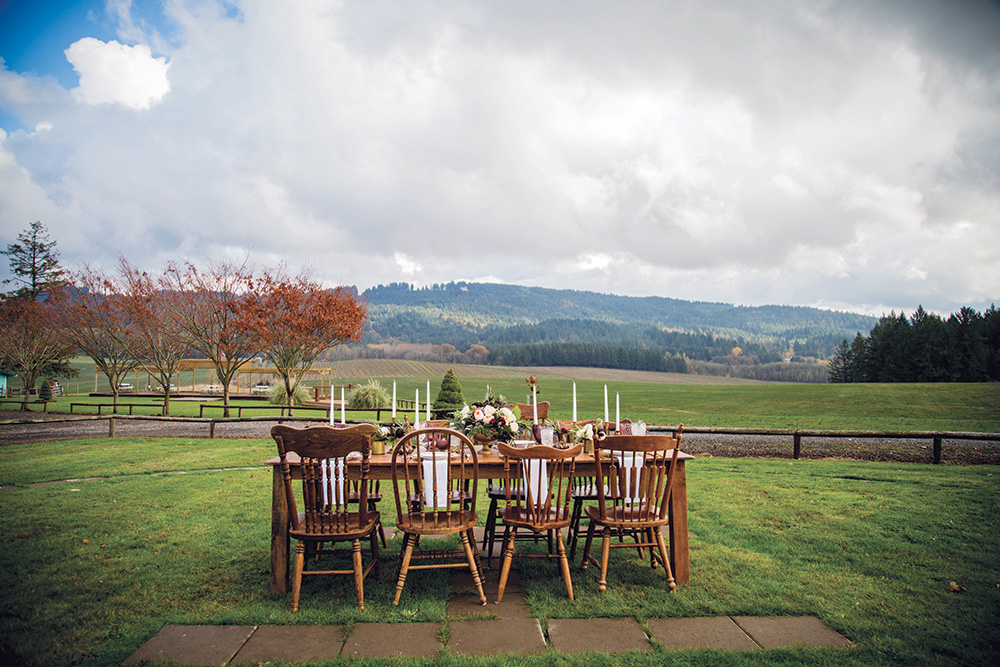 Photo courtesy of Abbey Road Farm 
Legally Wedded: Both parties must be present to secure the marriage license from a county clerk's office, which is required and costs $60 (however the application can be filled out online in advance). There is a waiting period of three days and applicants must be at least 18. It is valid for 60 days and does not require residency or a blood test. Ceremonies require two witnesses who are 18 or older.