Simple, fresh. and a whole lot of fun. This wedding celebration at a homey farm on the U.S.A.'s longest coastline is the way life should be.
By: Jenna Mahoney
-AS SEEN IN BRIDAL GUIDE MAGAZINE-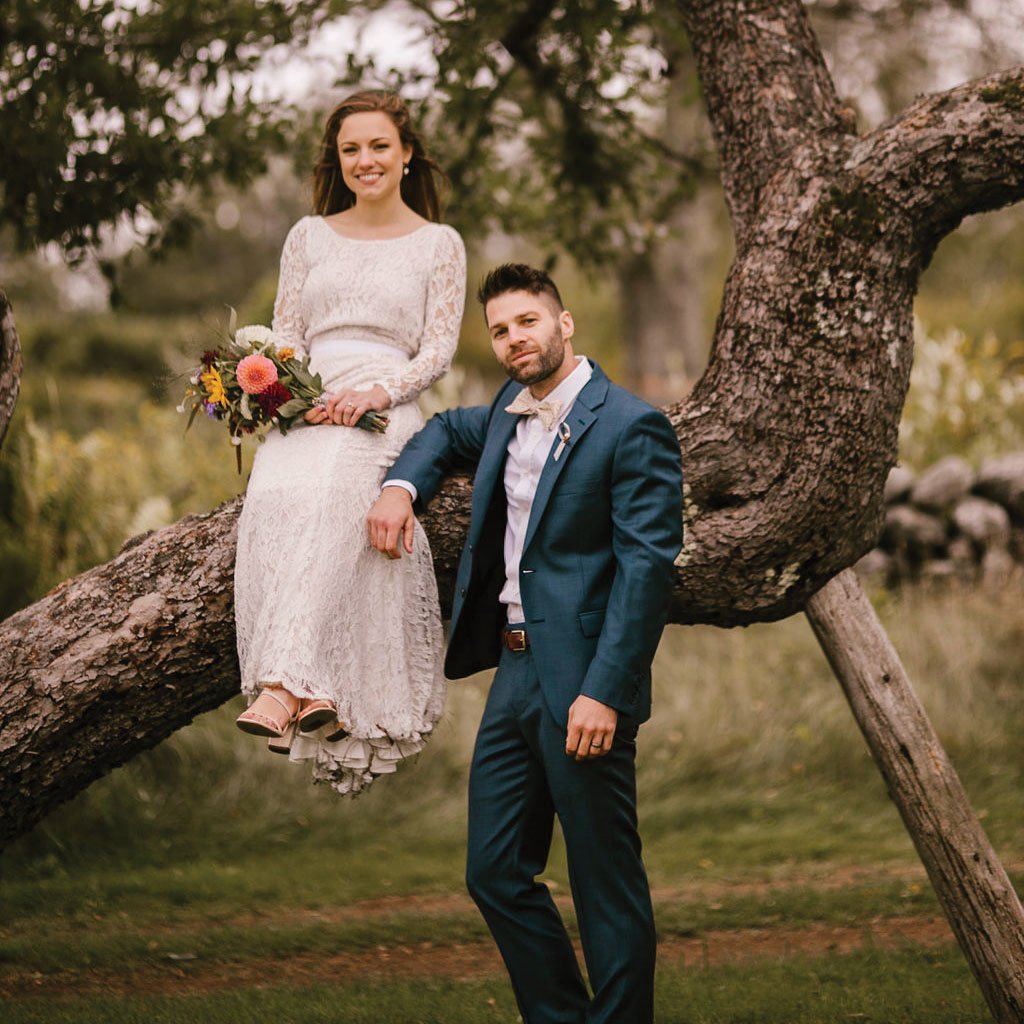 Just beyond Maine's rocky Atlantic coastline is a wooded landscape dotted with working farms, hidden ponds and rivers — many teeming with oysters. It's all the perfect setting for excellent cuisine, as well as awesome wilderness excursions. "The state offers outdoor adventure and delicious local food," explains Angela Miller, who wed Martin Bamberg at Tops'l Farm in Waldoboro. They chose the setting for its family-first approach, vacation-perfect vibe and memory-making appeal (both Angela and Marty vacationed in Maine as children; then together as adults). Their wedding weekend was a celebration of the simple life accented with superlative food — "just about everything from our wedding was locally sourced," says Angela.
On the Menu
Farm-to-table isn't just a movement in Maine, it's a way of life. And in the past half decade, the state has become a powerhouse in the food scene thanks to its sustainable-first ethos. Angela and Marty's wedding weekend celebrated Maine's bounty with local cuisine. There were fresh-shucked Pemaquid oysters from the Damariscotta River and charcuterie boards with local meats, cheeses, and fruits catered by Uproot Pie Company. There was a local taco truck and wood-fired pizzas topped with farm-fresh ingredients also created by the women-owned Uproot Pie Company. "We had Maine's famous potato donuts from Holy Donut for dessert," says Angela. "We put our donuts out in old Maine Blueberry boxes," she adds.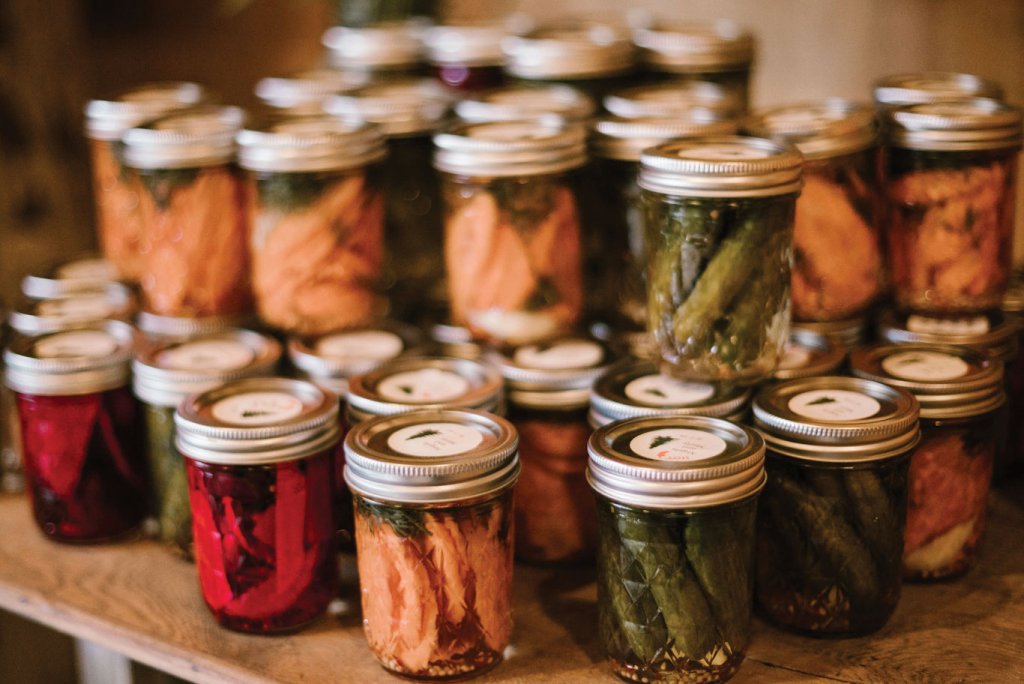 Get Back to Nature
Towering pines, ancient hemlocks, red and white spruce trees and mossy hills hug rivers and ponds in this region of Maine. "There's excellent hiking in the area," says Angela. Popular local trails include the 1.2-mile Clarry HiIl path, which promises spotting of rare birds over blueberry fields, and the Riverbrook Preserve, a system of nearly 3 miles of intersecting trails across a wooded landscape and 25-acre farm homestead. "Grab a bottle of wine from Tops'l shop and go have a picnic," suggests Angela.
Flowers in Bloom
One of the things we love most about Maine are the beautiful wildflowers," Angela says. She sourced the flowers for her wedding weekend from Swell Farm, a small local grower. Together with her sister, mom, mother-in-law and sisters-in-law, Angela arranged the blooms. "We had so much fun listening to music and sipping wine." They placed the arrangements in antique glass milk bottles found at New England's storied Brimfield Antique Flea Market.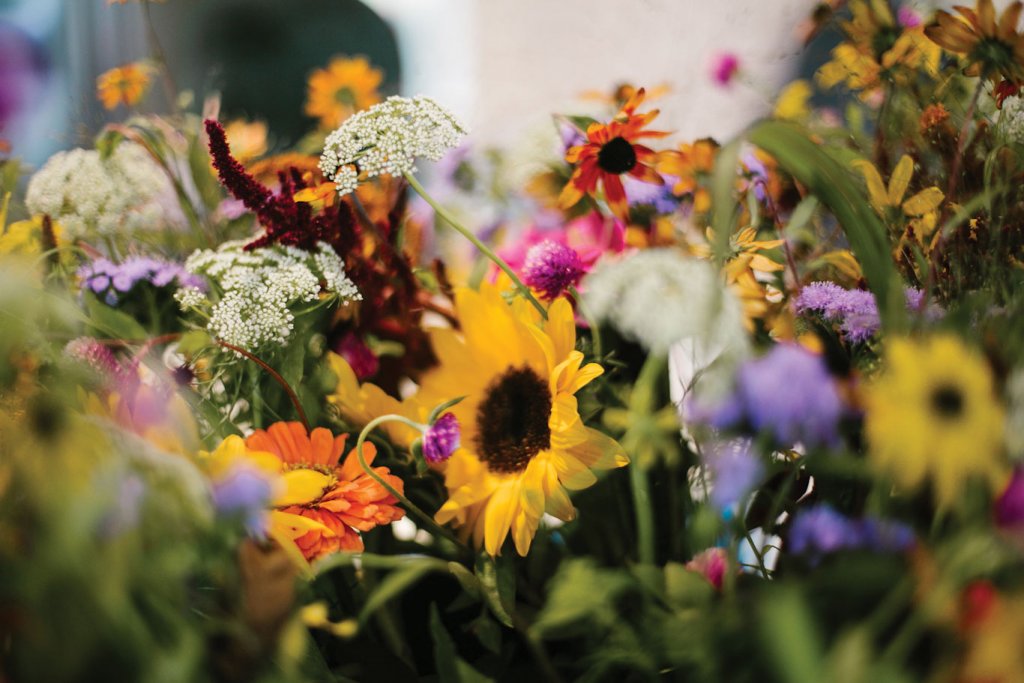 Instead of a boutonniere, Marty wore a brain cancer awareness ribbon in honor of his older brother, who had been diagnosed that summer and had recently undergone surgery. Angela found grey/silver satin ribbon and pearl-tipped gold pins on Etsy for all the groomsmen and ring bearers.
Photo Inspiration
"There is no shortage of spots to pose for great pictures at Tops'l," says Angela. The property's glamping sites — a collection of five oversize tents and six A-frame cabins set on wooden platforms surrounded by towering trees — served as the backdrop for the couple's wedding photos. "In front of the sheep (the property is home to three sheep, four goats and eight chickens), down by the Yurt (it's positioned riverside), in the Farmhouse or by the barn also offer great opportunities for the 'gram," she says.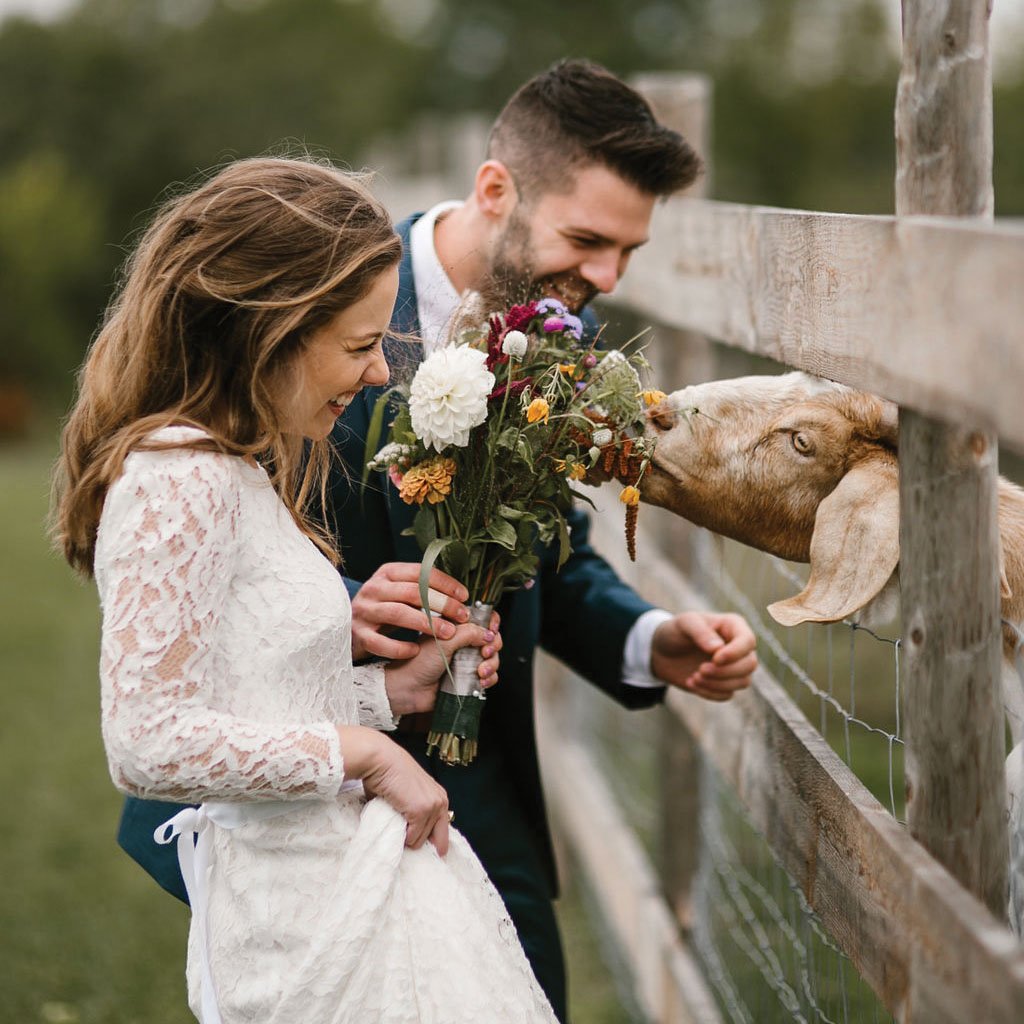 Drink Local
Lobsters may be Maine's emblematic export, but craft beers are just as celebrated by devotees across the country. Maine's home to nearly 100 small breweries. Odd Alewives Farm Brewery — a local favorite of the couple — is set in a circa 1820s barn and positioned on more than 22 picturesque acres; the sustainable operation specializes in farmhouse ales. Hops, fruits and herbs grown on site are used in the brewing process; additional ingredients are 95% Maine-grown.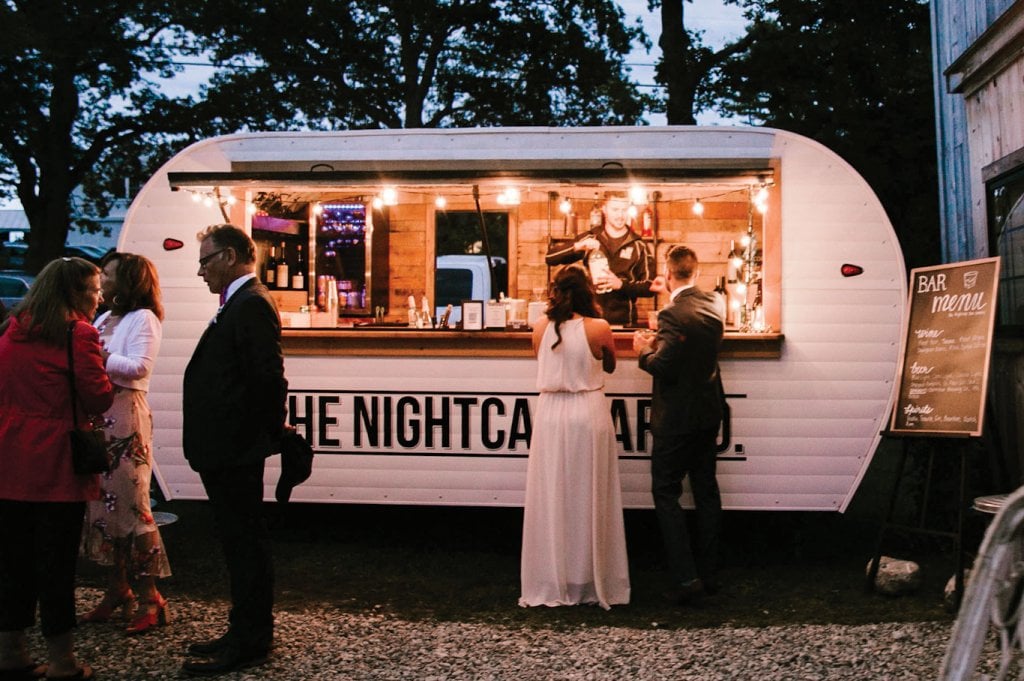 Travel Notes
Maine's nickname is "Vacationland" and it's tagline is "the way life should be." Tops'l Farm — a family-owned compound encompassing A-frame cabins, white canvas tents and a bonafide farmhouse and barn for events — is this ideal personified with loads of Instagram details to prove it.
Accommodations are offered in a variety of settings — in addition to the aforementioned super-photogenic outposts there's a two-bedroom, red clapboard cottage furnished with vintage items and an iron cast, wood-burning stove.
The 83-acre wooded property is also home to adorable animals and outdoor adventures like hiking and kayaking, and camp activities including archery. Evenings are all about sitting under the stars and around the campfire taking in the peaceful state of just being in this natural landscape. Meals here are simple in presentation — often served picnic style, fireside or family-style at large wooden tables — while rich in flavor — nearly everything is sourced locally. The Sugar Shack experience is a seasonal marquee offering at the property. It features a sugaring demonstration, a five-course "slow food" dinner, along with brews from Maine Beer Company. The event also welcomes a DJ and hammerschlagen, a hammer-and-nail (friendly) competitive game (room rates start at $150 a night and include a picnic dinner. There's a $50 cleaning fee; topslfarm.com).
"The Yurt is a great place to sit on the Adirondack chairs overlooking the water and to enjoy a cup of coffee at dawn or dusk.
Legally Wed
Marriage licenses are required in Maine. Couples must apply in person at any town office and furnish valid identification and proof of age. Divorce decrees and death certificates are also required, if applicable. There is no waiting period, nor are blood tests required. Licenses are valid for 90 days.
Wedding Details
Venue: Tops'l Farm
Food: Uproot Pie Company, Taco the Town
Bar: Nightcap Bar Co.
Flowers: Swell Farm
Photographer: Cara Totman Photography
Dessert: Holy Donut
Coffee: Espresso Dave DJ: Soundz Unique, DJ Damien
Wedding Dress: Reformation
Earrings: Mejuri
Bridesmaid Dresses: BHLDN and David's Bridal
Groom and Groomsne Suits: Calvin Klein