Make all of your destination wedding dreams come true at Little Palm Island.
By: Jennifer Lazarus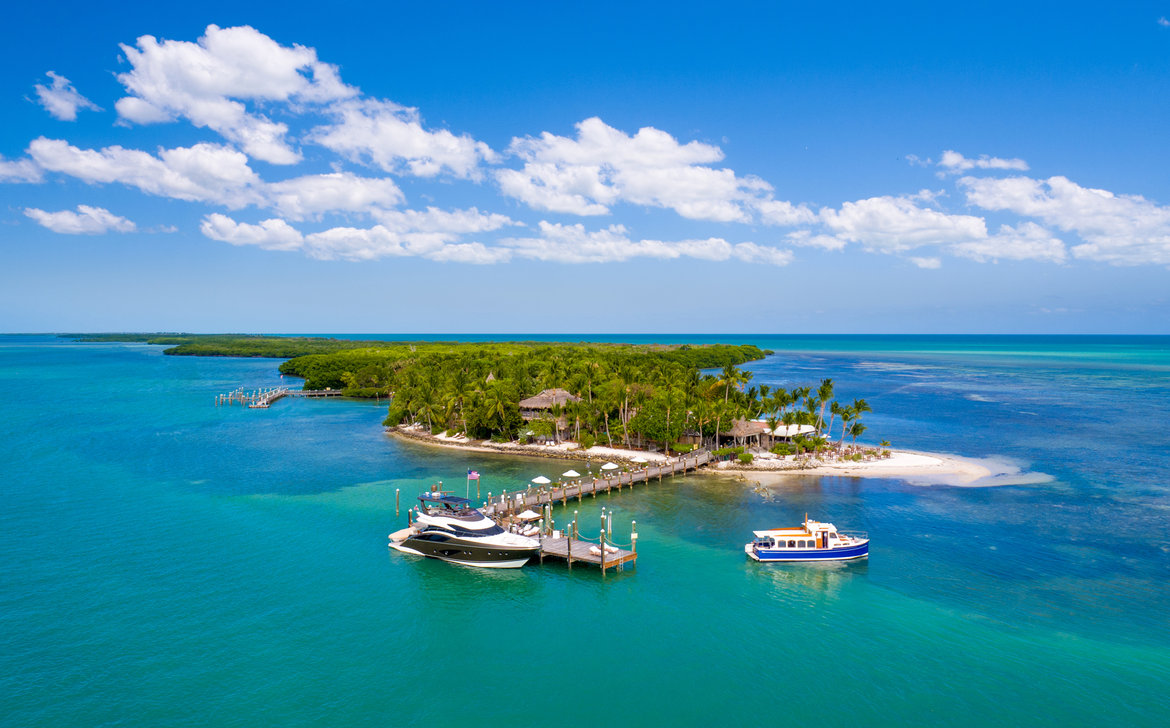 There are a lot of things to love about The Florida Keys — a string of tropical islands stretching 120 miles off the southernmost tip of Florida's coast just 90 miles shy of Cuba. For one, you don't need your passport to travel to this tropical destination that is a mecca for diving enthusiasts and fishermen alike. Second, if the thick sea air somehow erodes the signage on the Overseas highway — a 113-mile highway carrying U.S. Route 1 through the Florida Keys — you might think you were in a far-off tropical paradise like Bora Bora or the Maldives. One of these magical Keys, Little Torch Key, is home to the Little Palm Island Resort, an exclusive property where privacy and intimacy sit high atop a long list of accomplishments. If you're looking for a quaint, luxurious, almost otherworldly setting for your destination wedding, then read on.
There are three ways to get married on Little Palm Island, but if you plan on having more than 60 guests at your wedding, you can stop right here. The private island resort cannot accommodate more than 60 people at your party (and naturally, the higher your numbers, the higher your price).
But, let's start with the smaller, intimate weddings — the kind that involve just you and your intended, plus those family and friends that would never forgive you if they weren't included. These intimate weddings, with 10 people or less (including the bride and groom) entitle you to the "Steal Away" Elopement Package. For $4,500 Monday-Thursday, or $5,500 Friday-Sunday, you can host your cozy affair at the ceremony location of your choice on the island. Select from "The Sandy Point" — a beautiful white-sand peninsula on the beach where brightly-colored sunsets appear over the horizon at the end of each day.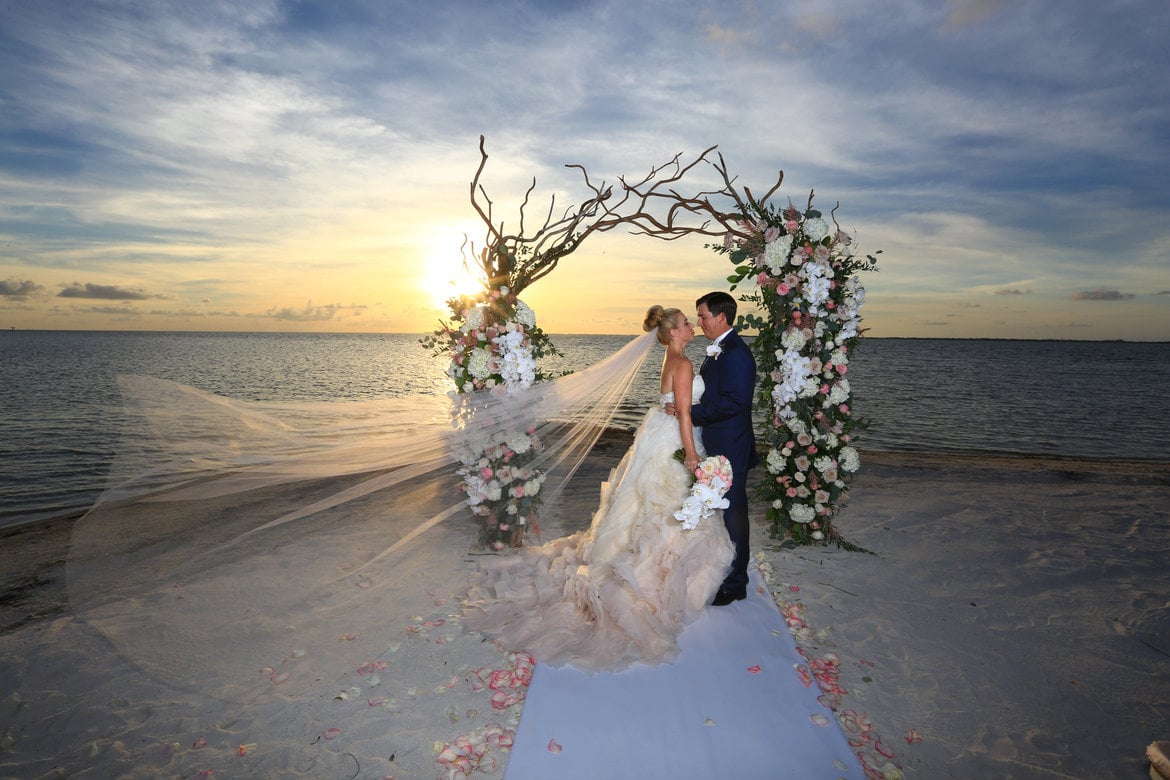 There is the sunset dock, which offers a more private setting with breathtaking views of vast stretches of ocean.
There's also the Harbor Point, a picturesque location where there's no telling what kind of bird could pop into your ceremony.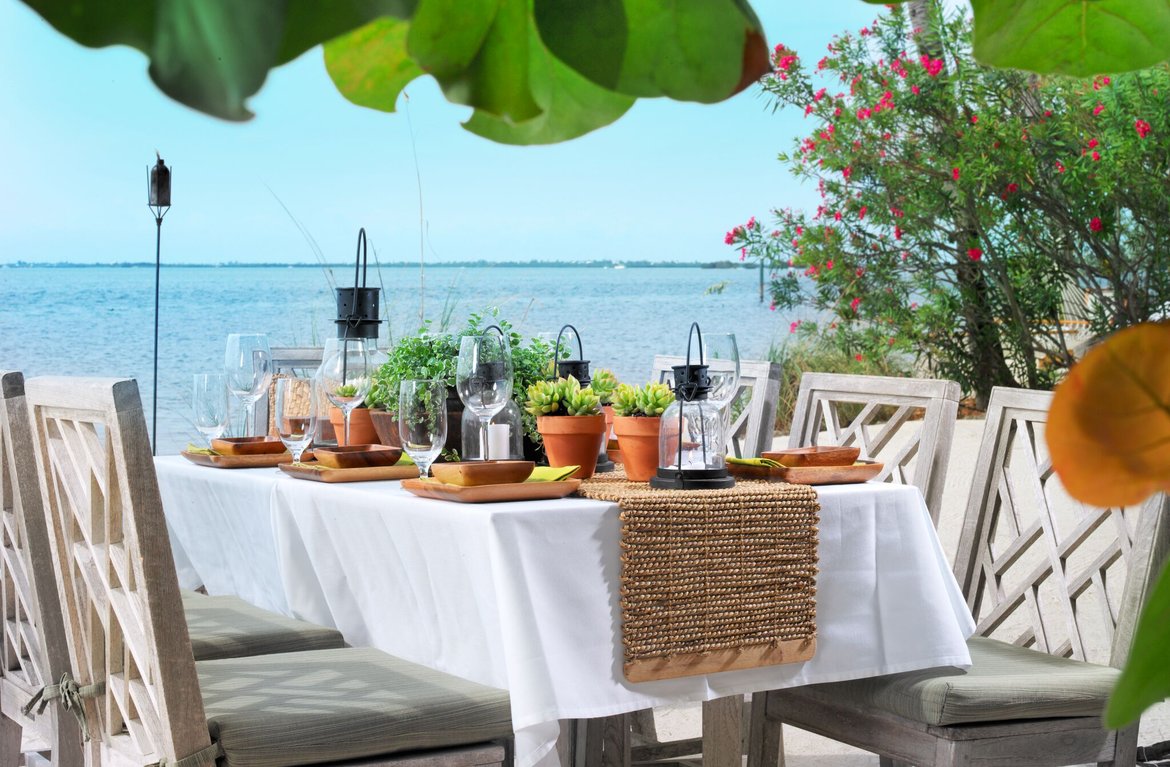 The Gazebo/Palapa Point offers a sweet Sound of Music setting,
or you can exchange vows in the privacy of your own Romance Suite, where a beautiful deck leads to a private beach.
The "Elopement Package" also includes a wedding officiant, one hour of professional photography, a basic bridal bouquet, a Champagne toast following your ceremony, and a custom Little Palm Island Photo Frame. One caveat — rooms aren't included in the package, and you have to be a hotel guest to get married on the island. Food and additional alcohol are also not included — so if you want to celebrate with dinner following your ceremony, you'll have to pay extra. Oh, and no kids under 16 are permitted.
If you're planning on inviting between 10 and 20 people, here's what kind of destination wedding you could throw at Little Palm Island. First, as mentioned above, you can choose to have your ceremony beachside or dockside — or in a lovely gazebo on the magnificently manicured grounds of Little Palm. Whichever site you choose, you can opt for either white or teak wedding chairs, a full-service wedding planner, and complete wedding exclusivity (the guarantee that no other weddings will take place that day on the island) for $5,000. And, should your guests list grow to somewhere between 21-40 guests, you can have all this for $8,000.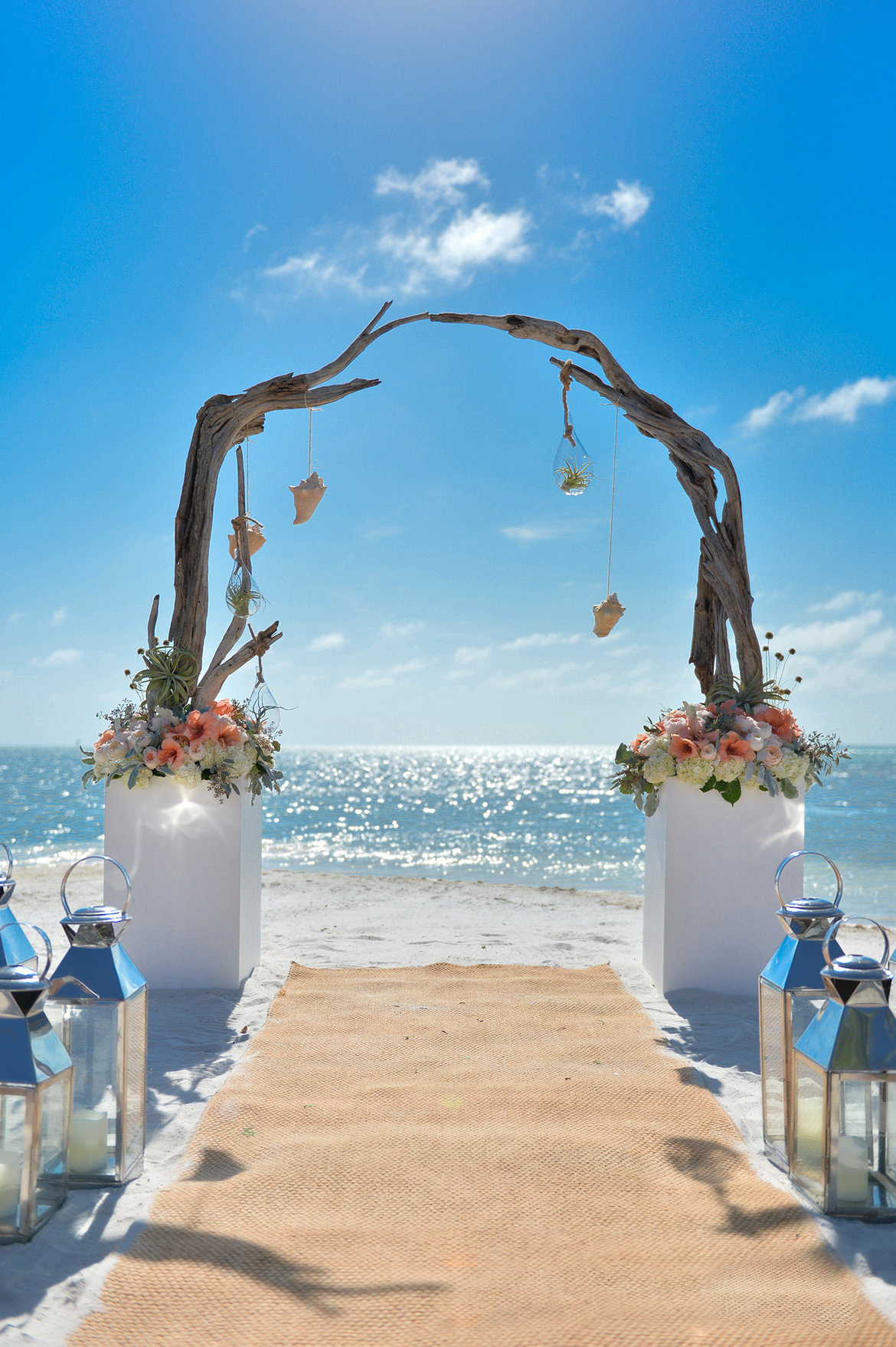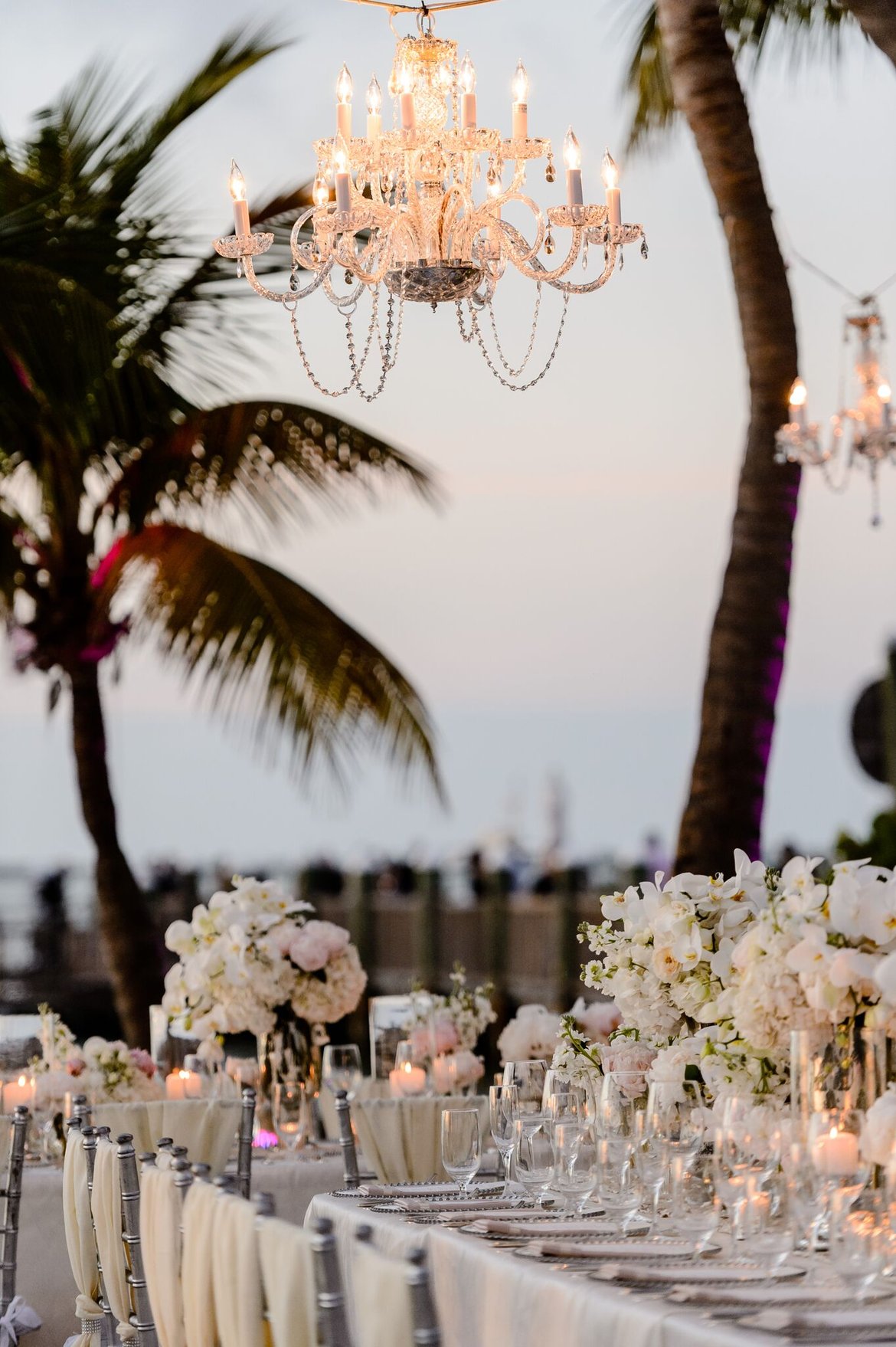 For groups larger than 40 people and up to 60 people, the only way to enjoy the magic of Little Palm Island is to indulge in the "Exclusively Yours" package. When you opt for this package, you agree to "buy out" the island — all 30 rooms — for a 3-night minimum. Rates for this exclusive package start at $175,000, depending on your dates.  
"Exclusively Yours" means you can take full advantage of all 30-one bedroom suites plus breakfast, lunch, and dinner for all your guests for all three days. Smaller items, such as island transfers and valet parking at the transfer dock, are also included, as is a fruity welcome cocktail upon arrival. If you or any of your guests wish to sail directly to the island, you can also park your boat for free.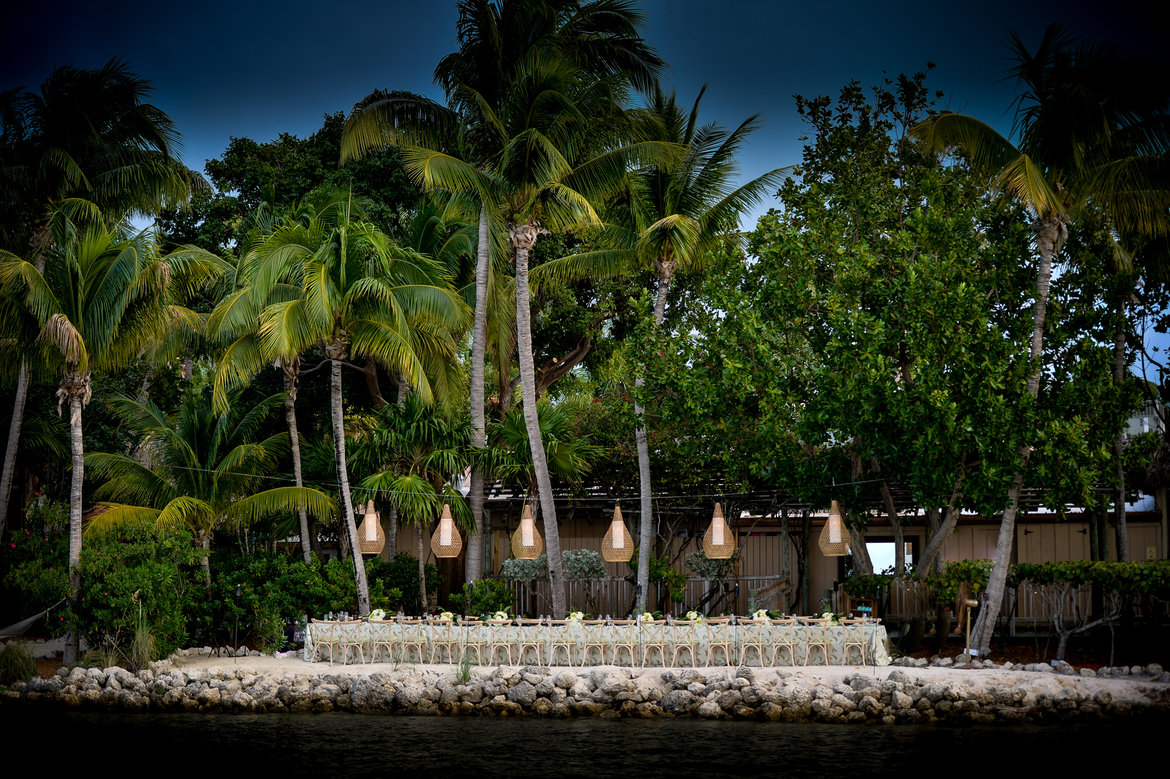 All taxes and staff gratuities are also included in your package, which means you can focus exclusively on your celebration. 
You will be provided with a full-service wedding planner to plan all the details of your exclusive Little Palm wedding.  And, since you're buying out the island, you can include kids of any age -- but, you still have to cough up the extra dough for alcohol.
Then there's the "Forever We Do" package — the one that's just about the two of you. If you're looking to renew your vows, this is another great way to enjoy the sophisticated glamour and intimacy Little Palm offers. You can renew and re-seal your vows at any one of the picturesque island locations. The package includes your ceremony site fee and officiant, a basic bridal bouquet, and a champagne toast following your ceremony. Hotel accommodations, food, and beverages not included. Monday-Thursday: $1,500, Friday-Sunday: $3,500.