Bucolic, pastoral and picturesque — it's somewhat shocking that the Hudson Valley is within a two-hour drive from New York City.
By: Jenna Mahoney
-AS SEEN IN BRIDAL GUIDE MAGAZINE-

Photo: Mohonk Mountain House
Stretching from the state capital Albany in the north to Westchester, the suburban sprawl of the city to the south, the region is a series of storybook towns that hug the namesake mighty river. Here, mountains are thick with woodlands and myriad farmlands dot the landscape, as do wineries and historic mansions. It all has a simple-life feel that centers on the graciousness of the valley. Wed here, and you'll enjoy all that plus a sophisticated attention to detail that's so very Manhattan. Similarly, design elements are the photo-ready marriage of haute and homey. And perhaps the best part — the region is picture-perfect every season of the year. Here's where to say, "I do" in the Empire State.
Family-owned and operated since its debut in 1869, this all-inclusive adventure resort is all about spending quality time with the ones you love. Programming is extensive and appropriate for all ages. There are 85 miles of hiking trails and an onsite lake for swimming and boating. There's also tennis and an enormous spa with 16 treatment rooms, multiple pools and indoor fitness programming. Your wedding guests will enjoy it all plus a gorgeous ceremony hosted either on the photogenic porch that looks onto Lake Mohonk or in one of the property's colorful gardens.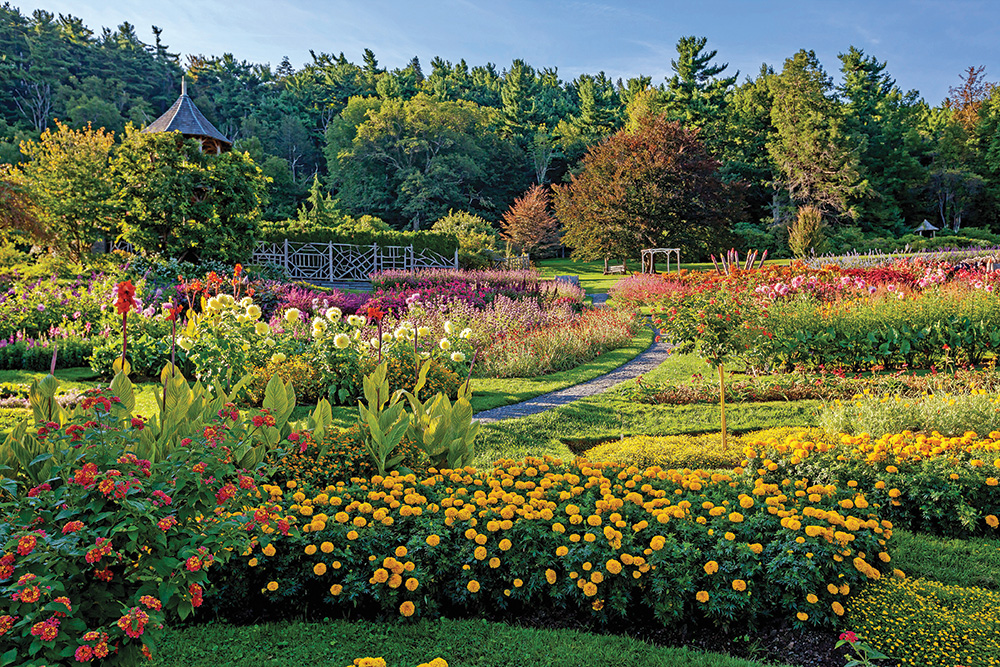 Photo: Mohonk Mountain House
(We're partial to the Mountain View Gardens that are framed with arbors.) Receptions, which can be for 40 to 200, offer the chance to celebrate indoors or out, depending on the season and desired aesthetic (wedding packages start at $175 per person and include hors d'oeuvres, open bar for an hour, a champagne toast, a two-course meal and cake).

Photo: Mohonk Mountain House
Technically positioned in the Catskill region (a neighboring mountainous area just 20 minutes from the Valley), this old-school hunting and fishing lodge is all about going for the throwback 'gram. There's a handful of guest rooms at this mountainside enclave that was once a bunkhouse for outdoor enthusiasts.

Photo: Eastwind Hotel & Bar
A trio of A-frame cabins is set among the pine, fir and oak trees. Called Lushanana, the Scandinavian accommodations are intimate and equipped with saunas and BBQ sets on request. Firepits and a free-standing fireplace in the main house are the central gathering places here where decor touches like old birding guides, vintage Life magazines and antique snow shoes are all photo-ready. Celebrating a wedding here is an extension of that familial old-school vacation home vibe, with abundant wildflowers and artful fire-roasted feasts.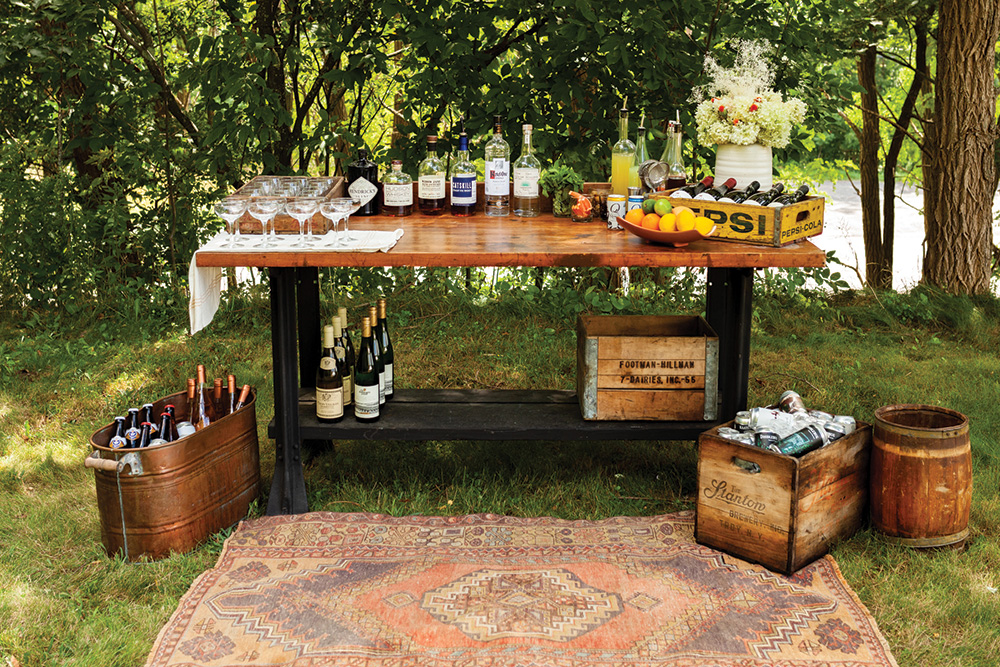 Photo: Michael Greco Photography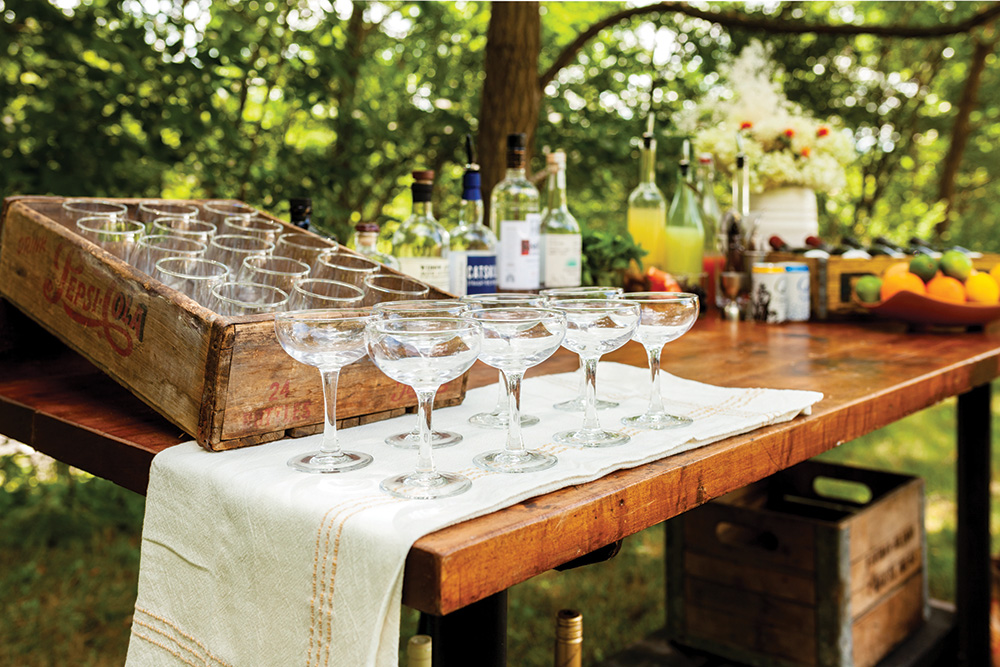 Photo: Michael Greco Photography
Thanks to the hotel's intimate size, outdoor gatherings are best for 125 guests maximum, while the main house can host a planned elopement-type event with live music (the dining room/bar welcomes acts regularly) and family-style meals complete with local beer, wine and gooey s'mores. Always social-media savvy, the venue managers also suggest food trucks for events (wedding buyouts start at $18,000 and require a two-night minimum stay).

Photo: Lawrence Braun Photography
A marriage of two affluent families brought the pair of 1880s mansions together into a single estate set 25 miles north of New York City.

Photo: AGI Studios
Today, the sprawling property boasts awesome Hudson River views, a variety of accommodations, eateries and amenities (that include a few pools) all positioned across hilly grounds that are studded with classic gardens, complete with antique stone accessory buildings and original sculptures.

Photo: AGI Studios
Venue options for weddings are seemingly endless — there's the Mary Duke Ballroom (for up to 350) and the Winter Palace (for up to 175), a classic ballroom with bespoke antique touches and sweeping property views that evoke the Gilded Age. The newest entrant to the offerings here is Goosefeather, the nascent eatery helmed by Top Chef Dale Talde. Housed in the King Mansion, the intimate restaurant showcases Talde's innovative interpretations of classic Asian dishes that are packed with local ingredients. The char siu Berkshire pork and dry-aged beef potstickers are particular standouts. The cocktail offerings are just as fresh, with mixologists sourcing from neighboring purveyors (wedding packages start at $145 per person; site fees start at $1,250).

Photo: All Good NYC
Legally Wedded: Marriage licenses are required in the state of New York, and must be obtained in person by the couple. Each must furnish proof of age (requirements of exact documents may vary by county), the required fee ($40) and, if applicable, a divorce decree or death certificate. Licenses are valid for 60 days. And there's a 24-hour waiting period.