Talk about cool — this Philadelphia coiple returned to the glittering place they met to swap vows in a spectacular spot.
By: Jenna Mahoney
-AS SEEN IN BRIDAL GUIDE MAGAZINE-
Alexandra Mueller and William Cobb had their wedding planned. They were set to get married in front of 120 guests at the Gramercy Park Hotel in Manhattan. Then — well, you know where the story is headed — the couple was forced to cancel. When they did, they decided to revisit the place they fell in love — Alaska. "We met on a cruise with our families," they explain, "so it was a natural fit for us to have our planned elopement." They knew they discovered the perfect destination in Sheldon Chalet, a luxurious adventure hideaway in Denali National Park. There's no Wi-Fi (Will, a private equity consultant, works a lot) to totally disconnect, and Alexandra, an occupational therapist, is a fan of hiking and national parks. Of their five-day weddingmoon, the couple gushes, "it's a once in a lifetime experience, although we are going back for our fifth anniversary."
Explore: Denali National PArk
Epic and awesome may not be enough to fully describe the impressive landscape of Denali National Park and Preserve. For starters, the vast wilderness stretches over six million acres — yes, million — with a single service road. Fun fact: That space is larger than the entire state of New Jersey, the couple's hometown. Within the endless expanse of black and white spruce trees, paper birch, balsam and quaking aspen, mountaineers and backcountry adventurers can come face-to-face with wolves, moose and caribou. There's also a large grizzly bear population. Perhaps one of the top five well-known names in the NPS system, the park is home to the country's largest mountain — the eponymous peak rises to 20,310 feet.
Hot Tip
"Go snowshoeing, sledding and skiing in the middle of Denali National Park, and enjoy a hot sauna afterward."
Where to Wed
Once Will and Alexandra decided to skip a large-scale celebration, they wanted a personalized and private escape to mark their union. One of the included and extra special touches at Sheldon Chalet is the fact that it is only accessible via private helicopter. The 45-minute transfer concludes with a warm welcome complete with a favorite cocktail, which for Alexandra and Will, is an espresso martini. "Tom, the sommelier, prepared a variety of espresso martinis so we could choose our preferred taste," explains Will, who says they enjoyed the treat each day of their weddingmoon.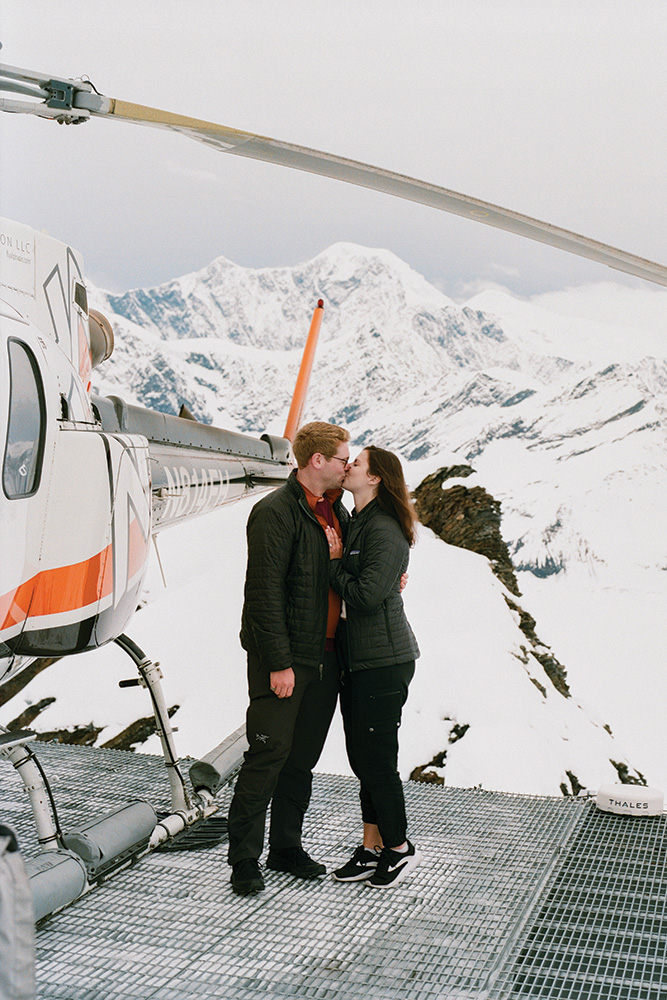 Castle in the Clouds
Of all their amazing adventures, one of the more memorable moments of Alexandra and Will's weddingmoon retreat was the bespoke igloo experience. Two of the property's guides built the structure the day after the couple's wedding. Once inside, they toasted to each other with a bottle of champagne.
Up and Away
One of the romantic allures of Sheldon Chalet is its absolute remoteness. That coupled with its direct access to awesome outdoor adventures is part of its origin story. Positioned on a rocky outcropping that also happens to be a microclimate, the property was first spotted by Don Sheldon via plane. The aerial adventurer was an area bush pilot for years and that legacy remains. All guests are transferred via helicopter; many of the resort's activities are book-ended with plane rides. The couple loved "sitting around, reading and having zero connection with the outside world." Will also favored sipping scotch fireside on the helicopter pad.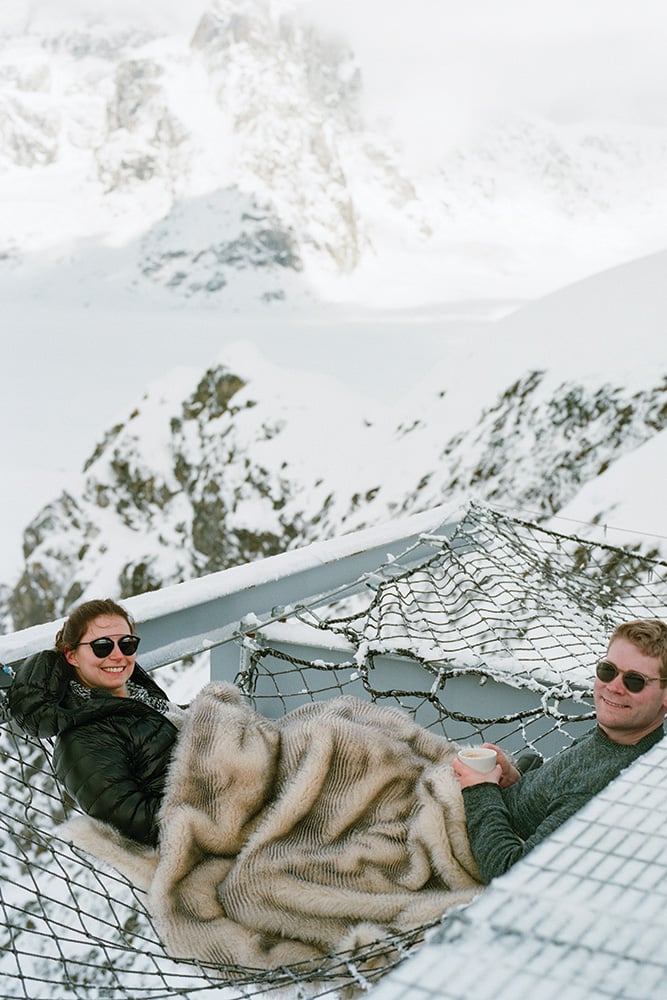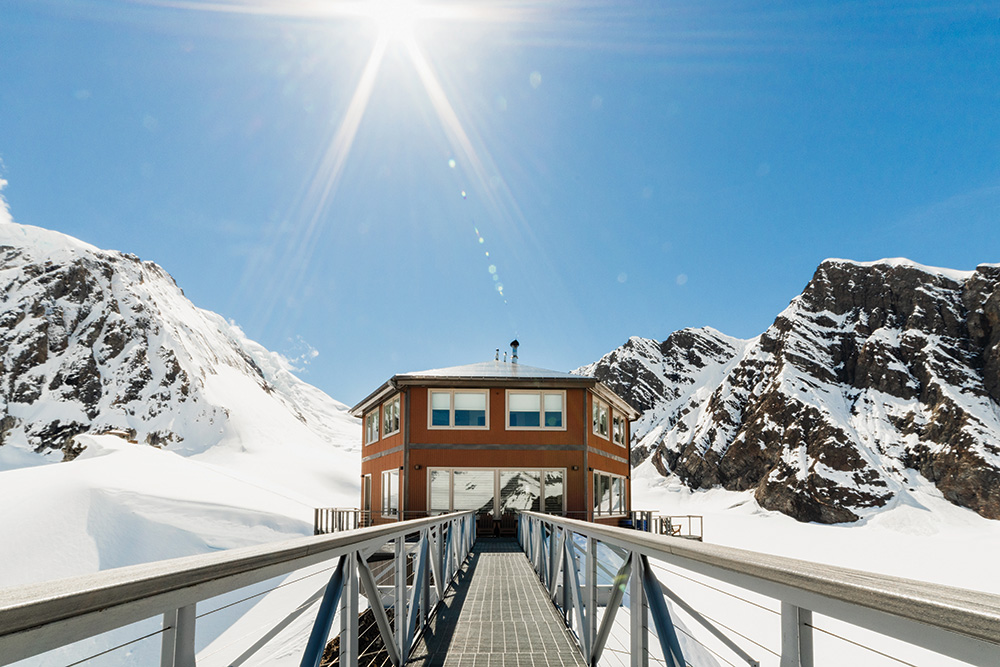 Travel Notes
Impressive, impactful, glittering and gorgeous, these are just a few adjectives that aptly describe the jaw-dropping beauty — and experience — of the exclusive Sheldon Chalet, an all-inclusive luxurious adventure lodge perched on a nunatak (a mountain completely surrounded by glacial ice) in Alaska's untouched wilderness. Family-owned and operated, the hideaway promises unparalleled pampering in an even more incomparable setting. Just 10 guests are welcomed at a time to the hexagon-shaped retreat. Five cozy yet haute accommodations all flaunt sumptuous linens and excellent natural vistas. Gathering places include a homey lounge with leather couches set both fireside and in view of the epic outdoors. Meals here are nothing less than a ritual of excellence, where the guests' favorite fare is exquisitely prepared by the property's renowned chef and expertly paired with wines and cocktails. (Preferred ingredients are flown in daily, based on guest questionnaires completed a week prior to arrival).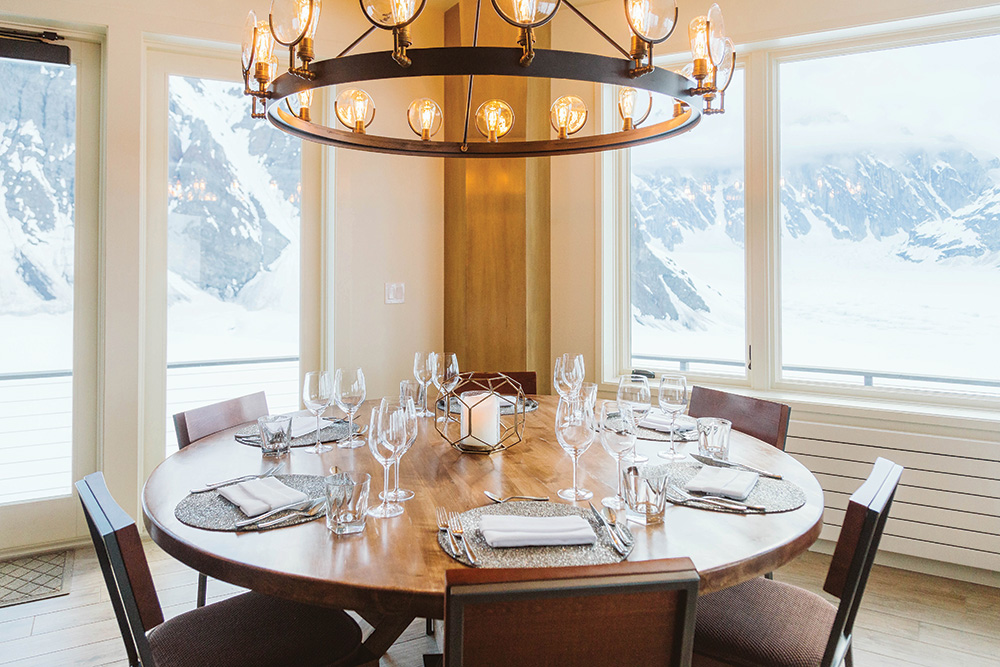 While the food, the beverage, the service and the scenery are stellar, the remote hotel's biggest amenity is its proximity to the Alaskan wilderness. All included excursions from mountaineering, heli-skiing and plane tours to igloo building, aura gazing and star searching, are personally led by two naturalist guides. Guests are outfitted with necessary gear and hosted at Glacier School for an intro to mountaineering and glacier trekking (room rates start at $2,300 per person, per night and are all inclusive with round-trip helicopter transfers from either Anchorage or Talkneeta. There's a three-night minimum stay). 
Legally Wed
Marriage licenses are required in the state of Alaska. Couples must appear in person in either the Anchorage or Juneau Vital Statistics Offices or an Alaskan court with a valid ID for proof of age, the completed application and, if necessary, a divorce decree if the previous union ended within 60 days and a fee of $60. There is a three-day waiting period; licenses are valid for 90 days.
Wedding Details