From petite plates of Southern comfort food to floral bridesmaid dresses, your dream Charleston wedding isn't complete without these trends.
By: Hillary Hoffower
Filled with historic charm, majestic oak trees, cobblestone streets, and blooming flowers, Charleston is a city that's always buzzing with romance. It's no wonder, then, that it's become one of the most popular destinations in the U.S. to tie the knot. Rich in Southern hospitality, lowcountry culture, and beautiful landscapes, there's plenty of wedding inspiration in Charleston in nearly every corner you look. Two wedding planners dish on some of the hottest Charleston wedding trends they've seen, from local cuisine to outdoor weddings.
Incorporating Southern Culture and Charm
"People love incorporating southern culture and flair into their weddings when they come to Charleston," says Reagan Kerr of Reagan Events, which is rounding out its tenth year in business. Look to the city's history and style to add special, unforgettable touches to your wedding.
"Nothing adds to the guest experience quite like a surprise gospel choir following the ceremony, sharing songs rich with Gullah soul and tradition," Kerr says. "Or a mobile oyster shucker who interacts with guests, fixing their oyster how they like it and following it with a chaser of spirits."

Photo courtesy of Reagan Events
Infusing Local Cuisine via Small Plates
One way to serve up a dose of Southern culture — literally — is in the form of Charleston's culinary delights; from fluffy golden biscuits to freshly-caught blue crabs, the city offers some of the best in seafood and Southern classics. Abby Frye, lead wedding planner of Patrick Properties Hospitality Group's in-house coordination and event design division, Peninsula Events, says she's seen many couples incorporate local cuisine and flavor into their menu selections, such as chicken and waffles, shrimp and grits, or fried green tomatoes.
Some even forgo the formal sit-down, plated dinner for chef-attended, petite plates instead. "This style of service lends itself to the true mix-and-mingle way of the South," she says, explaining that it's an extension of cocktail hour, with soft seating like lounge vignettes and tall cocktail tables to supplement traditional tables. This encourages guests to explore the venue, try a variety of food offerings, and mingle with other guests.

Photo: Virgil Bunao
Using a Coastal Color Palette
If you can't decide on a color palette, look around you. Leaning into the color waves of the coastal marshlands will give you all the inspiration you need, says Frye, who has been a wedding planner in Charleston for a decade. Think deep greens, blues, and soft yellows. A white and navy patterned tablecloth mimics the blues of the Atlantic ocean in this reception, while dark wooden chairs play up Charleston's natural inland beauty. Neutral drapery and bistro lighting strung overhead nod to the soft romance that lingers throughout the city.

Photo Credit: Caroline Howard
Exuding Flower Power
Flowers have always been a wedding mainstay, but don't be afraid to go all out in Charleston. Kerr recently had a client who wanted a complete floral transformation of an oceanside ballroom. Her team disassembled the ballroom ceiling, removed all eight existing chandeliers, and replaced it with a ceiling completely composed of live flowers plus more than double the amount of crystal chandeliers that was once in the ballroom. The muted colors resemble the blues and greens of the marsh. "It was an over-the-top display for guests and a logistical challenge," she says.

Photo: Sean Money + Elizabeth Fay
Flowers can be expensive, so don't be afraid to bring them in in other ways. Consider these bridesmaids, who look like they stepped out of a secret garden in mismatched pastel-hue floral dresses. They're ideal for springtime, but perfect any time of the year in Charleston, evoking all the cheerful flowers that come to life in the city as well as the soft hues of Rainbow Row. The look exudes a whimsical, romantic, and Southern feel perfect for a wedding in the lowcountry.

Photo: Julie Livingston Photography
Having an Outdoor Wedding
Almost all venues in Charleston offer a dual indoor/outdoor space, since most couples want to get married outside regardless of the time of the year, Frye says. That way, they can have the best of both worlds. But Kerr advises considering the extreme heat if you're planning a wedding in June, July, or August. "If any part of your day is outside and you are not planning to bring in A/C, be kind to your guests and don't make them wear black tie," she says. "Allow them to stay somewhat cool by having more of a coastal, cocktail dress code where jackets can be removed and ladies can wear loose, flowy dresses."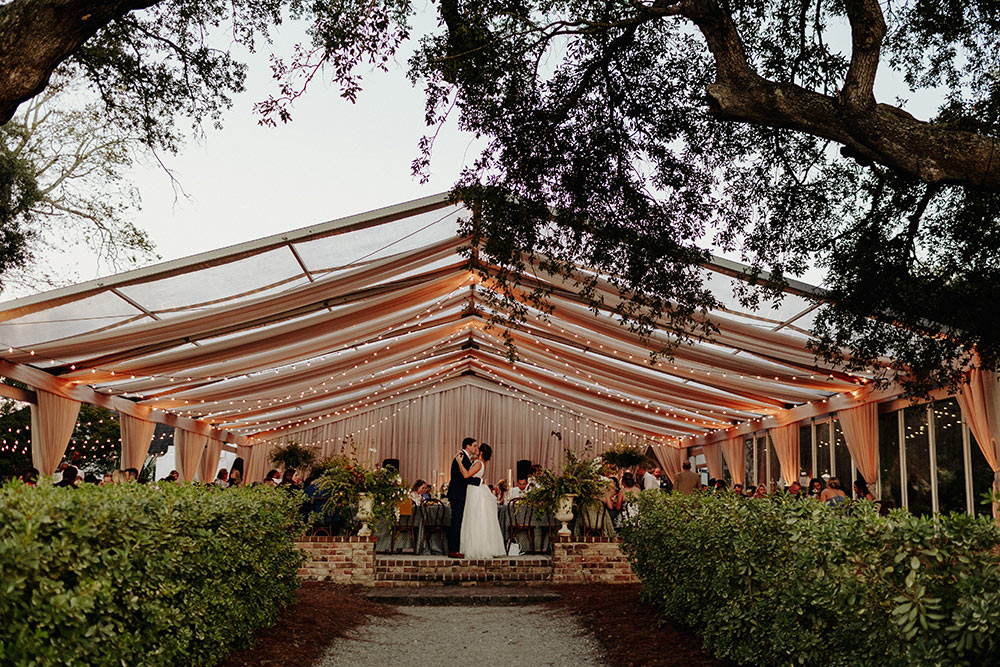 Photo Credit: Caroline Howard