Love The Walking Dead? We've rounded up the most creepy-hilarious wedding ideas inspired by zombies, or "walkers," as they're referred to on the show. Rather than dress up in costume on the day of their actual weddings, the newlyweds featured below got creative and depicted an apocalyptic fantasy using special effects, décor and more.
Zombie Photos
A groom who goes by the username Josiahx on Reddit asked his wedding photographer to shoot him, his lovely wife, and their bridal party doing their best zombie impressions, and then he added incredible special effects using Photoshop. Watch this amazing timelapse showing how he created this pic!

Photo Credit: Josiahx on Reddit
Who could forget the picnic gone wrong that we covered back in August 2011? The couple survived thanks to a shovel, but we'd feel a lot safer using Daryl's crossbow or Michonne's katana sword. This is one of our favorite creative engagement shoots to date.

Photo Credits: Amanda Rynda Photography
The engagement shoot inspired other quirky couples to include zombies in their snapshots:

Photo Credits: The Liri Valley on Imgur
Invitations
We think Maggie and Glenn would approve of these macabre yet elegant invitations. (Who could forget the memorable scene when he ripped an engagement ring off a zombie's hand and proposed shortly thereafter?!)

Invitations by Emily Bawn
One bride and groom chose to hand out traditional wedding invitations to the majority of their guests, but this special version was mailed out to their best friends: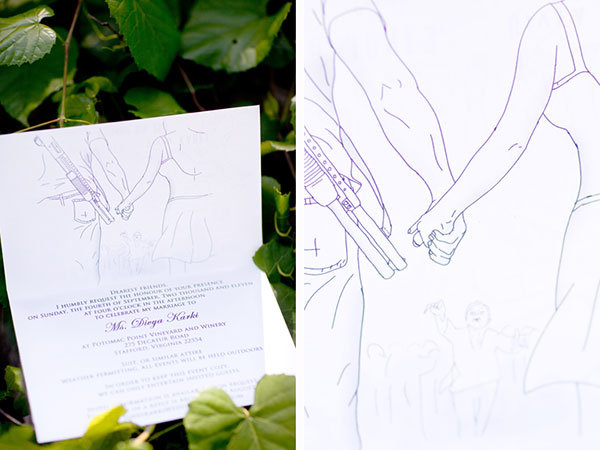 Photo Credits: Mathy Shoots People
Imagine getting this illustrated save-the-date in your mailbox? Sign us up!

Illustrated poster by Manuel Morgado
This life-sized poster was used as an alternative to a traditional wedding guest book: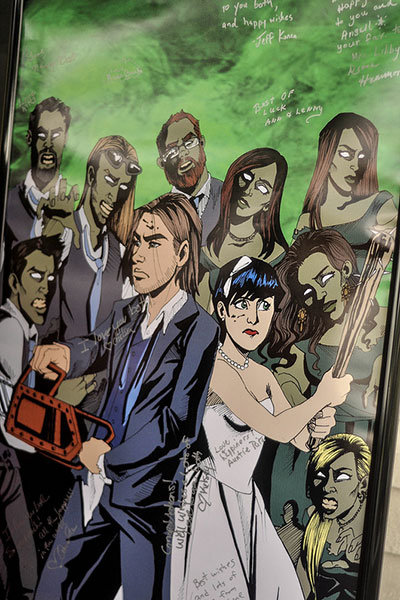 Photo by: Nicole Pomeroy via Offbeat Bride
For your favorite couple with a healthy dose of sarcasm:

Card by: Craft Colorfully on Etsy
Write love notes to your groom zombie husband in this pixelated journal: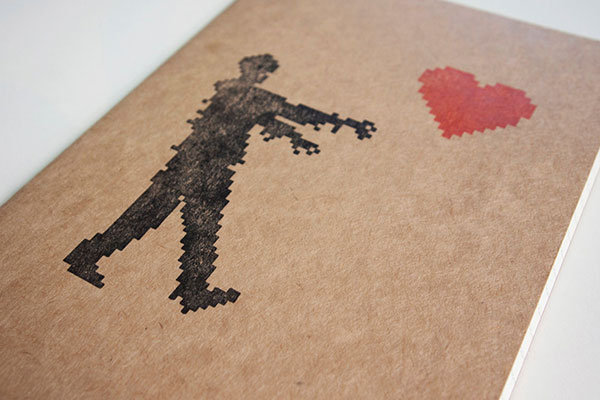 Journal by: Blackbird & Peacock on Etsy
Drinks
Guests got an eye-popping surprise in their signature drink at this L.A. wedding: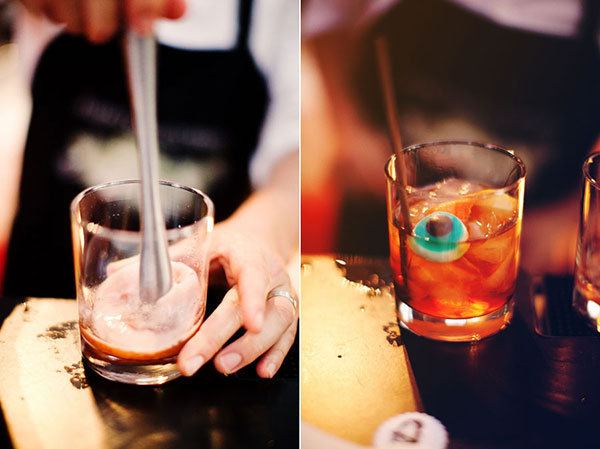 Photos by: Kate Harrison Photography
At another couple's nuptials, guests took home these fun temperature-activated cups:

Photos by: Retro Restyling
Cakes
For a subtle nod to your zombies fixation, consider a ghoulish cake topper. The undead newlyweds below are looking a little worse for wear, but dare we say it, they're actually kind of cute.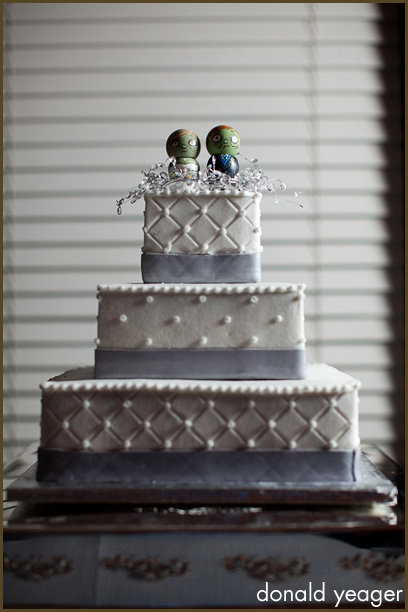 Photo by: Donald Yeager Photography
We love the contrast between the traditional buttercream cake and the herd of zombies climbing up each tier!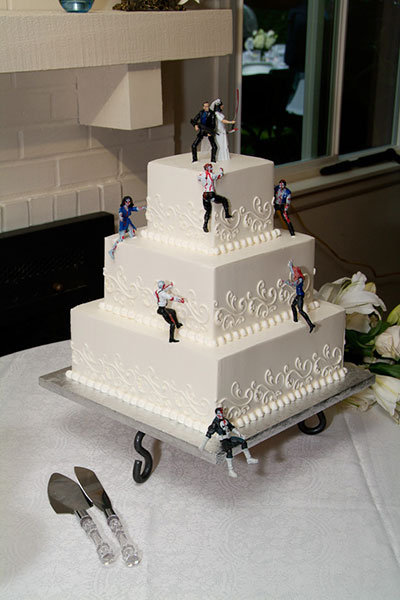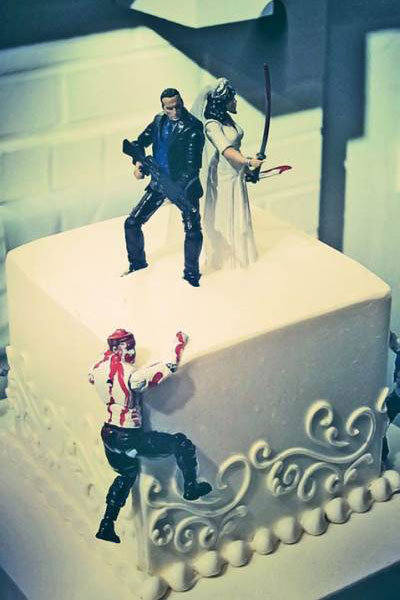 Photos via Platform Biased
This cake had a split personality: A whimsical purple pattern on one side and a zombified version on the other.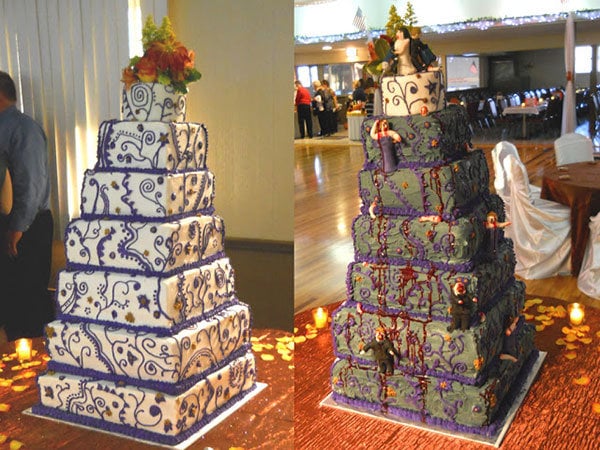 Photos by: Retro Restyling
Similarly, this two-faced cake topper was custom-created for a zombie-loving bride and groom:

Cake topper by The Pixelette on Etsy
This couple had a gorgeous four-tiered cake with regal flourishes:

Photo by: Two One Photography
But their groom's cake stole the show (check out those cheeky tombstone sayings):

Photos by: Two One Photography
Tell us: Are you a Walking Dead fan? Which of these ideas gets your vote for most unique/creative/creepy?
—Stefania Sainato