We took a quick poll of our dear Facebook and Twitter followers the other day asking: Are fake flowers a do or a don't? 60% of you said they are a do!
But we have a feeling the naysayers didn't have these in mind... One of our Facebook fans recommended Keepsake Blossoms (thanks Becca!), and now we're totally obsessed. These gorgeous flowers below are made entirely out of clay.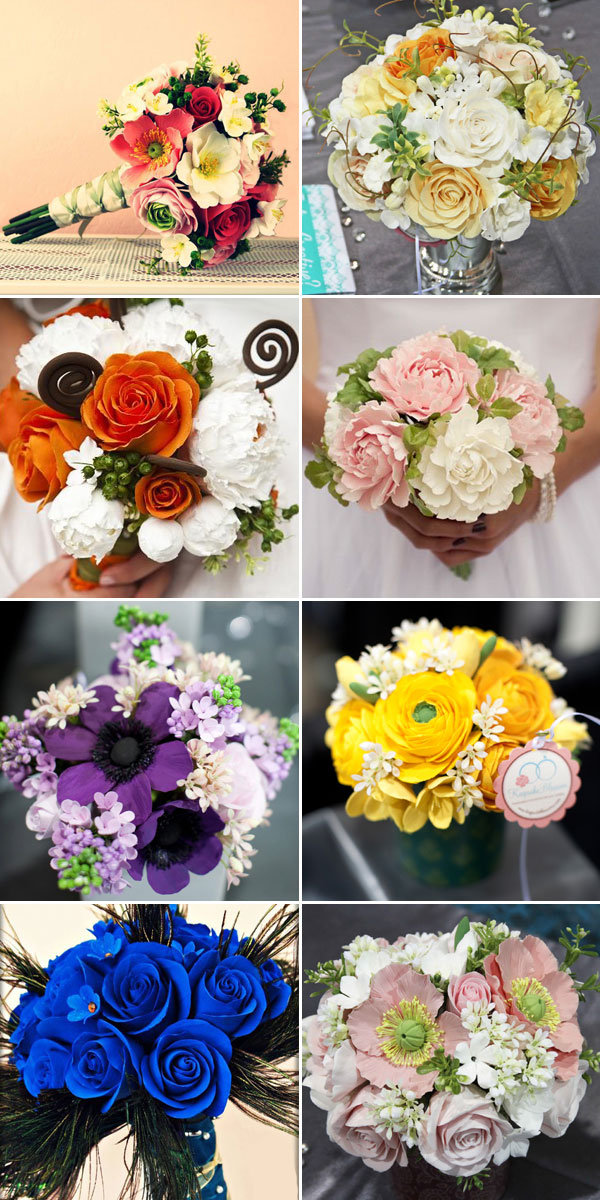 Isn't the attention to detail here just incredible? As you can imagine, it's a time-consuming process—making just one flower can take seven days. So if you're planning on ordering bouquets, centerpieces, or even all of your wedding flower needs, it's recommended that you place your order at least a month and preferably up to six months in advance.
The best part: The cost for a bridal bouquet isn't much more than you'd pay for a floral bouquet—prices start at $300 and depend on the kinds of flowers, colors, size of the arrangement, and complexity. But it's well worth the cost, since it also gives you a beautiful keepsake after the big day. Also available: Hair flowers for around $25 and hairpieces for $50.
What do you think: Would you consider using clay flowers?
—Kristen O'Gorman Klein
Photos clockwise from top left: Abstract Mind by WLo, Angelina Rose Photography, Crescendo Photography, Angelina Rose Photography (2), Abstract Mind by WLo, Angelina Rose Photography, Amanda Fales Photography.