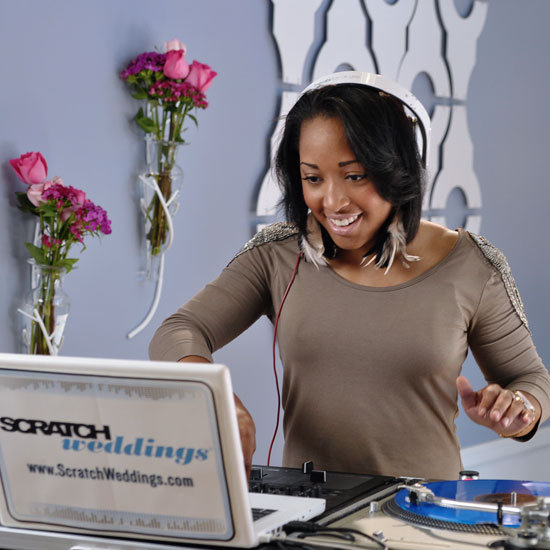 Each week, we feature wedding music recommendations from Scratch Weddings, the nation's leader with the best wedding DJs at affordable prices. This week's post comes from DJ Eskada. Raised in Northern Virginia and now based in DC, she is quickly becoming known as the area's premier female DJ, spinning at clubs, live music shows, fashion events, and more. But her talents reach far beyond the turntables: Eskada is also a trained model, a theater actress, and a former Miss Jr. Virginia. Focusing on love, music, and family, DJ Eskada commits to creating the perfect atmosphere for every wedding she spins. "My goal is to build the right mix to get everyone excited. When I see a couple out on the dance floor with their entire family and all of their friends, all having a great time together, then I know I've done my job!"

Photo Credit: Holli B Photography
It's important for the wedding music to speak not only to the bride and the groom but also to their guests. Many modern weddings include guests from a wide variety of ages, cultures, and lifestyles. Great wedding music can bridge these gaps, form connections, and blend a seemingly disparate group of people into one cohesive celebration.
Whether it's cocktail hour or a post-reception dance party, the upbeat style of 90s R&B is versatile, generates good vibes, and creates an atmosphere that leaves the dance floor approachable to all ages. The heart of the genre includes memorable artists like Mary J. Blige, Mariah Carey, Bell Biv DeVoe, and even legends such as Michael Jackson and Whitney Houston.
This niche group of songs appeals to all ages because older guests, who may not identify with the current tunes, are elated to be taken on a musical time machine to their past, while younger guests can still move to the colorful beat. Since the beats, melody, and vibe of 90s R&B stem from older R&B and, furthermore, are the building blocks for the future of R&B, this genre makes for a smooth and tasteful transition into any other genre.
Check out the songs below to find 90s R&B tunes that will work great for your cocktail hour and party hour.
Cocktail Hour:
► "I Love Your Smile" - Shanice
► "Remember The Time" - Michael Jackson
► "Honey" - Mariah Carey
► "Angel of Mine" - Monica
► "On Bended Knee" - Boyz II Men
► "All My Life" - K-Ci & JoJo
Reception Songs:
► "Candy Rain" - Soul 4 Real
► "Real Love" - Mary J. Blige
► "This Is How We Do It" - Montell Jordan
► "Poison" - Bell Biv DeVoe
► "Are You That Somebody?" - Aaliyah
► "I Will Always Love You (Remix)" - Whitney Houston
More Genre Spotlights: