While classic weddings will always have a special place in our hearts, we couldn't stop buzzing about these so-weird-they're-awesome nuptials and shocking bridal antics. Check out the most unusual headlines that crossed our desks this past year.
10. Engaged couple sees what they'll look like growing old over 60 years together
One month before walking down the aisle, Kristie Scherrer and Tavis Douchette (both in their late 20s) had a team of makeup artists transform them into what they might look like at ages 50, 70 and 90 using life-like prosthetics and old family photos for reference. Jokes about their thinning hair, unkempt eyebrows, and wrinkles aside, they can't help tearing up while imagining their kids, grandchildren, and stories that they'll share over 60 years from now. "You've made me a better person. There are so many things I couldn't be without you," Douchette shares. Watch the touching video:
9. This couple got married 38 times around the world in 83 days
For most couples, planning one wedding is enough of a challenge — but not for acrobats Cheetah Platt and Rhiann Woodyard, who planned 38 spectacular ceremonies around the world! After getting engaged, the Los Angeles-based couple couldn't believe how much it would cost to host their wedding in their hometown, and they decided to put the money to better use by traveling around the world, throwing a wedding ceremony in each location. "We didn't want to spend a lot of money for a single day," Platt told the Huffington Post. "This wedding, three months around the world with unbelievable adventures... is cheaper than throwing a good — not even 'great,' not even 'epic,' just a 'good' — wedding in California for one day."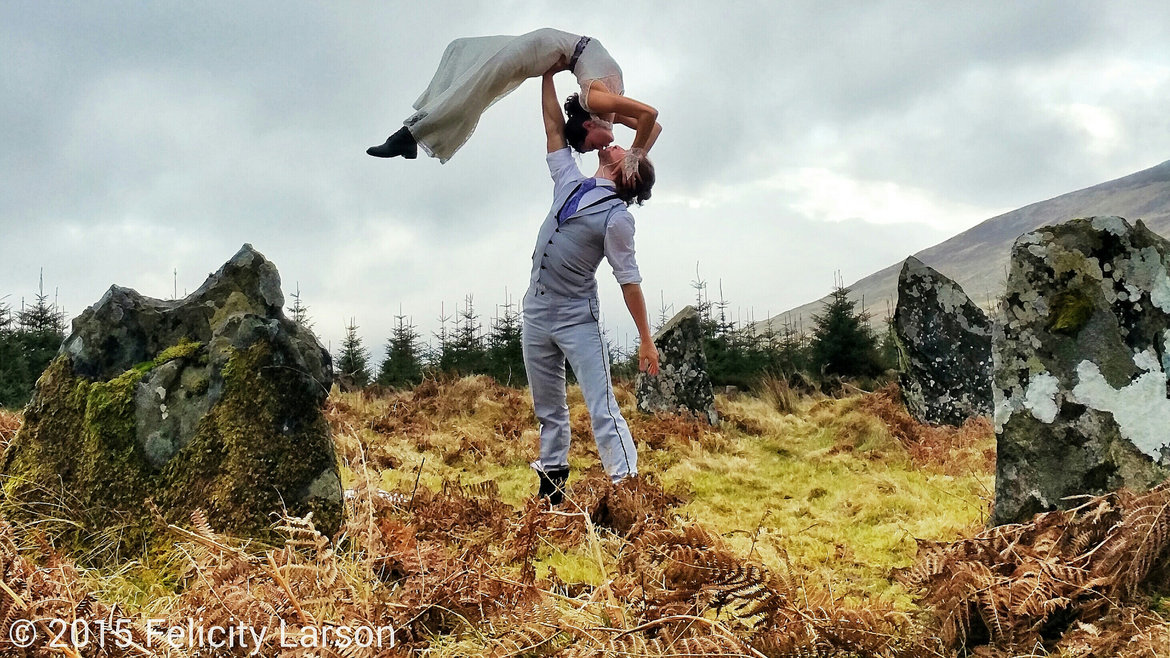 Boleycarrigeen Stone Circle in Wicklow, Ireland
8. A man who was invited to a stranger's bachelor party by mistake decided to go anyway
It sounds like the plotline of a rom-com bromance: Groomsmen accidentally invited a stranger who lives 2,800 miles away to attend a bachelor party, and incredibly, he showed up. The saga began on February 11th, when Joey DiJulio from Burien, Washington, received a cryptic email about a bachelor party taking place in Philadelphia. He didn't recognize anyone who matched groom Jeff Minetti's description (a "middle-aged Pavarotti") but instead of deleting the email, he kept following the thread, entertained by the groomsmen's witty responses. Eventually, he alerted the guys to their mistake, and to his surprise, the bridal party not only encouraged him to attend the bash, but they even offered to chip in to cover the cost of his trip. The email buddies finally met face-to-face in Philadelphia on March 28th and they hit it off. The bachelor festivities included a stop at Tony Luke's, a duck tour, basketball and shuffleboard, and gambling at SugarHouse casino.

Photo Credit: GoFundMe
7. Groom levitates during first dance with bride
One couple's first dance to "I Put a Spell on You" by Screaming Jay Hawkins left us utterly bewitched! Justin Willman and Jillian Sipkins got married on September 6th in Malibu, California, and the groom, a magician, treated guests to mind-blowing tricks during their spin on the dance floor. (If the newlyweds look familiar, it's because they also went viral this year with their hilarious "Drunk History" story of how they met.) Watch their spooky and sexy waltz (choreographed by friend Sebastien Stella) and try not to freak out during the finale:
6. Paramedic responded to crash after getting married — while still wearing her dress
Sarah Ray and her husband Paul experienced the unthinkable on their wedding day — a driver ran a red light and slammed into their relatives' car on their way to the reception. What makes their story even more remarkable is that they're both paramedics, and they rushed to assist moments after saying "I do" at Clarksville Grace Church of the Nazarene in Clarksville, Tennessee. "I don't know that what I did was special. I was just making sure my family was OK, and I just happened to be in a wedding dress," Sarah tells Nashville's News Channel 5. The newlyweds' selfless act went viral after the mother of the bride, Marcy Martin, snapped a photo of her daughter in her gown at the scene of the accident, which was then shared to Montgomery County, Tennessee's Facebook page. "I love this photo because it shows her character and accentuates her beauty," she says.
5. You'll never believe why Burger King decided to pay for this couple's wedding
Childhood sweethearts Joel Burger, 24, and Ashley King, 23, from Illinois, been referred to as "Burger-King" since the fifth grade. Over the years, they have come to embrace their wacky nickname fully; they even announced their engagement this past spring by taking photos posing next to a BK logo outside the restaurant. On April 6th, representatives from the fast food giant contacted the bride and groom via Skype and to their amazement, generously offered to pay for all of their wedding expenses. King began shaking and burst into tears before accepting. "We knew deep in our hearts that we wanted to honor the union of Mr. Burger and Ms. King," a spokesperson tells The State Journal-Register. "And we wanted to create a 'whopper of a wedding' that's uniquely their own." The epic Burger-King nuptials took place on July 17th in Jacksonville. Congratulations to the happy couple!

Photo courtesy of Skype / Provided by Burger King
4. This guy proposed with a ring made out of his wisdom tooth
Just when we thought we'd seen every unique engagement ring imaginable, Lucas Mancoon-Unger outdid them all when he presented fiancée Carlee Alisan Leifkes a ring made from his wisdom tooth. "So incredibly excited to marry my best friend, the man who knows that his wisdom tooth means more to me than a diamond. Can't wait to be a weirdo with you and dance our way through life to Thee Oh Sees and Black Sabbath. We have never been the "traditional couple", why the heck start now?" Leifkes writes in a Facebook post. The California couple got married this past November in Las Vegas. Congrats to the unconventional pair!
3. Identical triplets got married at the same time — wearing the same dress!
Talk about a triple whammy! Guests at the Bini family wedding in Brazil witnessed identical triplets marry on the same day, in the same ceremony while wearing the same dress. Twenty-nine-year-old sisters Rafaela, Rochele and Tangiane Bini have always shared similar tastes, ever since they were little girls, and their nuptials were no different. Case in point: They each wanted to have their own unique hair and makeup for the big day, but they all ended up liking the same style. Rochele tells The Daily Mail that "It's not even worth trying, it always ends up like that." The only differentiating factor — besides their grooms, of course — was that they carried bouquets in different hues. Their 18 bridesmaids wore red, yellow or blue dresses that color-coordinated with their "assigned" bride. Sounds confusing, right? The grooms, Rafael, Gabriel, and Eduardo, admitted that they were worried they might get mixed up during the vows; however, the ceremony worked out perfectly.

Photo Credit: Diovane Moraes / Everton Rose Associates
2. Bride presented father with a medical certificate at her wedding to prove that she's still a virgin
Brelyn Bowman ignited a firestorm of controversy online when she posted an Instagram snap of a document signed by her doctor proving that she was a virgin. She presented the purity certificate to her father, pastor Dr. Mike Freeman, on October 10, her wedding day, because she wanted to give him proof that she had remained abstinent until marriage. "Thanks for all your support on social media over the last couple of days! We will continue to push & celebrate our decision. Thank you for helping us push a positive message! If one person has made a decision to wait until marriage or decide to stop & wait we have done our job," the bride wrote on Instagram.
1. Couple dubbed The "Kim Kardashian and Kanye West of China" threw a $31 million wedding
We've covered some over-the-top celebrity weddings, but this one definitely takes the cake this year. Chinese actress, singer and model Angela Yeung (stage name: "Angelbaby") wed actor Huang Xiaoming on October 8th in a so-lavish-it's-insane wedding celebration that cost a staggering $31 million (only $3 million less than Prince William and the Duchess of Cambridge's Royal Wedding, and three times more than Kimye's big day). Costs included a custom Dior gown with a 10-foot-long train, enough food and a 10-foot cake to feed 2,000 guests, a holographic castle during the ceremony, a five-and-a-half karat Chaumet ring (valued at $1.5 million alone) and more. The pre-wedding events were just as elaborate, with the couple staging an engagement photo shoot in Paris that featured not one but a series of Elie Saab couture gowns. Kevin Kwan, the author of Crazy Rich Asians, explained the affair to Yahoo Style as such: "If Chris Evans were to marry Jennifer Lawrence in a very public, all paparazzi invited wedding held at Radio City Music Hall, that would not even come close to the magnitude of this wedding."
— Stefania Sainato