For decades, there have been lists of "don't do this" and "do this" given out to brides for their weddings. The rules seem to change with every season that passes, but there are a few myths out there that couples need not worry about:
Rule #1: You cannot see your bride/groom before you walk down the aisle.
If you're a traditional person, then you aren't going to want to see your sweetheart before the ceremony. But if you want to enjoy your cocktail hour with your guest, and tradition isn't really your thing, then breaking this rule is perfect for you. "First look" pictures are becoming insanely popular as more and more couples want to attend their entire wedding and not just the reception. During a "First Look," the couple sees each other before the ceremony, and their photographer captures pictures of the moment. This also makes is possible to take pictures with other family members and friends, as long as you don't mind them seeing you before you walk down the aisle either. Think about it this way: The more pictures you take before the ceremony, the more time you will have to enjoy your wedding — including your cocktail hour.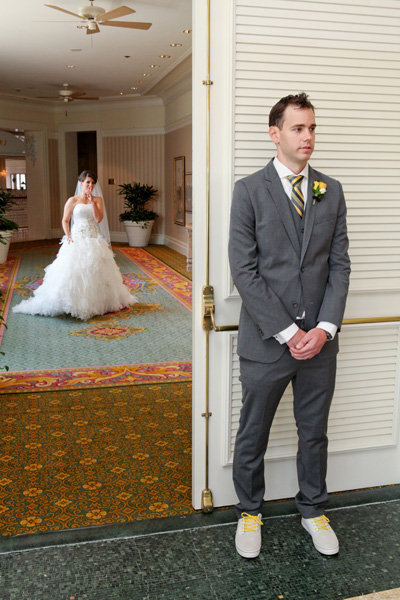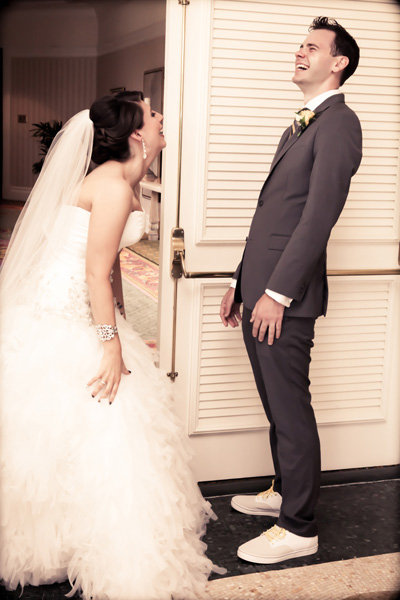 Photo Credit: Disney Fine Art Photography & Video
Rule #2: You must toss the bouquet and the garter.
You actually don't have to do either of these things. Many couples choose to just toss the bouquet or to simply hand it off to the couple in the room who has been married the longest. Fewer brides are comfortable with the idea of their groom lifting up their skirt to reach under and grab the garter, only to then toss it over his head to a pack of guys. If you don't want to do either of these traditional aspects, you don't have to.
Rule #3: You must pass out favors.
Guess again! Favors frequently end up in the trash if they aren't food or alcohol. Let's face it; no one wants those Jordan almonds, and anything with your monogram on it won't make sense for your guests to keep. Unless you are providing a split bottle of wine with a thank you label or something interesting like a bag of coffee grounds from Peru, do not feel pressured to provide your guests with a favor. Of course, a donation to a charity in lieu of a favor is always another option to consider.

Photo Credit: Shewanders
Rule #4: Your wedding has to be on a weekend.
This is becoming less and less true. Celebrities are paving the way for Monday weddings to be acceptable, and while your guests may not be fans of this, a Saturday night wedding isn't the rule anymore. In fact, we have many couples who want a particular venue during a particular time of the year — and if that means they settle for a Tuesday afternoon, they will take it. Just understand that this will impact your guest list, much like having it on a holiday weekend. However, if your wedding is small and your venue only has non-traditional dates available, there's nothing wrong with taking one of them!
Rule #5: You have to invite children to your wedding.
Don't worry about hurting feelings here. Truth be told, you will offend someone at some point in time during your wedding planning anyway, no matter how hard you try to avoid it. Weddings are adult affairs, and you'd be surprised at how many parents would prefer not to bring their children with them anyway. Between the long day, driving from one place to the next, the alcohol and the late night, weddings just aren't a fun place for kids to be. Do not feel guilty when you write "Adults Only" on your invitations. As long as you are giving enough notice, your guests can find babysitters.

Photo Credit: Studio Cabrelli
Rule #6: You have to provide transportation for your guests for the entire day.
While this is an extremely nice gesture, it certainly is not mandatory. If you can afford to do this, then by all means offer to shuttle your guests. However, these shuttles must be booked months in advance prior to your invitations going out. This means guessing how many people will actually use the shuttle. There is a strong chance that you will provide transportation for far more people than will actually use it. In fact, many guests will tell you they will use the shuttle and then change their mind at the last minute. The truth is, they don't realize this is another incurred cost for the couple, so they will think nothing of taking their own car.
Rule #7: Someone must walk you down the aisle.
If you want to take the trip alone, you can take the trip alone! If you don't have a parent, sibling, or someone else in your life that you feel needs to "give you away," then you can walk to your fiancé all by yourself. Besides, many aisles are narrow, and if you're wearing a ballgown, you might be the only person who fits down the aisle.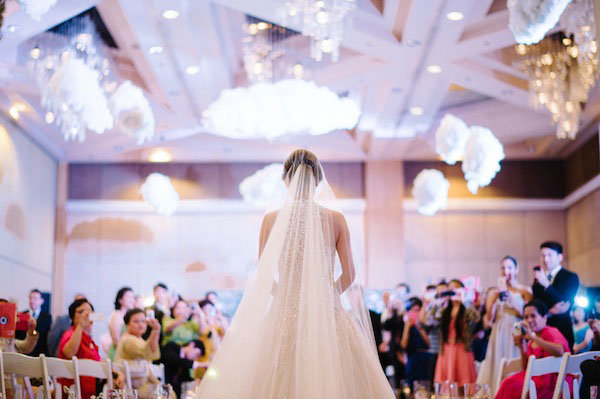 Photo Credit: Toto Villaruel on Bride and Breakfast via Lover.ly
Rule #8: You need a certain number of bridesmaids depending on how many guests you're inviting.
This is simply not true! Your bridal party should consist of the people you are closest with, and if that means one or two people, then that is perfectly fine. If your fiancé has more people than you, that is totally acceptable, too. Many couples are opting not to have a wedding party at all and frankly, that's even better in some cases: Fewer headaches, less drama, and no arguments over wardrobe.
Rule #9: Your friend would make a great officiant/planner/DJ/etc.
We see this mistake happen all of the time, and as much as we warn couples, there's only so much we can do. While it's a nice thought to have your friend officiate the wedding, there are states where this simply isn't allowed, and you will have to get married in advance of your ceremony. Plus, we've seen friends mess up on the wedding day, and then things get really difficult and out of control. Take our advice here: Hire a professional. Let your friends just be guests at your wedding!
Rule #10: There is a specific order that your reception must have.
While there are certainly things that need to be organized — for instance: parent dances, cake cutting or other traditions — there is no set order in which to do them. If you want to get all of the formalities out of the way so that your group can dance all night, then do it. If you want everything to be spread out, that's fine, too! It's your day and your wedding, so schedule whatever you want, in whatever order you want.

Photo Credit: Captivating Weddings
Tell us: Which wedding "rules" are you breaking?
—Danielle Rothweiler
Danielle Rothweiler is a full-service seasoned event planner who has worked with some of the NY/NJ Metro Area's most exclusive venues and elite vendors. Quick-witted, sharp-as-a-tack and great under pressure, Danielle is known for her innovative ideas and keen attention to detail. She has worked with a number of media/TV personalities on various high profile events. Danielle believes strongly in giving back to the community and works very closely with the NYC Hope Gala, created to support fundraising efforts on behalf of The Four Diamonds, and The Penn State Dance Marathon (THON), which contributes to the mission of conquering childhood cancer. Danielle is also the Founder of NJ's Annual Same Sex Wedding Giveaway initiative.