Welcome to our latest installment of "Ask the Experts," where our contributor team of wedding planners solves readers' most pressing wedding-planning dilemmas! This week, Stephanie F. Carmody from Trés Chic Events and Ashley Espinal from Dulce Dreams Events weigh in on how to inject color into your big day without going overboard. Do you have a question that you'd like to submit? Email [email protected] and we'll do our best to respond to your inquiry as soon as possible.
Q. "How can I incorporate four different colors in my wedding? My wedding is in June, and I'm stuck between mint, peach, gold and coral. Please help!" — BG reader Rebecca
Stephanie Answers:
"Hi Rebecca! There are many different ways to incorporate multiple colors in a wedding. The first color to focus on is what we like to call the 'complementary color.' That usually tends to be gold, silver, mercury glass, etc., which may be part of existing décor elements. Perhaps the venue has one of these colors in their chandeliers or chiavari chairs? If so, this hue can be woven into the font color of your invitations, the charger or base plate on the table, or even your bridesmaid shoes! Using these subtle accents will help tie everything together.
For example, gold was used as the complementary color in the wedding pictured below: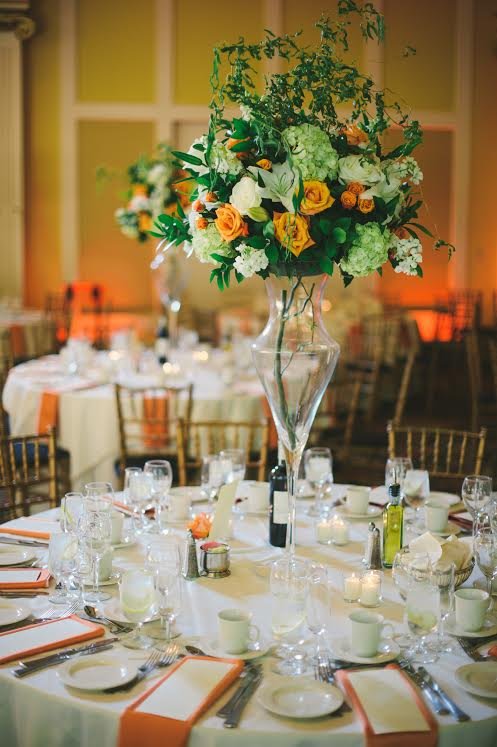 Photo Credit: Tony Spinelli Photography
Silver chairs, tablecloth and chargers balanced out this pink wedding:

Photo Credit: Candace Jeffery Photography
From there, vibrant wedding colors can be used for more prominent elements of your big day, such as the bridesmaid gowns or floral décor.
For example, at my wedding, pink and mint green served as the main colors:

Photo Credit: Maring Visuals
One of my clients wanted a white, blue and purple wedding. We incorporated those hues by using white and cream florals (thistle served as the pop of blue), along with purple carnations. The bridesmaids also wore navy gowns:

Photo Credit: Robert Norman Photography
Florals in particular are a great way to showcase different shades within the same color family, such as orange, coral and peach. You can also include mint through greenery such as dusty miller, which has a soft mint color aspect. I would suggest using a neutral-colored bridesmaid gown, such as navy or grey, and then have the accent colors pop in the florals against their gowns.
Whatever your color scheme, there are several locations where they can all shine and play an important role. Knowing where and how to apply them at your wedding is the first step to ensuring you and your guests have a memorable experience."
Ashley Answers:
"Many brides use a variety of colors on their wedding day. Although most couples typically choose a maximum of three colors to form a color palette, it doesn't mean that you HAVE to stick to that! Referring back to your color scheme, you have already chosen three colors (peach, gold and coral) that all blend wonderfully and are beautiful for that time of year.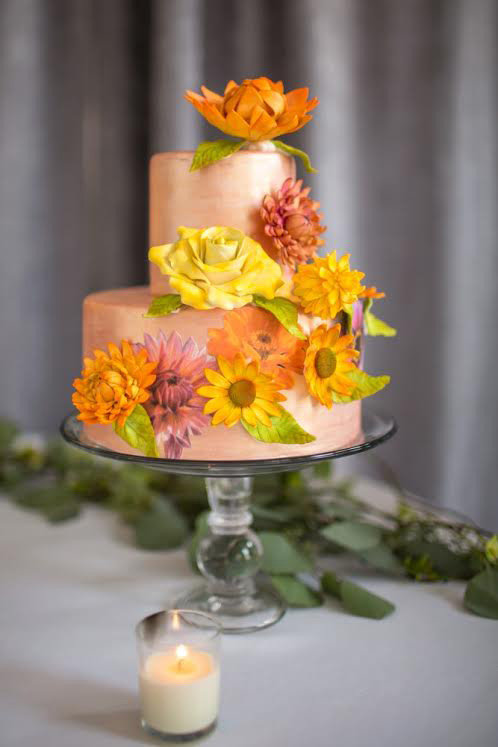 Photo Credit: Cyrience Creative Studio
Be strategic with where you place the boldest colors to add personality to your wedding while keeping it elegant, unique, and fun. For example, you can have your bridesmaids in soft mint-colored dresses and add coral ribbons to their bouquets. Using pops of color on your invitations, ribbons on your chairs or even glittery table numbers are all different ways you can incorporate some character without it getting too 'busy.'

Photo Credit: Brian LaBrada Photography on Bridal Musings via Lover.ly
The only advice I would stick with is to stay clear from doing anything too excessive, so you don't distract from the overall theme. You want your wedding to be cohesive in theme, color, and feel. There aren't any specific rules that you have to go by when designing and planning your wedding. Remember that each wedding is customizable, so go right ahead, and add some color!"
Plus, check out 200+ beautiful color combinations for your wedding ►
— Stefania Sainato
---
Stephanie F. Carmody is the founder of Trés Chic Events, a full-service boutique wedding and event company. Stephanie believes the most exceptional events provide unforgettable experiences, which she has been crafting for red carpet events like the Daytime Emmy Awards, The People's Choice Awards and the Country Music Association Awards, Fortune 100 companies and celebrity guests for more than 15 years. Trés Chic Events works only on a finite number of events, curating every luxe detail and creating a bespoke, one-of-a-kind experience. They have cultivated relationships with the most reputable vendors and resources, which ensures that your event will have the best of everything.
Ashley Espinal is an NYC-based wedding planner specializing in custom weddings for couples. From full and partial wedding planning, design and management, to month of coordination, Dulce Dreams Events provides an encouraging and stress-free planning experience. Ashley values and appreciates individuality and is guided through the design and planning process of each event by the unique qualities of her couples and their families. Filled to the brim with endless inspiration and creativity, Dulce Dreams Events is where you will find the time to stop and enjoy every celebration from "we will" to "I do."