When my husband Michael and I first got engaged, we were overly confident that we could put together our wedding for way less than other couples we know had spent. However, when we started getting quotes from vendors and banquet halls, reality hit us; hard. Knocked off our high horse, we were forced to consider the following:
A) What was truly important to us (and what we would remember after the day had passed).
B) What our guests would notice and appreciate.
C) How much money we realistically could (and wanted) to spend.
Once we determined our budget, we strived to come in under on every single line item, rather than spend it all. Below is a detailed list of where we saved, and the choices we made to get there. (Note: The following stats reflect the amount of dollars I came in under budget for each wedding element, rather than the total amount of dollars I saved. The actual savings are greater.)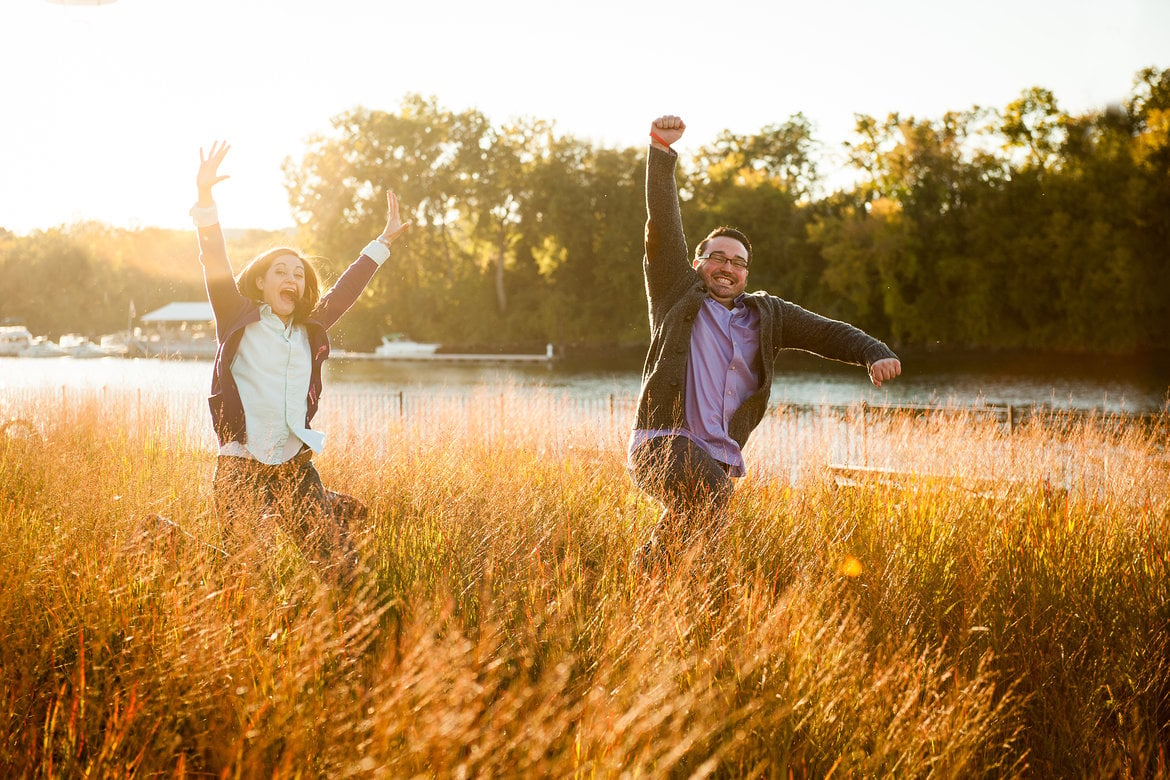 1. Reception
Came in $2,156.80 under budget.
How we did it: My husband and I knew that the reception was going to be the biggest piece of the wedding budget pie, so we tackled it first. We had a few non-negotiables: open bar the entire time, great food, and a downtown location that provided plenty of bars, restaurants, and entertainment for our guests. That didn't give us a lot of wiggle room, so here's how we pulled it off:
Found a venue that let us build a custom package.
Booked our wedding in the off-season (we got married in February).
Cut our guest list from 250 to 150.
Negotiated for small items, such as uplighting.


2. Rehearsal Dinner
Came in $156.40 under budget.
How we did it: How we did it: Many times, rehearsal dinners become a mini reception the night before the wedding, but we wanted a casual, intimate gathering with our best friends. Here was our solution:
Hosted the party at one of our favorite bars.
Served a casual, buffet-style dinner.
Bought two kegs instead of having an open bar.
Limited it to parents and wedding party members only. 


3. Music
Came in $2,050 under budget.
How we did it: Neither one of us are fans of wedding bands because we don't like listening to covers of songs, and we prefer a party atmosphere. Instead, we hired a great DJ, and he honestly made the entire night.


4. Flowers
Came in $2,212.08 under budget.
How we did it: We thought we were going to have a tough time maximizing our floral budget because our wedding was on Valentine's Day. Our solution was to take a minimalist approach to the flowers by designing sleek, modern centerpieces and skipping the components guests wouldn't miss. Here are the details:
Used hockey jersey letters instead of boutonnieres for the groomsmen (who are all big hockey fans).
Skipped the ceremony arrangements since we had 16 wedding party members on the altar with us.
Repurposed bridesmaid bouquets for reception arrangements on the sweetheart, cake and gift tables.
Designed simple centerpieces with in-season white tulips that complemented the venue's 40-foot ceilings, opposed to big, full centerpieces. From this, we learned that the quality and design are more important than the quantity of flowers. You can make a big impact with just a few stems. We also left the tulips attached to their bulbs so guests could take them home and plant them.
Purchased all of our vases and fillers from the Dollar Tree.
5. Attire, Hair, and Makeup
Came in $2,016.48 under budget.
How we did it: I attribute this success to my approach to dress shopping. First, before I started looking, I gave myself a firm budget that I would not go over. Second, I entered the bridal shops with an open mind, rather than looking for one specific dress, which gave me so many options. Here's how we tackled the rest of this category:
Purchased TOMS shoes — cute, affordable, and re-wearable.
Since my husband had eight groomsmen, his tux rental was free at Men's Wearhouse.
I decided to wear my mother's veil instead of buying a new one, which became my "something old."
My dress shop gave me a $250 credit towards accessories, which I used to rent a fur stole and buy new earrings.
I chose a simple dress that didn't require any alterations, other than shortening it.
I didn't go crazy with expensive pre-wedding beauty routines (e.g. hair extensions, professional teeth whitening or dramatic weight loss) because I still wanted to look like myself, just polished. However, I did splurge to get my hair and makeup professionally done at my salon.
6. Ceremony
Came in $450 under budget.
How we did it: To be honest, there's no trick here. Our church doesn't charge a fee for ceremonies, other than to pay for the organist and cantor.


7. Stationery
Came in $37.85 under budget.
How we did it: Stationery sets the tone for an event, but at the end of the day, no matter how beautifully designed or packaged it is, it all ends up in the trash. Because of this, we decided to focus our stationery budget on the actual invitations and save on the accompanying pieces. Here's the breakdown:
Postcard Save the Dates: Purchased digital file on Etsy, printed through Vistaprint and saved on postcard postage (versus an envelope).
Made sure our invitation suite was not heavy or bulky so they wouldn't go over the standard "Forever" postage weight.
Used postcard RSVPs to save on extra envelopes and postage.
Bought cute, standard thank-you cards instead of paying for custom designs.
Made DIY escort cards made from children's Valentines (ex. Spongebob, Disney Princess and Ninja Turtles) that we bought on clearance after Valentine's Day last year for less than $10.
Skipped ceremony programs.


8. Wedding Bands
Came in $618 under budget.
How we did it: Put simply, my husband wasn't picky, and I got lucky.
My husband purchased his tungsten wedding band off Groupon for less than $50.
My mother gave me one of her bands as a family heirloom. All we had to do was size it and dip it in rhodium.


9. Honeymoon
Came in $1,632.36 under budget.
How we did it: We originally booked our wedding on Valentine's Day because it was the Saturday before the schools' February breaks, and my husband is a teacher. Doing this allowed us to go on our honeymoon right away, but it also meant higher travel costs. To rein in these prices, we:
Opted for a cruise instead of an all-inclusive resort.
Put wedding expenses on my AAA credit card to earn a travel voucher that defrayed the cost of our trip.


GRAND TOTAL: We came in $10,435.31 under budget!
At the time, it felt like we might have been cutting corners but now that it's all over, I can honestly say that we have no regrets. We feel like we spent our money in the places that matter most: the food, the atmosphere, and the guests themselves.
There's no one right away to divvy up a wedding budget; every couple needs to decide what is most important to them and their special day. However, it's very easy to get swept up in the wedding world and upgrade things that seem necessary at the time. Stick to your budget, make rational decisions instead of emotional ones, and think about what will truly resonate with your guests and create a wonderful experience for your and your groom. Everything else is just details, and less is more.
Tell us: How did your lower your wedding budget?
All photos courtesy of Upstate Photographers
— Caitlin Rebecca Ryan