Welcome to our latest installment of "Ask the Experts," where our contributor team of wedding planners solves readers' most pressing wedding-planning dilemmas! This week, Tracie Domino from Tracie Domino Events and Vikki Marsee from All You Need is Love Events weigh in on what to do in case a bridesmaid is missing in action. Do you have a question that you'd like to submit? Email [email protected] and and we'll do our best to respond to your inquiry as soon as possible.
Q. "What if one of your bridesmaids hasn't helped you do anything for the entire year you've spent planning your wedding? How are you supposed to deal with bridesmaids that don't pull their weight or carry any responsibility, especially when they are family?" — BG reader Tabitha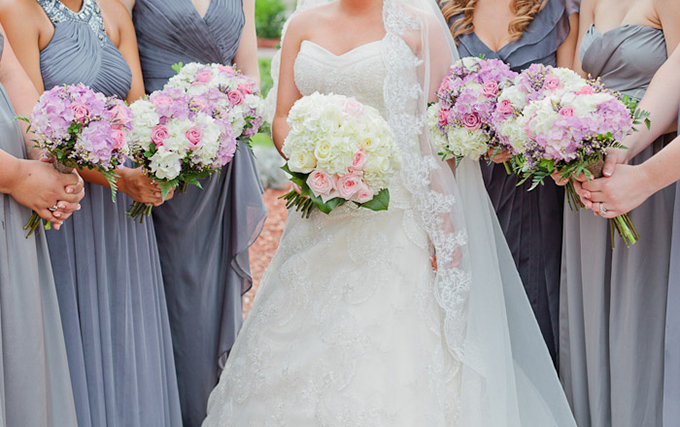 Photo Credit: Jennifer Blair on Glamour and Grace via Lover.ly
Tracie Answers:
"Hi Tabitha! Your question is a common one that we hear from our clients. What expectations did you describe when you asked her to be a bridesmaid? Usually, this role requires that they help you plan your bridal shower, attend your bachelorette party, help you get ready on your wedding day and stand at the altar with you. Many of today's bridesmaids are working women, spread throughout the country, who might not have time to help with DIY projects and other activities that used to be common for bridesmaids to complete.
My advice is to reach out to the bridesmaid in question and let her know that you need some help and see if she can be of any assistance. She might not know that you are expecting her to be doing anything and most likely isn't avoiding her responsibilities on purpose. Never mentioned that you wanted the bridesmaids to put in a lot of man hours when you asked them to be your attendants? Then don't be too surprised if she doesn't have a ton of time to make favors or work on other wedding-day projects.
However, if you have already communicated your expectations, then here's what to do: simply ask her what she would like to help with, have some options for items she can complete on her schedule, and be gracious with her response. For example, if she can't come shopping for bridesmaids dresses with you, feel free to pick them out with your other bridesmaids or your Mom and ask her to send in her measurements so she can order her dress, then you can check this item off your list and she can still do her part!
Also, remember that she's not the one who is sporting a beautiful new ring on her finger, and while she is probably thrilled for you, the wedding planning just might not be her number-one priority. She could also be dealing with mixed emotions of losing you to married life as well or not being engaged herself. It's more important to preserve the family relationship than to make your bridesmaids your wedding worker bees or feel even worse for not being the lucky one planning her wedding day. Best of luck! I'm sure you will be able to get some help and save your friendship!"
Vikki Answers:
"That's a great question, Tabitha! Unfortunately, we have seen this from time to time, and it is always a difficult situation for any bride. We would highly suggest communicating with the bridesmaid first and let her know how you are feeling. Sometimes it is as simple as a conversation that will make things come to light. Perhaps she is feeling left out if she's not as close with the other bridesmaids or she's overwhelmed about being in a wedding and isn't sure what she can contribute..
Let her know that the job of a bridesmaid is just like being a good friend; offer encouragement and support, and ultimately, stand by your side as you say your I do's.
Give specific examples of ways she can help. For example, she can make phone calls to vendors, look up restaurants for the rehearsal dinner, find dresses or accessories for the girls, etc. Let her know in an encouraging way that you need her help through this journey and be sure to clearly communicate your needs."
Plus, check out Etiquette Q&A: "Can I 'Fire' My Bridesmaids?".
—Stefania Sainato

Tracie Domino is the founder and creative director of Tracie Domino Events. Her stylish expertise and relatable sophistication have made her a trusted consultant to business leaders, professional athletes and high society since 2004. Tracie and her team design and produce fun, memorable weddings from our main office in Tampa, FL and are available to travel to wedding destinations worldwide.

Vikki Marsee is the co-founder of All You Need is Love Events. She and her business partner Shannon started the company out of a love for all things wedding and event related with an understanding that one person truly cannot plan an event alone. With a lot of hard work, a passion for perfection and a strong desire to take care of all clients equally, All You Need Is Love Events simply wants to have happy clients with weddings that reflect their personalities and individualities. These two incredibly fun and creative lead event planners will ensure that your big day is nothing short of phenomenal.