If you've ever been a bridesmaid, I'm sure you've heard from a well-intentioned bride (or a pushy saleswoman) that "you can totally cut the bottom off that expensive gown post-wedding and wear it as a cocktail dress!" Well, I can't say I've known anyone to actually do this. But Bari Jay's new bridesmaid dresses make it so much easier—these three new styles feature detachable skirts.
It'd be really fun to work the detachables into your wedding day—keep the dresses long for the ceremony, then change it up for the reception. Even better if you're planning on wearing a short reception dress as well! 
Check out the styles below.
Charmeuse Sweetheart Pleated Dress with Tiered Detachable Skirt
Iridescent Chiffon Sweetheart Strapless Dress
Strapless Shirred Mermaid Gown with Ruffle Detail and Detachable Skirt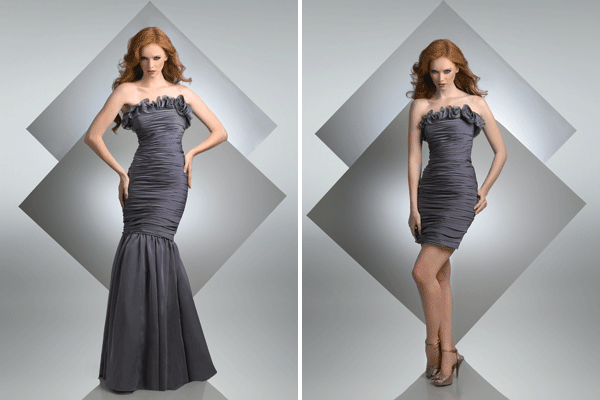 —Kristen O'Gorman Klein
Photos Courtesy of Bari Jay