Big Island Breather at Hilton Waikoloa Village in Hawaii
Guest Blogger: Amy Rauch, Senior Marketing Manager, Digital
Recently whisked away to the Hilton Waikoloa Village on the Big Island – against my will, of course ;-) – I find myself more sure than ever that I want a dreamy destination wedding in Hawaii. The Aloha Spirit is entrancing, the scenery and weather are absolutely magical, the recreation options are endless, and I am always impressed by the attention to detail when it comes to food, drink, entertainment – and well everything!

The Hilton Waikoloa Village is a 62-acre resort set on Waiulua Bay, on the Kohala Coast of the Big Island, Hawaii. Among the highlights are 1,240 rooms and suites, 14 restaurants and bars, 3 swimming pools, enclosed lagoon with private beach and water activities, on-site golf and tennis, world-class shopping, the magnificent Kohala Spa, and Dolphin Quest, a reputable dolphin encounter program. The resort is so big that guests are transported around on air-conditioned trams and canal boats. The grounds are embellished by tropical foliage, waterfalls, abundant wildlife, and Polynesian and Asian artwork and antiques.
The Hilton Waikoloa hosts approximately 250 weddings per year. Packages run the gamut in price and options, starting from $1,800 for a simple daytime ceremony, up to $5,870 or more, depending on how much customization you want. Special room rates are offered for family, wedding party and attendees.
Want your hair and makeup done on-site? Book salon appointments for yourself and for your bridal party at the Kohala Spa. The technicians are knowledgeable and their work is pretty flawless. I was treated to the Pikake manicure and pedicure, plus a Clarisonic Opal refresher facial, both of which are part of the package for brides.
In addition to the traditional ballrooms, restaurants, and other areas perfectly suited for weddings, here, five unique locations to get married at the Hilton Waikoloa Village:
1. Palace Garden & Gazebo

Located at the heart of the resort grounds, this is the most requested spot for weddings on-site. The garden offers stunning views of Waiulua Bay, especially at sunset, and the resort will close off the area to the public if you would like to have your reception there also. For a little twist of Aloha, have a Hawaiian acoustic guitarist play as guests arrive or as you stroll towards your groom during the ceremony.
2. Hale Aloha Wedding Chapel

It's small and sweet, and perfectly suited for an intimate, indoor ceremony. The chapel is distinctly Hawaiian, decorated with elegant stained glass, Koa wood furnishings and exquisite custom tiling. Floor-to-ceiling windows open to breathtaking views of the ocean. Wedding for two? After exchanging vows, take a private, romantic "Just Married" Wedding Boat Cruise around the resort.
3. Buddha Point

If you're looking for a non-traditional outdoor setting for your ceremony and reception, Buddha Point – with a massive Buddha statue as its centerpiece – has a special sense of peace and spirituality. The views of and from the location are simply stunning. Private dinner packages are also available.
4. Grand Staircase

This is a classic, romantic event space at the foot of a majestic staircase. Walk down the staircase to your groom or approach the platform via boat. You'll be lured by the views of the lagoon and waterfall as the potential backdrop for your ceremony or reception.
5. Dolphin Quest Pool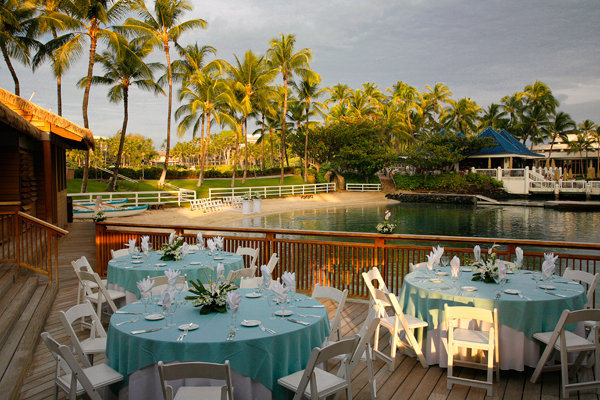 Sea creature lovers are starting to get wind of this new wedding option, which allows you to close off the pool area for the wedding ceremony and reception. Say your vows on the Dolphin Beach or Dolphin Dock, and ask about working with trainers to incorporate dolphins into your ceremony. Indoor and outdoor reception space is also available adjacent to the pool.
Resource Links
Amy's Photo Gallery
Hilton Waikoloa Village
Hilton Waikoloa Village Wedding Packages
Kohala Spa
Dolphin Quest
Waikoloa Beach Resort
 
Hilton Waikoloa Village Celebrity Sightings: Celebrities who have visited the resort include Megan Fox and Brian Austin Green, who experienced a private dolphin encounter as part of their 2010 Hawaii honeymoon— pictures you may recall appearing in magazines like People and US Weekly. Dog The Bounty Hunter from the A&E TV channel planned a memorable wedding ceremony at the Grand Staircase— he arrived via canal boat to meet his bride, Beth Chapman. The couple held their reception at the Water's Edge restaurant and their rehearsal dinner at Ocean View Terrace. The entire week was televised on A&E on the Dog The Bounty Hunter television show, and also on The Jay Leno Show. Other celebrity visitors include Wayne Newton, John Travolta, Leonardo DiCaprio, and the special on-location taping of popular TV shows such as Top Chef and Wheel of Fortune.