In the decade that I've been traveling the world as an editor, I've seen a ton of hotels. I skipped around a bunch before I had the official title and in those days I also tested out hotels, motels and Holiday Inns—a lot. Every hotel has a positive (there was a place I saw in Cancún a few weeks ago that had eh rooms but an awesome beach and beautiful common spaces) and every hotel has, what my mom calls, a "yeah, but." You know, that waiter who ruined the whole vibe of a fancy spot in Marrakech or the resort fees that are tacked on to every stay at a Hawaiian resort.
But Amanyara, an exclusive enclave of intimate pavilions and a collection of private villas on the island of Providenciales in the Turks and Caicos had all of the awesome and none of the yeah buts. (Ok there was one—the threat of having to sit next to Christy Turlington on the beach! Thankfully, we only saw her husband all covered up.) 
And I'm willing to say in print, on the Internet, that my two-night stay at this little slice of beachfront heaven was my most spectacular resort experience. The food was amazing, the accommodations were beyond cushy, the service was stellar, the snorkeling is awesome, and there is something in the air that just makes you sit back and relax. 
Our room was one of the lake-view pavilions that boasts an indoor-outdoor living spaces and loads of spots for lounging. In fact, the entire resort is packed with comfy sofas just calling your name.
One of the highlights of our two-night stay was a surprise romantic private dinner on the beach. We had our own little bonfire, heaps of stars above and the most attentive waiter in the world, Josh.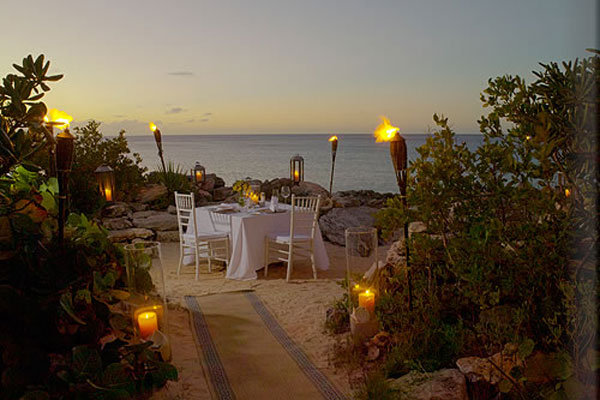 We also loved sailing around the cove and snorkeling at a reef located a few minutes from shore. But mostly, we loved the ability to totally and absolutely relax, a feeling that is so foreign to me and my overworked husband. For more information, go to amanyara.com.  
—Jenna Mahoney
Photos courtesy of Amanyara Hotel