Whether you're looking to get in shape for the big day or simply need a way to wind down in the midst of chaotic wedding planning, yoga can be a great exercise to try at home or in a studio. Wellness expert and yoga instructor,  bride-to-be, and cast member of the new series Yoga Girls, Elise Joan shares her favorite poses for BG brides. 
1. Rockstar Pose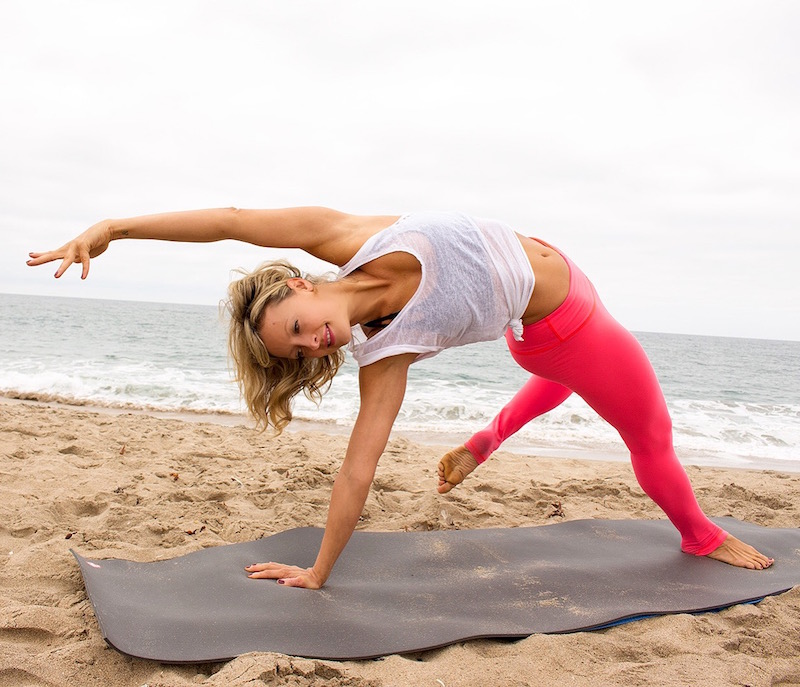 Photo credit: Jamie Lebowitz
The perfect yoga move to channel your inner rockstar for the big day! This pose is a fantastic heart opener, which gives you an opportunity to connect emotionally for "I do!," as well as physically, via a comprehensive full-body stretch.
2. Half Boat Pose
Photo credit: Jamie Lebowitz
We ALL need to get centered before the big day, mentally, as well as physically. The half boat pose enables people to do just that, helping you connect powerfully to our core and feel the strength within. It will also help flatten the belly for those form-fitting wedding dresses.
3. 1/2 Wide Leg Split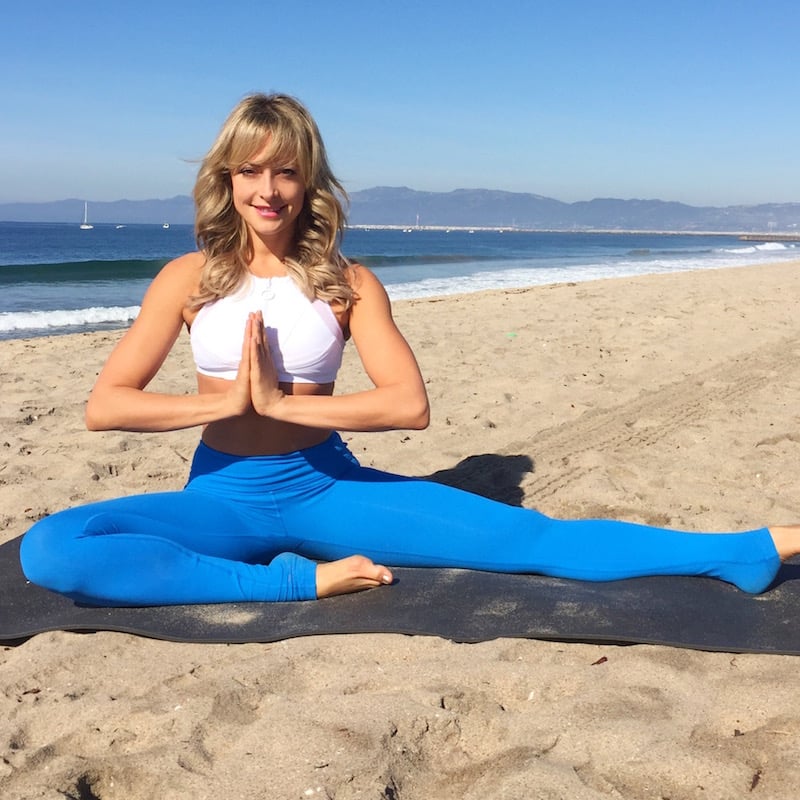 Photo credit: Jamie Lebowitz
Staying flexible in the days leading up to a wedding can be the most challenging part of wedding planning. Bodies can get very tight, and so can the mind. Not everything is going to go exactly as planned, so be ready to go with the flow! You have to be able to bend so you don't break. This pose helps keep the body limber by opening the hips, stretching the hamstrings, and lengthening the spine.
4. Warrior 3
Photo credit: Patricia Pena
Marriage is all about stability, and this standing pose helps to find just that, by keeping you focused and steady. Warrior 3 is supported by a strong core and helps define the legs and build that perfect booty! It is an ideal yoga pose to gain physical strength and definition and to remind people to remain strong when life throws us off balance.
5. Dolphin Pose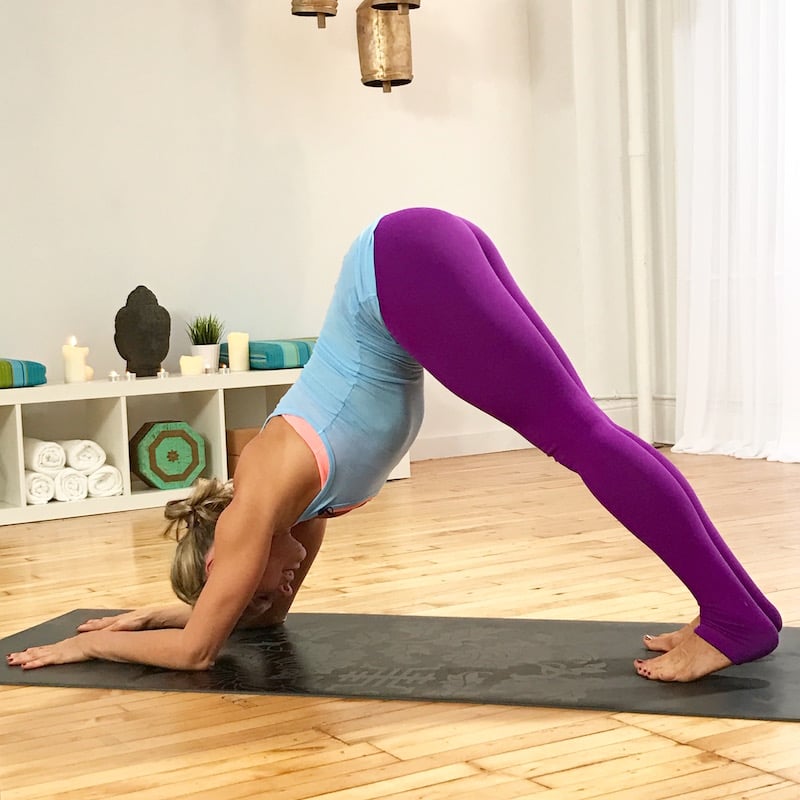 Photo courtesy of Elise Joan
A fun twist on the classic downdog, the dolphin pose is actually an inversion, which helps with circulation and calms the nervous system, making it the perfect pose to try on the morning of your big day to quiet those nerves! It's ALL about letting go. Practice dropping your head, which not only decompresses the neck, but allows you to empty the brain of worry or negativity, leaving space for all the love.
6. Crescent Twist
Photo credit: Jamie Lebowitz
Twists help detox the body by wringing it out and can do the same for the mind. Twist out all those mental obstacles and replace them with joy! Physically, this twist will help narrow the waist and enhance our spinal mobility. By placing gentle pressure on the digestive organs, it also help aid in eliminating toxins.
7. Dance Pose
Photo credit: Jess Barron
My favorite yoga posture for self-expression, "Dancer" works the legs, core, and hips, giving you the freedom to open up and truly be yourself! This pose also cultivates grace and balance, which every bride should exhibit throughout the wedding process. Everyone is unique, and has their own style so try this fun, heart and hip-opening pose to channel your inner dancer, then take those moves to the reception dance floor!
8. Legs Up The Wall Pose
Photo courtesy of Elise Joan
Being a bride almost always involves a lot of planning and running around, which can get exhausting. Be sure you are taking some time to decompress, which is what this pose is all about! This restorative move can calm the mind and help us practice presence. It's important to stay relaxed and healthy, so you can enjoy every moment of the big day.
9. Bow Pose
Photo courtesy of Elise Joan
The bow pose is the ultimate heart opener, making it the perfect move to practice leading up to the big day! It is also a great stretch to counter hours at the computer booking vendors or searching Pinterest for inspiration. No bride wants to slouch down the aisle, so keep your head up, and your heart elevated, inside and out!

10. Intention Setting Pose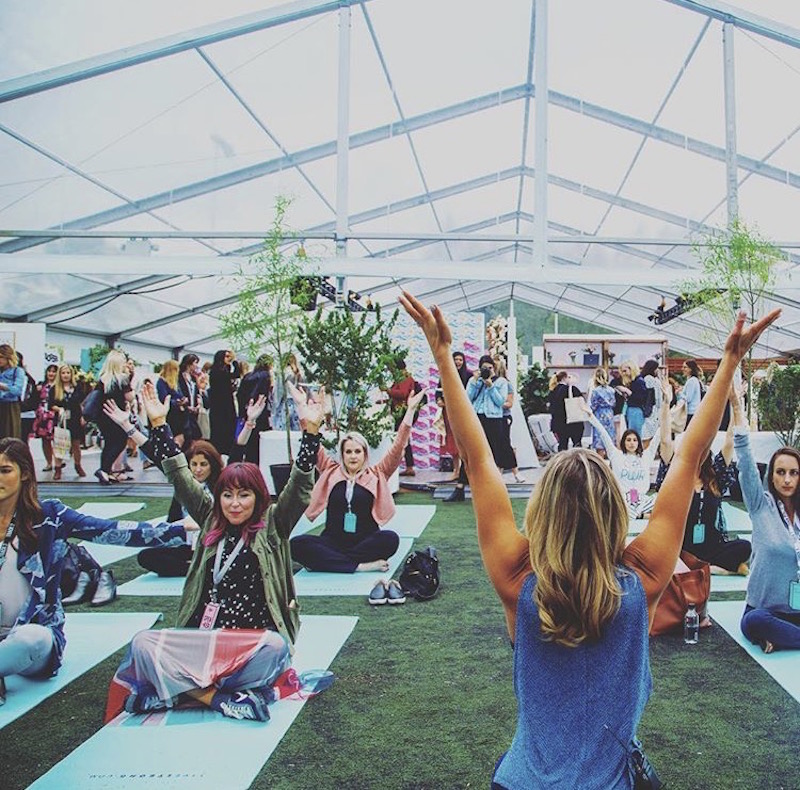 Photo credit: Adam Valencia
My favorite pose of all and perfect to practice with your friends and wedding party. Sit up tall, and as you inhale, reach UP for all your hopes, dreams and intentions. As you exhale,  bring them to your heart. This movement keeps our posture tall and healthy for the wedding day and allows us to manifest everything we want for our wedding, marriage, and beyond. Repeat as many times as you have dreams.
— Elise Joan is cast member in the new Z Living series YOGA GIRLS, which premieres Sunday, Sept. 24 at 8pm ET on Z Living. Elise is tying the knot herself on November 18, 2017.