Interviewing potential vendors is like going on an awkward first date — you both hope there's chemistry, but it can be confusing to know exactly what to say (even for a Wedding Editor like myself!). Follow our new "10 Questions to Ask..." blog series with experts from each field who will break it down for you step-by-step. I'll share hard-earned real bride advice along the way, so you know how to spot the best vendor for your needs. First up: My fabulous wedding photographer, Josh Lynn and the talented Casey Fatchett share the Q's clients ask most.
1. Is photography your main business? What percentage of your work is composed of weddings?
First, you need to gauge how much experience a potential vendor has. Photographers' time commitments and skill sets vary—some only work part-time or might mostly photograph something else (e.g. portraits). This doesn't necessarily mean they won't do an amazing job as your wedding photographer, but it will give you a sense of what they will be able to contribute towards your nuptials. According to Casey Fatchett, a busy full-time wedding photographer will probably shoot between 20 and 30 weddings a year.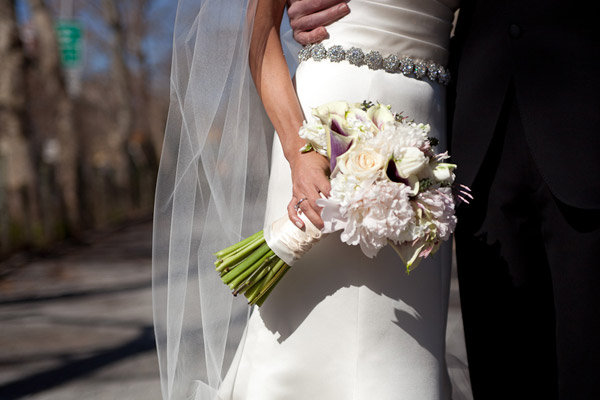 Photo Credit: Casey Fatchett Photography
2. How long have you been photographing weddings? Can I see a list of references and/or reviews?
This follow-up question is another indicator of experience and will reflect accordingly in the pricing. "I am often asked (usually by the father of the bride), 'What justifies your prices?' My reply is simple: 'Time.' I've been photographing weddings for 15 years, nine of which were my primary source of income," says Josh Lynn. References are absolutely critical—ask around (recently-married friends and other vendors you've booked can be great sources), read anonymous reviews online and speak to former clients.
3. Have you ever worked at our location before?
"It's often comforting for clients to hear that I have worked at the venue and even know the staff by name," says Lynn. If they haven't shot there before, ask if they would be willing to visit your venue before the wedding to acquaint themselves with the layout. Each location comes with its own unique advantages and challenges. My venue has a huge dance floor (pictured below) so to play up that aspect, we would shoot the first dance from a high vantage point, so that it appears as if my fiancé Jason and I are completely alone (so romantic!). The downside: We don't want it to look empty all night, so our photographer may choose to shoot it from a specific angle later on so that it looks like the dance floor is completely packed (even if it's just an optical illusion).

Photo Credit: Josh Lynn Photography
4. Will you be my photographer on the day of the wedding? What is your plan if you are unable to attend due to illness or unforeseen circumstances?
Some larger studios might book your appointment with a sales rep or agent. Ask to schedule a follow-up meeting where the actual photographer assigned to your wedding is present, so that you can get a sense of their personality and demeanor before you sign on the dotted line. Lynn also advises that now is the time to ask what happens in case of an emergency—it's crucial to have a solid back-up plan so that you're not scrambling for a replacement if they get rushed to the hospital or have to miss the event because of a death in the family.
5. Can we see a recent finished set of proofs from an entire wedding?
"Samples are great, but seeing an entire wedding from start to finish is equally important to see how the entire day is covered," says Lynn. As you flip through the album, pay close attention to the style of the photography and make sure it matches what you had in mind for your own. Keep a mental checklist to determine that they covered all of the major moments (e.g. cake toss, first dance) as well as fun, candid shots. Think about the entire album as a whole—it should evoke your emotions and give you a good sense of that couple's wedding day.  "Make sure you see some printed photos when you meet with your photographer. You can make a bad photo look good online but things like out-of-focus shots or overly grainy pictures will stand out in an album," says Fatchett.
6. Are you willing to follow a shot list?
Ask this wild card to check your vendor's temperature and see if they would be open to collaborating with you. I encountered one or two potential vendors who blindly told me to "just trust" them when I asked about a shot list, which was one of my red flags. There's a fine line: You want a photographer who is going to capture the details and guests that are most meaningful to you, while still giving them the freedom to live in the moment (which often leads to the best photos). Later on, AFTER you book, you can discuss specifics (e.g. discussing family dynamics so they know not to pose your step-dad next to your biological one).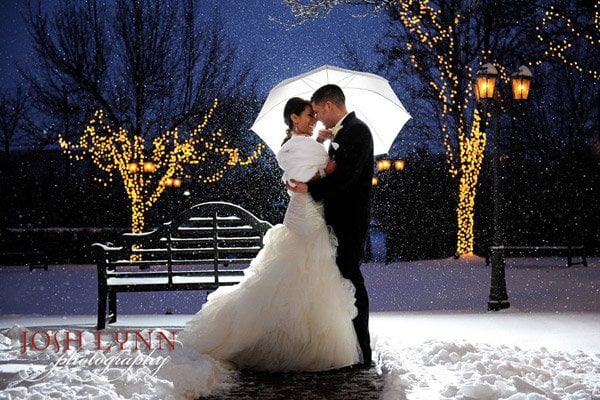 Photo Credit: Josh Lynn Photography
7. What makes you different from other photographers? How would you describe your photography style?
"Is it their photos? Their customer service? Their amazing and charming personality? All of the above? If your photographer can't answer this question in a way that makes you see why they are different, you might have to ask yourself why you are considering them," says Fatchett. Talk to the photographer about whether you want traditional portraits (posed group photos), photojournalistic action shots of the day's events, or if you fall somewhere in between and would like a blend of both.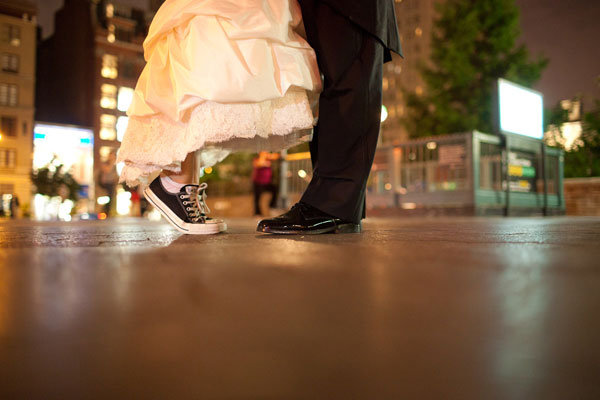 Photo Credit: Casey Fatchett Photography
8. After the wedding, when can we expect to see the photos?
Managing expectations is key to any successful vendor partnership in your wedding. "Your photographer is going to need to take some time to edit your pictures, and you should get clear time frames for when and how you will receive your images so you are not wondering where your photos are!" says Fatchett. Most photographers release the images in stages (such as a wedding slideshow, Facebook teasers, online proofs, and then finally a proofbook, if it's included in the contract).
9. What do your packages include and what will I have to pay extra for?
Photography packages vary drastically; some include a flat rate (e.g. $3,000 for 10 hours of footage) with a-la-carte extras (your album or a photography assistant) while other photographers may charge different levels of packages ranging from least- to most time-intensive (think: engagement shoots and bridal shower coverage). 

Photo Credit: Josh Lynn Photography
10. How much of a deposit is required to hold the date? When is the balance due? What forms of payment do you accept?
Get down to the nitty-gritty of finances towards the end of the conversation, once you've had a chance to warm up to the photographer. Find out when the deposit is due so that you don't risk the chance of losing a vendor to another couple who's getting married on the same date. You can expect to spend about 12% of your wedding budget on photography, on average. "ALWAYS make sure you get it in writing. Do not deal with any vendor who does not offer you a written contract!" says Fatchett.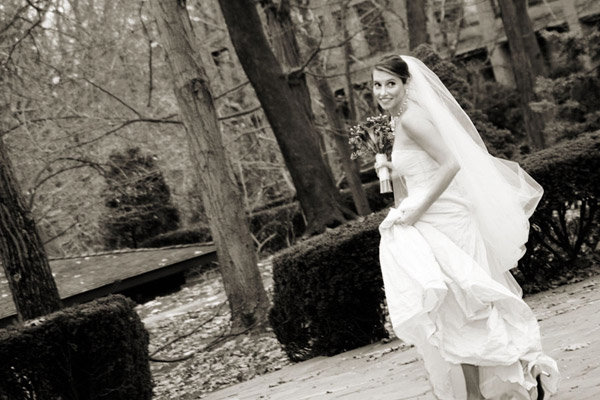 Photo Credit: Casey Fatchett Photography
Check out our Ultimate Guide to Vendors to find out what you should be asking your florist, DJ, and more!
Meet the Experts:
Josh Lynn is a New Jersey-based photographer serving all of New Jersey, New York, Connecticut and Pennsylvania as well as destination weddings. Described as unobtrusive and still able to capture the special moments. Josh Lynn has been photographing weddings for over 15 years.

Casey Fatchett is an award-winning New York City-based wedding photographer with more than 10 years of experience. He also recently went through the wedding planning process himself, giving him a unique perspective on the wedding industry from both sides of the fence.
—Stefania Sainato