Ripped hems, accidental red wine stains and stiletto-induced blisters; what's a bridesmaid to do?  Luckily, armed with this thoughtful Bridal Party Survival Kit, your bridal party will be prepared for any minor bumps that come their way on your big day. It only takes three steps to make these kits, so even the most DIY-challenged brides in the bunch can come off looking like a pro without having to devote three weekends in a row to crafting.
(Full disclosure: The BG editors stockpile bridesmaids' kits like these in our desks, so that we're ready in case of any beauty or migraine emergencies before we hit up bridal events!)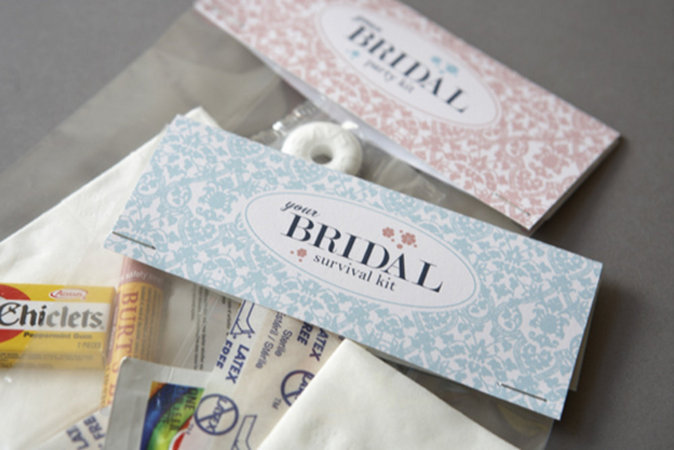 We found this ingenious idea from 100 Layer Cake, an excellent resource and the very same blog where we swooned over this bubble chandelier.


Materials Needed:
Label 
Band-aids
Stain guards / removers
Fabric tape
Lip balm
Bobby Pins
Mints / gum
Pain reliever medication
Cellophane bag (found at any dollar or arts and crafts store)
Steps:

1.  Create your own label or use one 100 Layer Cake's templates found here and here. Print it out.
2.  Fill the bag midway with supplies.
3.  Fold the label down the middle so that the logo is visible on both sides. Fit the label over the top of the bag and staple at the ends.
Done!  Simple and practically effortless.  Just be sure to make these kits ahead of time and you're all set.

Photos courtesy of 100 Layer Cake
Tell us: What DIY projects are you currently working on for your wedding? 
—Shih Mei Kong