Bride Kathleen Baldwin tied the knot last Saturday in her ultimate fantasy gown: Vera Wang's "Gemma" (the same style worn by actress Hilary Duff at her wedding). Wang describes this mermaid as "the perfect storm"—bands of tulle wrapped around the body like a swirling cyclone, ending in deconstructed, abstract blossoms featuring hundreds of scattered sequins. Naturally, Baldwin looked (and felt) beautiful in the dress, but as she walked down the aisle, it actually didn't belong to her anymore.
Baldwin is part of a growing number of brides who are pre-selling their wedding gown. She sold it on PreOwnedWeddingDresses.com, a top-rated listing service that connects buyers and sellers of wedding gowns (there's over 10,500 to choose from). According to founder Josie Daga, a used gown that is less than three years old can fetch half the original retail price, but because pre-sell dresses tend to be the most desirable styles (costing $5,000+), they sell for as much as 70-80 percent.
She first noticed the trend back in 2010 with Vera Wang's coveted "Audrey," but now brides are putting their gowns up for sale much earlier than in the past. "A few years ago, a bride might list her gown for sale 3-4 months after the wedding. Now, we see brides who've got their dresses posted before they've even left for their honeymoon," said Daga.
Baldwin was determined to find the perfect buyer before July 28th, so that she could use those funds to help pay off some wedding bills. She convinced her fiancé that the stunning Vera Wang dress was worth the cost, since she'd recoup part of it and help someone else in the process. Baldwin doesn't regret her decision—rather than having the dress sit in her closet or a box for years to come, "every time I want to see my dress I can watch my wedding video or look through my many beautiful pictures."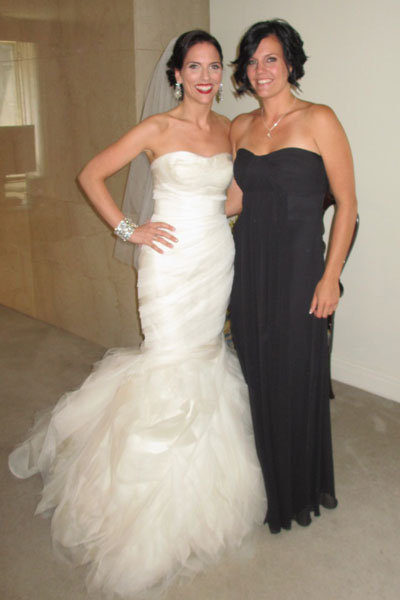 How it works: A listing on PreOwnedWeddingDresses.com costs $25 and your dress stays advertised for a given price until it's purchased. Over the course of three months, Baldwin communicated with over 20 interested buyers, being upfront with them about her hips, height, and other features to ensure the perfect fit. "It's about being honest—the string that bustled my dress ripped, so I sent my buyer a text and told her that I'd fix it for her," she said.
Considering selling your gown before the wedding? Use a secure method for payment, such as PayPal. Require a deposit, which shows that a buyer is serious about purchasing the dress, and also protects them from the risk of the seller offering it to someone else. Baldwin sweetened the deal by charging a few hundred less than the going price for "Gemma," throwing in her veil for free and picking up the tab for cleaning services.
By handing over such a personal, storied garment, Baldwin formed an unlikely bond with her buyer. They become fast friends, swapping photos from fittings with beautiful well wishes leading up to the big day. "It was a wonderful, enjoyable process to share the joy of my wedding gown with someone else who loves it as much as I do!" And the cycle continues—Daga says there are many buyers who purchase a pre-owned dress, then re-sell it on the site.
— Stefania Sainato