The Pinterest phenomenon has revolutionalized the way we plan our weddings. Brides like myself use it to store hundreds of inspirational photos and get other brides' feedback instantly. comScore reports that the site has grown from under 1 million users in May of last year to about 20 million this April! This led us to wonder—what are the top-shared photos of all time? That's where Repinly comes in: a new Pinterest directly that measures the most popular pins, boards, topics, and influential followers.
Here are 25 of the most popular wedding pins of all time:
1. Romantic Updo
Repins: 41,631
In the up-or-down debate, updos take the crown (on Pinterest, at least). This unstructured style is ultra-flattering on all face shapes and hair types, plus how romantic is the tucked-in bloom?
Photo Credit: Heidi Ryder Photography
2. Euphoric Groom
Repins: 29,319

Ecstatic grooms are popping up all over our feeds and we couldn't be more thrilled. Just don't put too much pressure for him to have an emotional reaction when you walk down that aisle—in the words of my fiancé Jason, "that moment is nerve-wracking enough!"
Photo Credit: Emily Blake Photography
3. Magical Sparkler Illusion
Repins: 28,842

In this long exposure shot, the couple stood very still while someone else ran around them with sparklers.
Photo Credit: Lamb and Lark
4. Sweet Anniversary Memento
Repins (for the top photo): 28,728
Repins (for the bottom photo): 20,503

On each wedding anniversary, take a photo with the number of years you've been married. Or, you can take a photo within a photo, if you want to get extra fancy.
Photo Credit: Chelsea Lynn Photography
Source: User-submitted
5. Giving Thanks to Your Guests
Repins: 23,721

Plan ahead and ask your photographer to take a shot of you two holding up a homemade "thank you" sign, which you can use later on for your cards.
Photo Credit: Stephanie Moe Photography
6. Light Up the Night
Repins: 22,561

Are they lightbulbs, ornaments, or a mix of both? We're not sure, but one thing is certain: the effect is nothing short of magical.
Photo Credit: Natasja Kremers
7. Geometric Cakes
Repins: 21,369

David Tutera recently told us that purple is a hot wedding color for 2012, which might explain how this confection became an Internet sensation overnight. We love that the design looks easy to replicate.
Photo Credit: Ken Kato
Cake designed by Jen's Cakes
8. Spiral Aisle
Repins: 21,253

We're seeing a huge increase in ornate aisles, making it that much more fun to walk towards our future husband.
Photo Credit: Blenda Montoro Photography
9. Outdoor Chandeliers
Repins: 20,884

The ultimate reception fantasy, brides are bringing the glamour quotient outdoors with chandeliers.
Photo Credit: Victor Sizemore Photography
10. Meaningful Inscriptions
Repins: 20,538
 
Engrave both your wedding band and engagement ring with different lines of the same message.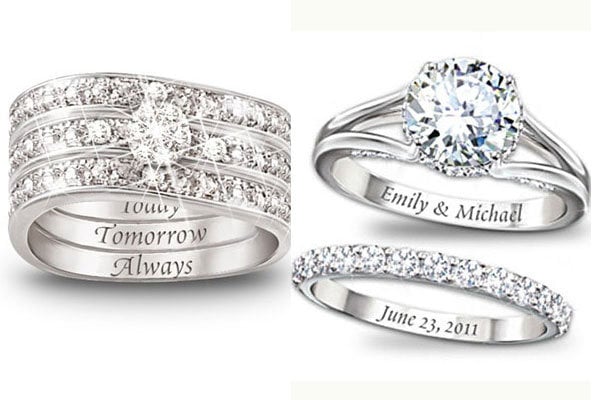 Rings by Bradford Exchange
11. A Modern Way to Wear Lace
Repins: 19,493

Lace was the go-to fabric this runway season—make it fresh and youthful with some sexy cut-outs.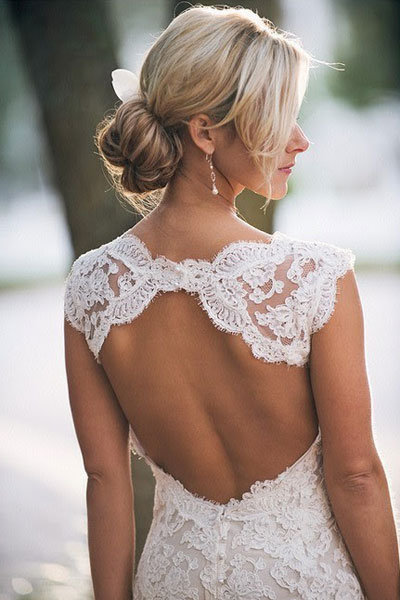 Source: User-submitted
12. Reflect on Your Wedding Day
Repins: 16,493

Easy and fun. Done!
Photo Credit: Dorothy Gautreaux Photography
13. Raise Up Your Future Spouse
Repins: 16,154

Dress up this optical illusion by posing on different floor surfaces for your engagement shoot.
Photo Credit: Aaron Willcox Photography
14. Ring Shot Idea for the Future
Repins: 15,979
We're bookmarking this amazing idea for our child-to-be.
 
Source: User-submitted
15. Re-live Your First Dance Every Day
Repins: 15,391

One of the most coveted DIY's right now is the first dance frame, which features lyrics from your song choice and a favorite photo.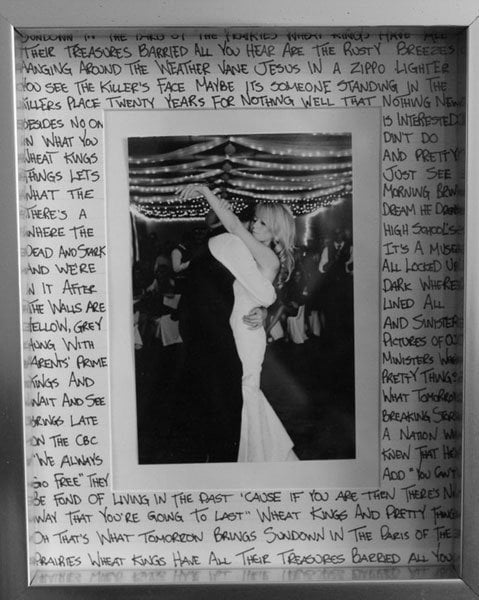 Source: User-submitted
16. Cheers to Your Girls
Repins: 14,709

Schedule a special photo op for the ladies who were there for you throughout the years.
Photo Credit: Miller + Miller Photography
17. Mason Jars Are Still Going Strong
Repins: 14,091

It's safe to say that mason jars aren't going anywhere, so we might as well find more fun ways to use them at our parties!
Photo Credit: Our Labor of Love
18. Cheeky Couple Sign
Repins: 14,319
Guests are sure to crack a smile when they spot this on their way to the dance floor.
 
Photo Credit: The Nichols
19. A Girl Can Dream
Repins: 13,252

No description necessary, just sigh and oogle at will. We won't judge.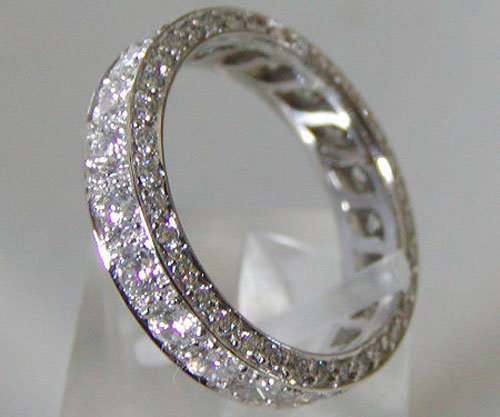 Source: User-submitted
20. Get Your Guests Involved!
Repins: 13,074

In lieu of a traditional guest book, give friends and family this customized fill-in-the-blank form.
Photo Credit: Etsy
21.  Letters You'll Still Treasure 50 Years from Now
Repins: 12,551

Get all of your feelings on the big day down in writing so that you can show your future grandchildren someday.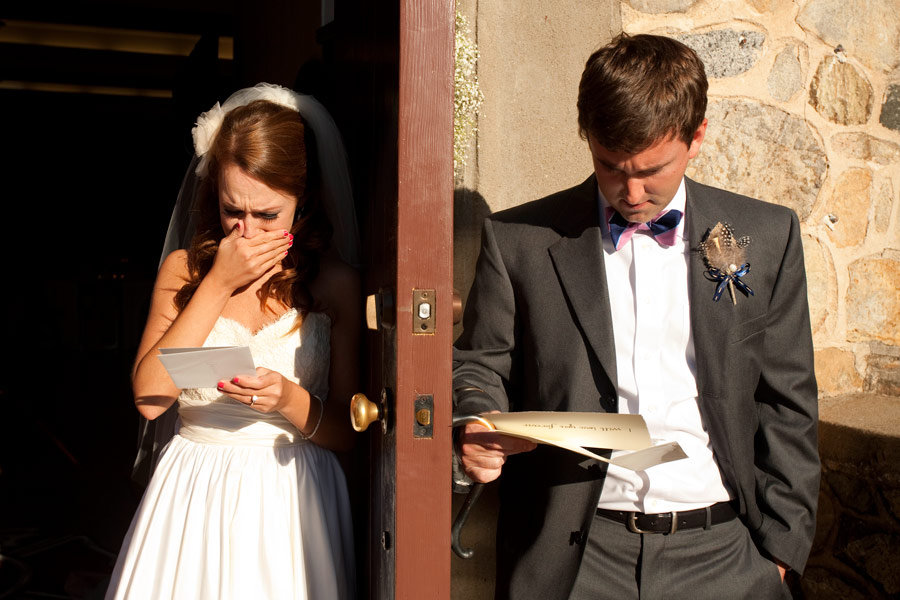 Photo Credit: Dianne Personett Photography
22. Antique Engagement Rings
Repins: 11,793

Old World-inspired milligrain detailing and pave stones add sparkle and shine to our Pinterest boards.
Photo Credit: Tabletop Studio
23. Wear Your "Something Blue" on Your Sole
Repins: 11,699
Pour la Victoire's "Stella" is no longer available, but that doesn't stop us from dreaming about this Tiffany blue sole.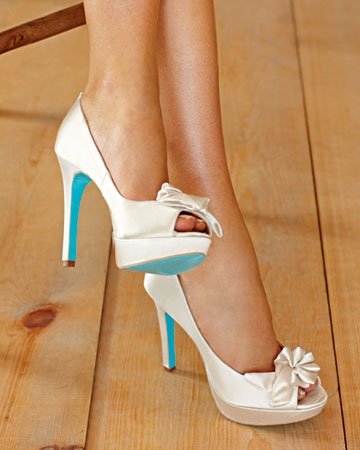 Photo courtesy of designer
24. Knot on Your Wedding Day
Repins: 10,878

You can make braids wedding-appropriate: gorgeous proof below.
Photo Credit: Soulscapes Photography
25. Feather Bouquets
Repins: 10,567

All-white bouquets will always have a place in our hearts, but Pinterest brides can't stop chatting about bold colors and nonfloral accents. We'd actually save this one for the table centerpiece, since it's so eye-catching that we didn't even notice her dress!
Photo Credit: Lauren Pauline Photography
Tell us: Which photo is your favorite?
—Stefania Sainato