Staying organized during the wedding-planning process can be challenging—we brides know that it takes just one misplaced business card or (gulp) contract to create chaos. With Mindy Weiss' new book, The Wedding Planner & Organizer, you'll never have an excuse to toss papers in a stack under your desk ever again. It comes with sturdy pockets and zippered storage bags, so you can safely tuck away essential contact info and objects (like magazine tear-outs and fabric swatches) immediately after appointments. We caught up with the renowned wedding planner (a favorite of stars including Hilary Duff, Katy Perry and Backstreet Boy AJ McLean) at David's Bridal, where she gave us the scoop and shared some exclusive advice for BG brides!
Watch Mindy explain why you should pick up a copy ASAP: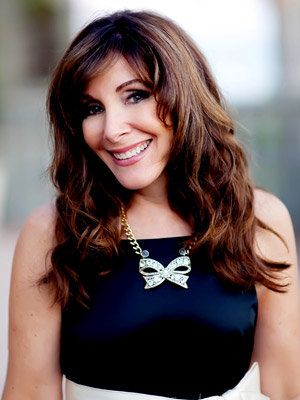 6 Tips from Mindy
1. Enjoy your engagement—do not plan your wedding the week you get engaged! Take a deep breath, try to figure out your budget and then sit down with your partner and talk about which aspects of the wedding are most important. 
2. Cut costs without sacrificing style: Mindy told us that she loves the new dresses in the White by Vera collection at David's Bridal, which emulate the aesthetic of Vera Wang's original high-end line. "Spend money on your shoes (even the belt and accessories) because those you can wear again," said Mindy. Also slash prices on smaller wedding elements that guests won't even notice, like swapping the champagne toast for wine and ordering 25 less slices of cake than your total guest count (not everyone will eat it, promise!).
3. Dos and don'ts of vendors: Don't interview too many vendors. Limit your choices—it's too confusing and you're going to miss out on some great ones if it takes you months to decide. Prepare for meetings by toting along Mindy's new book, which lists tons of helpful questions you should ask when interviewing potential candidates. Do consider bringing parents to meetings if they're helping you foot the total cost of the wedding, so that they're aware of prices in your region: "Let them see the reality of what's going on out there."
4. Unsolicited advice: Most of the wedding-related stress that brides encounter comes from the outer circle around them. The next time someone tells you what to do ("Bridesmaids can't wear blush!"), instead of reacting and losing your cool, Mindy advises deflecting them with this one-fits-all response: "Your idea is outstanding and I will consider that." You don't need to have the intention of doing what they want, unless you truly love their idea. Amazing, right?
5. Best new wedding trends: Mindy's brides are forgoing strapless for sleeves and wearing lots of lace, à la Kate Middleton. She's also getting requests for simple tablecloths, like whites and creams, and adding a pop of color with flowers. Here's a color breakdown by season: "For spring and summer, we're seeing a lot of tangerine and hot pink; for fall and winter, eggplants mixed with burnt orange."
6. Don't forget the "mush" factor: Have friends who are marrying around the same time as you? In order to make your wedding different (and memorable), you need to incorporate personal elements that reflect you two as a couple, such as a color you love to wear or sharing a special dance to a favorite song. "But when all else fails, remember: If they [your guests] don't feel the warmth and the love and the mush, they're not going to remember your event at all."
—Stefania Sainato