Forget drive-through chapels—the hottest new trend is curbside weddings. For just $99, the Las Vegas Wedding Wagon will marry you in 15 minutes, max, at your desired location (the "Welcome to Las Vegas" sign is a crowd-pleaser). Co-founders Andy Gonzalez and James Cass ditched their corporate jobs to find their true calling. Inspired by the Hangover Truck, which gives tuckered-out revelers intravenous aid, their mobile matrimony idea was borne.
Sure, it sounds like a scene in a rom-com: Lonely girl meets lonely boy at wild party, and after a brief, but promising conversation (and five too many rounds of margaritas) they decide to make it forever. But there's only one problem: They don't have a car, so they text the Wedding Truck to meet them on the Strip. Not so fast—they require that you obtain an official marriage license in advance, but you can speed up the process with this online form. Gonzalez and Cass are available for immediate service between 12 – 9 pm, but you can schedule your nuptials in advance on their website.
Vegas already has almost every conceivable package you can think of—you can get married by helicopter, in a pirate costume, in the nude, and of course, by "The King"—but this one has seems to have struck a chord, even in the quickie weddings capital of the world. Since their launch this week, they've married four couples so far. Stephanie Tucker and her new husband, Kelly Tucker, were the Wedding Wagon's first customers (pictured below).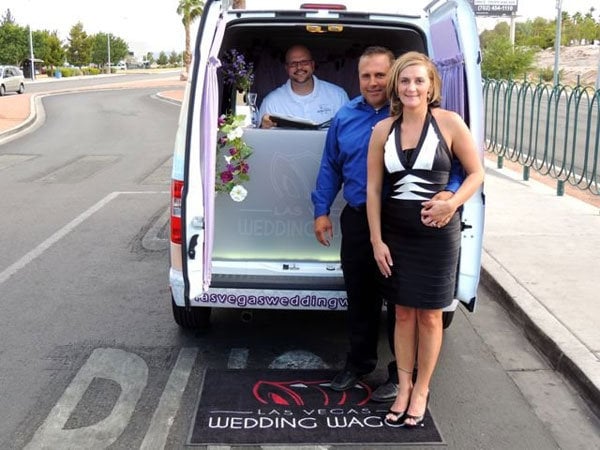 The Louisiana-based couple has struggled to keep up financially: Between them, they have four kids; also, Kelly lost his home in Hurricane Katrina and has cared for his parents for the past decade. Add painful divorces to the mix, and all they wanted was something simple and affordable. Ideally, a wedding that didn't require some kind of crazy theme and would give them enough time to check out a Garth Brooks concert afterwards.
"It was great! In fact, we're already talking about going back maybe next year [to renew our vows], or if not then maybe five to ten years from now, so we can do it again with them. It was that much fun," Kelly Tucker told The Today Show.
Even Kelly Ripa says she's game: "Mark [Consuelos, her husband] and I don't believe in vow renewal. We always get nervous whenever somebody renews their vows—they almost always get divorced immediately after...but I'm willing to risk it all and renew my vows if it's a wedding wagon!" she told guest co-host Joel McHale on yesterday's taping of LIVE! with Kelly.
Tell us: Is the Wedding Wagon a budget-friendly, fun new way to get hitched? Or does its convenience mock the institution of marriage?
— Stefania Sainato