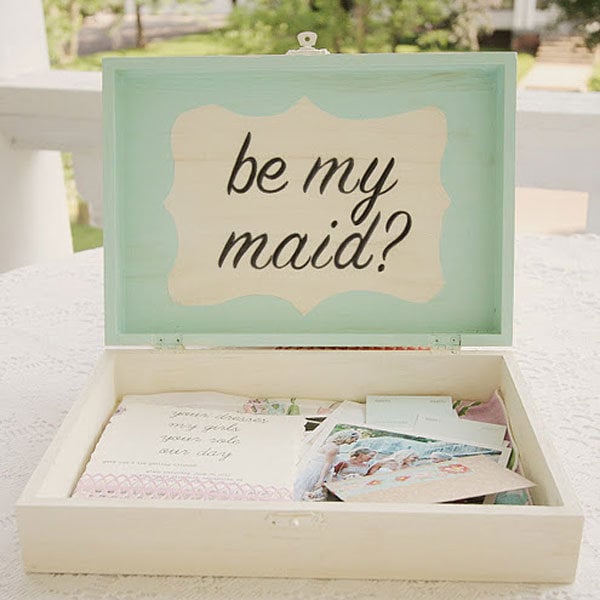 Asking loved ones to be in your bridal party is such a joyful moment—why not sweeten the deal with a keepsake that shows how much they mean to you? (P.S. I'm thrilled to report that my friend Chrissy asked me to be her Maid of Honor this week, which is why this topic is on my mind!)
Bethany, one of our fave bloggers from Rinse.Repeat, had the brilliant idea to create a DIY box popping the question to her long-distance BM's, who live seven states away from her in Wisconsin.
Her inspiration was to convey the true role of a bridesmaid: "It DOESN'T mean someone who plans a shower, a bachelorette party, buys me some ridiculous gift or tags along to every wedding-related appointment for the next year. Truly, I don't want any of those things!"
"Their role is to know that I love them, how much I've appreciated their presence in my life, and that I couldn't imagine the biggest day of my life without them next to me every step of the way. I'm honored to have their friendship and love," she writes.
"In short: wear a bangin' dress, wipe away my tears and have an amazing time," Bethany added.
We couldn't have put it better ourselves.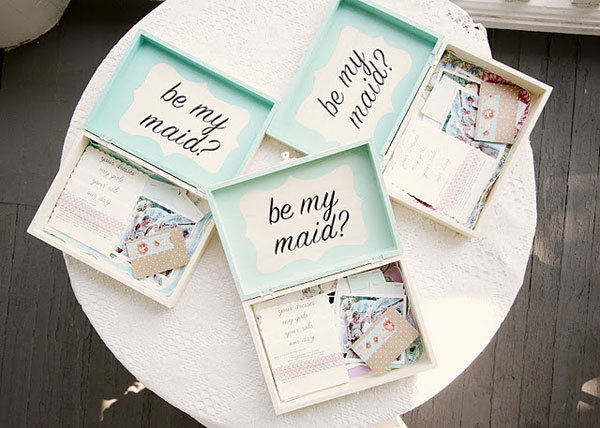 Materials
Wooden craft boxes (Bethany used unfinished cigar boxes from Jo-Ann Fabrics & Crafts for about $8 a pop)
Ivory and seafoam paint, or two other colors of your choosing
Calligraphic adhesive letters
Satin varnish
Optional
Handkerchiefs
Scalloped A6 postcards or regular notecards
Inspirational wedding photos
Paint chips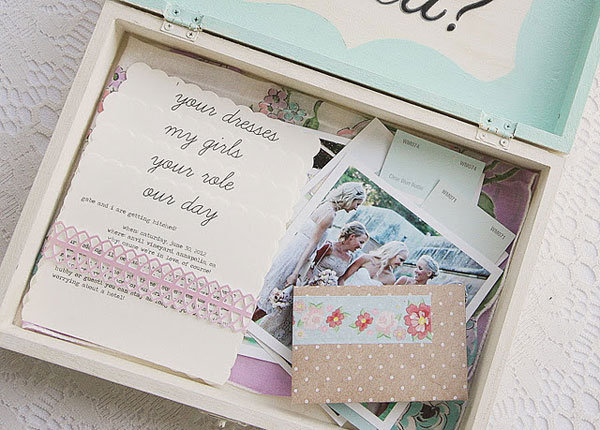 Instructions:
1. Paint the exterior of the boxes with two to three coats of the ivory paint, to cover up the natural wood aura. Paint one layer on the interior as well.
2. Once the paint is dry, use a pencil to draw the bracket shape. (If you're hesitant to freehand it, search for a free tracing template online.)
3. Paint around the bracket shape with one coat of the seafoam color.
4. Affix the adhesive letters spelling out, "be my maid?"
5. Apply two coats of satin varnish to the box, even over the letters. This will give the box a nice sheen and prevent splinters.
6. Optional: Line the bottom of the box with handkerchiefs, paint chips (of your wedding or bridesmaid dress colors), inspirational photos, and thoughtful notes.
The entire project (from shopping to painting and printing to mailing) should take around two hours per box.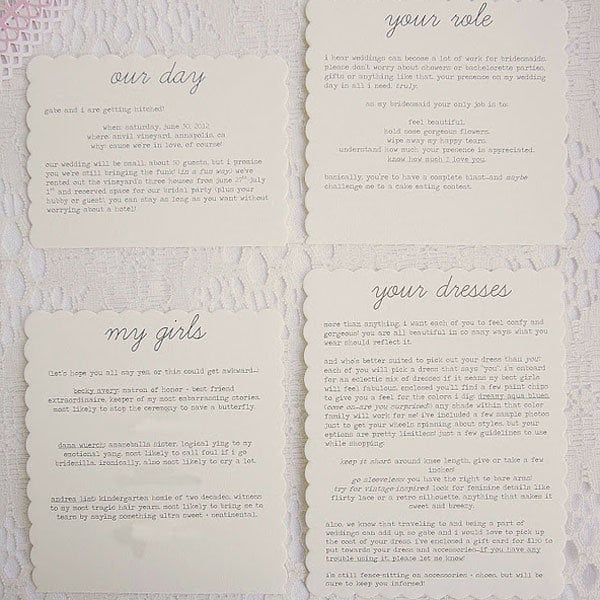 P.S. Check out more of our favorite Wedding DIY Ideas!
—Stefania Sainato