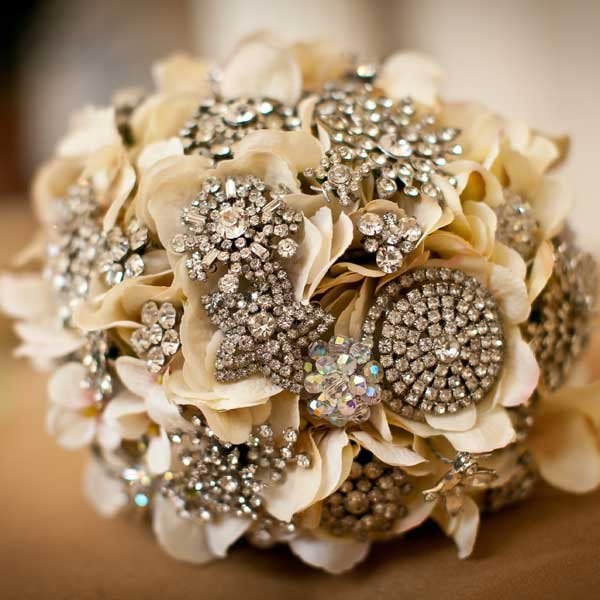 I have a major budget crush on Kimberly Foley—once you see her whimsical, yet elegant Real Wedding to husband Raymond Sanicki, I guarantee you will too. She saved thousands of dollars on decor, thanks to the creative DIY projects that she tackled with her mega-talented mama. Everything from her dress (which she scored for only $500, marked down from $3,000 at Running of the Brides) to her stamped guest book is steal-worthy. However, there's one detail that I thought was particularly applicable to Budget Guru readers, which is her one-of-a-kind brooch bouquet. Kim is right on-trend: country singer Miranda Lambert carried one down the aisle from The Ritzy Rose at her May wedding.
Kimberly stumbled across a brooch bouquet online, and immediately fell in love. However, she realized she couldn't swing the $600 price tag, so she showed her mother a photo, who said "No problem!" (Gotta love that.) "I loved everything about my bouquet! I am eternally grateful to my mom, because my bouquet will never wilt or die—I will have it forever. It will always have a special place in my house and my heart!" said Foley.
Here are step-by-step instructions for making your own brooch bouquet:
1. Collect Your Materials: Foley hunted for vintage brooches, pins, and earrings at estate and garage sales, describing it as a scavenger hunt of sorts. Etsy.com is also a great resource for hunting down pieces. You'll also need floral tape, craft wire, and silk flowers of your choosing (Foley used hydrangeas).
2. Assemble the Bouquet: Kim's mom wired each brooch and covered the wire with floral tape. Form the silk flowers into your desired bouquet shape. Scatter the brooches throughout the silk flowers.
3. Add Finishing Touches: Cover the stems with vintage handkerchiefs, if you'd like. Kimberly used her grandmother's cameo on the handle, which is a great way to honor a loved one. Fun fact: A total of 48 brooches/pins/earrings were used to create her bouquet!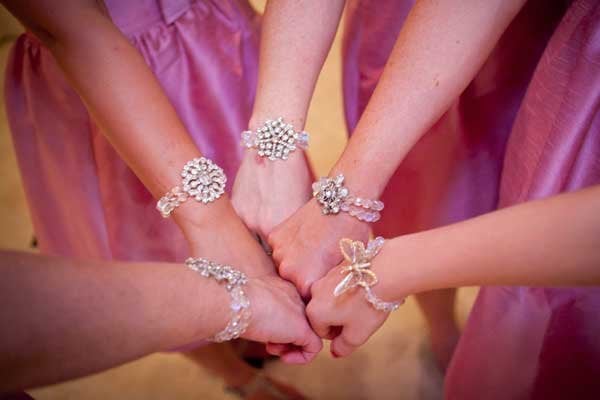 As if her bouquet wasn't amazing enough, Kimberly decided to reinforce the brooches theme by gifting one to each of the important ladies in her life at the rehearsal dinner. She presented them to moms, grandmothers, and aunts, asking them to "Wear these on our special day and know we think of them in a special way."
—Stefania Sainato