Alec Baldwin married Hilaria Thomas in New York over the weekend. But the standard glitz and glamour — trumpet Amsale gown with a crystal-embellished back, celebrity guests (including Tina Fey, Woodey Allen and Mariska Hargitay), romantic ceremony at Saint Patrick's Old Cathedral — wasn't what piqued our interest.
Here's what did: The "30 Rock" star and his yogi wife held their wedding reception on the top floor of NYU's Kimmel Center. The Rosenthal Pavilion room has picturesque views of Washington Square Park and can hold up to 300 guests. Best of all, NYU alumni (like Baldwin and his second wife) can rent the room at a discounted rate: It costs just $615 for four hours! Granted, their total bill probably rang up to more, especially when you consider that the reception ended at around 3 a.m., but this is still shockingly refreshing for an actor of Baldwin's stature (and nature: his diva-like temper tantrums are legendary).
Here are some photos of their venue: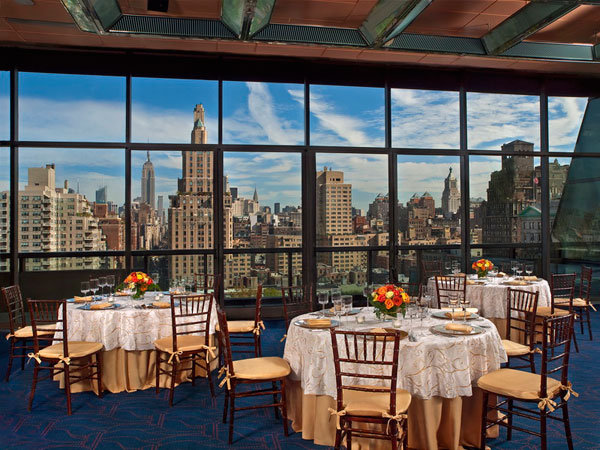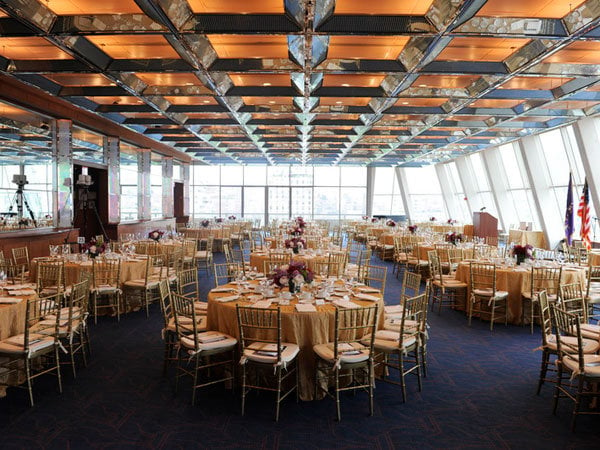 The wedding menu was equally low-key: Although guests dined on lobster tails and oysters, the main meal consisted of strawberry salad and a choice of three entrées (grilled, organic chicken breast, pan-seared halibut or vegetable Napoleon). For dessert, both regular and vegan wedding cake was served, along with sorbet.
Fr. George Deas, who conducted the ceremony, told the New York Post that: "If you went [to Baldwin and Thomas' wedding], I think you would be delighted. But I don't think it was anything to write home about."
The New York-centric couple joins a growing list of celebs who have made headlines for their "normal" wedding venues: Matthew McConaughey, Drew Barrymore and Mark Zuckerberg all tied the knot in their own backyards. This new, budget-friendly trend is a shocking contrast from extravagant celebrity weddings that took place just a few years ago. Who could forget Tom Cruise and Katie Holmes' ill-fated, $2 million fairytale reception in an Italian castle, complete with fireworks? The photos have been splashed onto newspapers and TV broadcasts ever since their divorce announcement last Friday.
I'll be honest: Unlike Baldwin, my New York wedding venue took up the biggest percentage of my total budget. With just one look at the oversized chandeliers and Beauty and the Beast-esque staircases, my fiancé Jason and I knew it was the room where we wanted to share our first dance as husband and wife. More importantly, their reputation for amazing meals is what really sealed the deal (Baldwin's catering costs weren't included in the rental).
Tell us: Which aspect of your wedding (e.g. dress, décor, venue) cost you the most? Do you think the less-is-more wedding venue trend is here to stay?
—Stefania Sainato