Recently, the Budget Guru's good friend Sharon Naylor spoke with some other wedding experts about the big bad flower budget. Here, she shared her tips with us.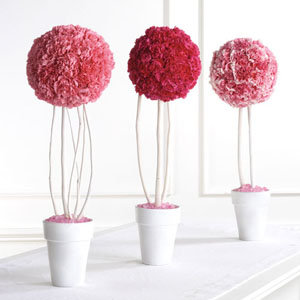 1. Go Green: "Use lots of greenery," says Michelle Rago, a wedding planner and Google's wedding spokesperson. "Using unique, dramatic greenery creates an elegant look. I like to use big leaves such as palm and banana leaves to make a big impression on a lower budget."
2. Use Just One Kind of Flower: Rago also suggests making a big impression on a budget with a grouping of one kind of flower, such as gladiolus.
3. Go Tall: Add dramatic height on a budget with branches like curly willow.
4. Use One Color: Georgianne Vinicombe, owner of Monday Morning Flower and Balloon Company in Princeton, New Jersey and Yardley, Pennsylvania says, "Centerpieces made with all one color of flower really pop on a budget, since the color stands out, especially when mixed with different textures for an elegant look."
5. Mix Glass and Water: Glass vases filled with water and colorful or clear stones — in which an exotic flower floats — is as impressive as a $200 floral arrangement.
6. Get Glass Vases in Unique Shapes: At the craft store, you'll find $5 to $8 rounds, ovals, and tall rectangular glass vases in which to hold your florals.
7. Use Elevated Containers: "We use footed containers for weddings when we are on a budget. Getting the flowers up off the table in a graceful way gives height and width to the arrangement, allowing the flowers to be showcased without needing tons of them."
8. Ask What's Free: Ask the site manager if you can use their collection of candelabras or elevated flower stands for free; most sites, and florists, have boxes of candelabras and stands in their storerooms.
— Susan Schneider
(Credit: HostesswiththeMostess.com)