After what would be known as two of the most powerful hurricanes in the U.S. Virgin Islands' history, Lauren and Marty posed for an engagement photoshoot, with the remnants of the decimated island serving as their backdrop, photographed by fellow hurricane survivor and island resident, Anne Bequette of STJ Creative Photography.
Marty and Lauren met over six years ago on the island of St. John. Marty was working as a boat captain, his boat rental office nextdoor to the restaurant where Lauren was bartending.
"I had heard that he had a little crush on me and eventually, he asked me to go boating one day. That was pretty much it. We've been together ever since," said Lauren.
Then, came the back-to-back category 5 hurricanes in 2017, destroying not only their beloved island of St. John and countless lives, but also taking Marty and Lauren's jobs, leaving them with a destroyed home and lack of livelihood.
Almost a year later, Bequette saw an opportunity to give back to the couple that spent their time rebuilding their community after the storms, and sought help from New York-based event planning and design firm LLG Events, with the hopes of giving Marty and Lauren a beautiful wedding, with no cost to the couple. LLG soon came on board, and began planning a dream wedding for the couple.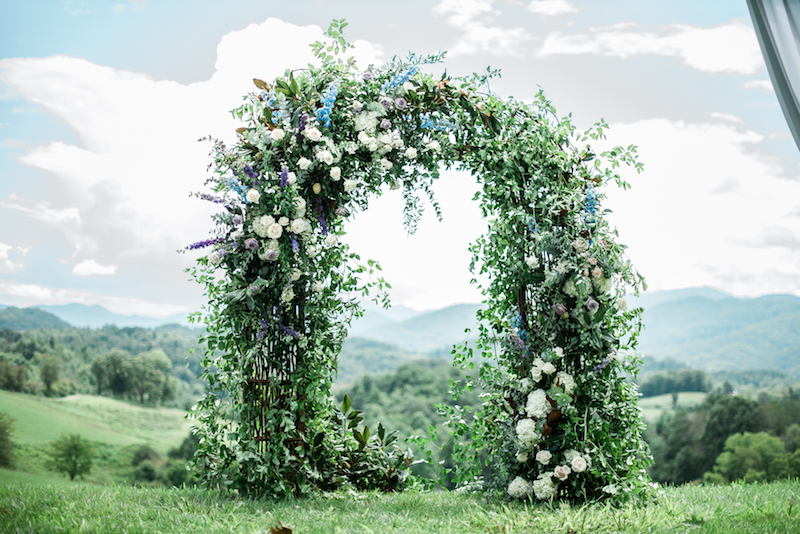 Photo: STJ Creative Photography
First up on the planning to-do list: flowers. LLG Events asked David Kimmel Design to join their makeshift team of do-gooders, supplying gorgeous floral arrangements for the wedding weekend. Next up: the venue. Marta Santamria, owner of The Venue and The Ridge in Asheville, North Carolina – ironically where Marty's family lives, volunteered her venues for the wedding weekend, providing catering, linen, and staff.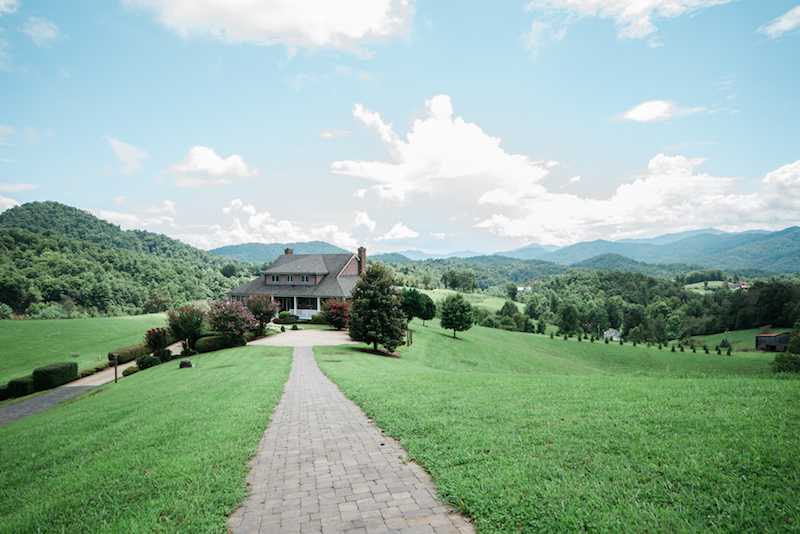 Photo: STJ Creative Photography
Pretty soon, the entire wedding began to come together – with festivities, food, and lodging all from total strangers.
"What Marty, Lauren and their island community experienced was unimaginable, and to get to see firsthand a bit of redemption in their lives on Saturday night, after all they've lost, was just beautiful," said Erica Berg of Collective Music Solutions, who donated a guitarist for the ceremony and DJ'ed the reception herself.
Soon, vendors – from Dogwood Designs Bakery to Joy Unscripted stationary, began to pour in from across the city, state, and country.
Marty and Lauren wed on August 11, 2018, among their family and friends, the $135,000 wedding weekend at no cost to the couple who had been through so much.
From the floral archways to donated time from countless strangers, Marty and Lauren's wedding weekend mirrored the couple's love and came to fruition with the help of goodwill and kindness from strangers. After the terrible storms, their wedding served as a rainbow of sorts for all to rebuild, both the island and their hearts.
For a full list of vendors, please see below:
Event planning, coordination and design: LLG Events
Photography: Anne Bequette, STJ Creative Photography
Floral design: David Kimmel Design
Venue (based on day):
Rehearsal dinner: Engaged Asheville
Ceremony venue: The Ridge
Rehearsal Dinner, Reception venue & catering: The Venue
Wedding dress: Martina Liana Bridal
Videography: Cassandra Isbell
Second photographer: Joel Conner from Shadow & Light Photography
Rehearsal dinner DJ: Phantom Pantone 
Rehearsal dinner DJ equipment and lighting: Guitar Center
Ceremony guitarist & Reception DJ: Collective Music Solutions
Hair: Je'Taime, Sugar & Spice Salon
Makeup: La Belle Visage
Accommodations: AC Hotel
Cake: Dogwood Designs Bakery 
Calligraphy: Joy Unscripted
Rehearsal dinner drinks: Wicked Weed
Farewell brunch venue: Highland Brewing Company
Transporation: Young Transporation
Wedding officiant: Mike DeSerio
To see more wedding inspiration, visit our Real Weddings page.
– Emily Goldman