Hi, Bridal Guide readers and future blushing brides! I am beyond excited to share my experiences with you as a fellow bride-to-be! Unlike some brides who have had every detail of their wedding mapped out since childhood, I'm truly a wedding planning newbie.
Since I wanted my wedding to reflect my relationship, I held off on deciding the details until I had the groom nailed down (the most important decision you'll make regarding the wedding!) I've pictured what kind of dress I think I'd want, but people have asked me questions I'm still trying to answer, like "Will your bridesmaid dresses be long or short?" and "Will you see each other before the ceremony?" However, here's what I do know: I found the man I will spend the rest of my life with and we have incredibly supportive families who are generously helping us plan an amazing wedding.
My fiancé Corey and I met while studying at Ball State University. After graduation, fate stepped in and we both ended up getting TV news reporting jobs in Evansville, Indiana. A year later, I knew I wanted to marry him and about two years after that, he asked.
My proposal took place the day before my birthday in late July of this year as we were walking along a beautiful canal in Indianapolis, where I live. I don't know about everyone else's fiancés, but Corey is not super emotional, so when he started to talk about our relationship and all the times we'd walked along the canal in the past, I got excited. When he pulled out a small, burgundy, velvet box, my heart skipped a beat.
After three and a half years together, we were engaged, even though he was still living three and a half hours away  from me in Evansville (I had since moved on to another career in Indianapolis). Soon after our engagement, fate stepped in once again and Corey got a job in Indianapolis. He moved here last weekend and I couldn't be happier—let the wedding planning commence!
We will be married on September 2, 2012 at a rustic yet romantic venue in Indianapolis. We have literally nothing else set in stone, but I find myself increasingly excited to plan every detail and I'm so thrilled to share the process with all of you!
—Nikki Stroud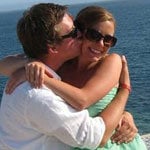 Nikki Stroud is a real bride who is learning every step of the way when it comes to wedding planning. She and her fiancé, Corey Allan (both Ball State alums), will be married in September of 2012 in front of their friends and family in Indianapolis. Glittering ivory lights, exposed plumbing and sleek wood floors depict their romantic yet rustic venue in the Downtown area. The couple hopes to incorporate personal touches to make the celebration truly reflect their relationship.