Without tooting my own horn too much, I feel like it's safe to say that I've been ahead of the game when it comes to booking wedding vendors—or, at least I was. With only three months to go until the big day, I recently had a minor freak-out and decided that my fiancé Corey and I needed to hire a videographer. Here's what happened...
Originally, we both decided that we didn't need a wedding video, so we focused our efforts on finding an outstanding photographer who would capture the emotion of our wedding day, instead. But then I had an epiphany: The wedding would be the only time I would get to hear Corey recite his vows.
This sad realization hit me one day when Corey and I sat down on the computer and typed out our entire ceremony together. It was the first time we had talked in depth about the ceremony wording, what to include and how long it would be. Sure, there will be pictures of us during the ceremony and I could re-read our vows (we're including both traditional and written vows), but it wasn't quite enough. The idea of possibly forgetting the sacred words we'll speak to one another at our wedding was devastating to me.
Also a friend of mine recently posted on Facebook that she was enjoying her one-year anniversary by cozying up on the couch with her husband and watching their wedding video. I was instantly jealous of that moment I would never have. That's when I decided that one way or another, we'd have a videographer. Now to tell the fiancé…
If money wasn't an issue, it wouldn't be such a big deal, but Corey and I are working hard to stick to our budget and we've done a pretty good job. Corey is even more concerned about staying on track than I am, so I was nervous to throw another vendor into the mix. My first plan of action was to do some research. I emailed a few local videographers to inquire about prices and found that most were willing to negotiate. Armed with optimism, I went to talk to Corey.
His reaction wasn't great (at least not initially), but I really can't blame him. He thought that all of our expenses were finalized and I sprung a new cost on him at the last minute. However, he realized why having a videographer was so important to me and agreed that reliving that day years from now is worth the added cost.
After our conversation, we selected a videographer who is giving us a pretty good deal and started to work that additional cost into our budget. Although adding a vendor in the final hour and breaking the news to my future husband was a bit stressful, I'm excited that we'll have such a special keepsake from our big day.
Photo Credit: iStock
—Nikki Stroud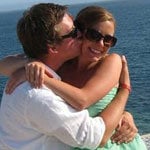 Nikki Stroud is a real bride who is learning every step of the way when it comes to wedding planning. She and her fiancé, Corey Allan (both Ball State alums), will be married in September of 2012 in front of their friends and family in Indianapolis. Glittering ivory lights, exposed plumbing and sleek wood floors depict their romantic yet rustic venue in the Downtown area. The couple hopes to incorporate personal touches to make the celebration truly reflect their relationship.