Planning an out-of-state wedding hasn't been exactly what I envisioned. Yes, looking for places to tie the knot has been fun, but the fact that my fiancé Chris and I have to do everything separately sucks, quite frankly. There are plenty of couples who have way worse problems than a long-distance engagement, so I'm trying to be grateful and slap a smile on my face. I know there's a light at the end of the tunnel and my logical side tells me that we'll still get to live happily ever after in the long run.
But if I can be honest with you all, I've been struggling to see the positive side of being apart. We haven't lived together yet because of my job (I work as the evening anchor at San Diego 6 News). Halfway into our relationship, I moved to Reno while Chris was in Sacramento, then I left Reno to be with him in Sacramento, but within one week, I got the position in San Diego, so I had to leave again. 

Here's a fun pic of my co-anchor and I.
Chris is working on moving here but he still needs to sell his house and get a job before we can move in together, so in the meantime, I've been living with my mom, which has actually been super nice. She's been my partner-in-crime throughout my entire wedding journey and we had so much fun scouting wedding venues together.

My mom and I during our venue-searching days.
So what's my problem?! I should be THRILLED to move on to the next steps: booking caterers, buying my wedding dress and planning my bachelorette party. Instead, I've spent a lot of nights crying and feeling so heavy-hearted that I began to want to back out of getting married. I've missed several deadlines on booking venues — they needed my signature about a month ago in order to go through with our initial plan of having an October wedding. I felt like the clock was ticking and I didn't know how to deal with the pressure. I believed the myth that wedding planning would be nothing short of lovely through every single step.
I did a lot of yoga during this time to help analyze my thoughts and emotions and reevaluate what is truly wrong. I want to marry Chris more than anything in the world but I won't want it to feel rushed. So, I had a heart-to-heart with him and explained that this doesn't exactly feel "right." I look forward to finding a place to live together more than I look forward to a wedding.
He was a little concerned at first because no man really wants to hear that his fiancée isn't excited about wedding plans. He told me from the beginning that he didn't want a long engagement — he didn't propose to be "engaged," he proposed to "be married." I get it, and I love that he wants me to be his wife sooner rather than later, but I want to actually BE together first, as in under the same roof. I learned that it's important to discuss any concerns with him more often so that the stress doesn't build up and come out wrong. Getting married is about the two of us, and that's what matters most.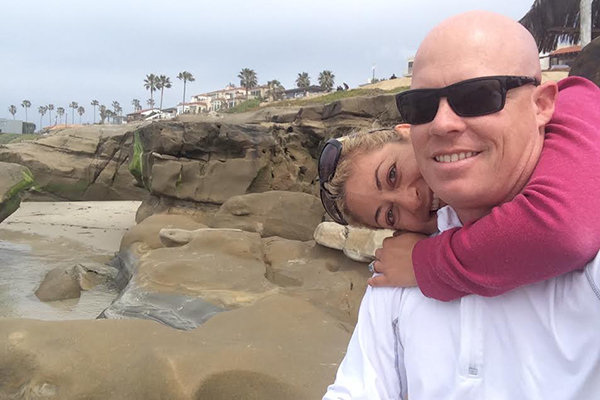 When Chris comes to San Diego to visit, I don't want to let him go!
Chris accepted the idea of postponing our wedding and I can't tell you how relieved I feel. We are thinking of getting married in Spring 2015 instead of this October. I can now breathe easy and just enjoy my new job in this new city without the added stress of wedding planning solo. I am grateful that he understands where I am coming from because the last thing I would want is to disappoint him. I think that's why I was having such a hard time signing off on the venue. I've accepted that deep down, I didn't want to make every major decision through texts and emails with my fiancé.
I think once we finally live together, the perfect place will pop out at us when we're out to dinner or at the beach. The entire planning process will be so much more special because we'll be making decisions as a couple, rather than having my groom be limited to looking at everything via a computer screen.
BG brides, I'd love to get your advice: Is it a better idea to postpone or would you rather commit and follow through no matter what? Has anyone else had to prolong their wedding plans, and if so, why?
— Neda Iranpour
P.S. Have an interesting wedding planning story to share? Apply to become a real bride blogger here ►

Neda Iranpour's fiancé, Chris, proposed to her after she ran three marathons in three days around Lake Tahoe. In keeping with the couple's adventurous spirit, they plan to have a four-day destination wedding somewhere in the United States. They can't wait to enjoy a fun-filled wedding experience with their guests, complete with paddleboarding, kayaking, running, dancing, sipping fine wine and drinking craft beer. Chris is a fun-loving, dedicated police officer and Neda is an Emmy-award winning news anchor who loves to share stories, even her own.