About nine months before our wedding took place, my now-wife Claudia and I were entertaining some friends when someone asked who was going to officiate our ceremony. Without missing a beat, our dear friend Patty Woods proclaimed that she would. After the laughter died down, she stated that she would love to officially unite us in marriage. Having no previous experience with officiating, we didn't think much of it, and we assumed that the likelihood of this actually happening was very small.
A few days later, to our surprise, Patty presented us with the requirements needed to legally officiate a wedding. Armed with this information and her willingness to perform our wedding ceremony, we made our decision: Our best friend was going to marry us! Needless to say, it was all very exciting.

Although the process of obtaining her license was relatively simple, it did require diligence on Patty's part. First, she researched our state's minister credentials (we live in Indiana). There are many websites that can aid in this process; we used firstnationministry.org to obtain a step-by-step application. There are different packages available based on the duration of the license (two years, five years or 10 years). After paying a processing fee that cost around $32, Patty completed and submitted her application. Within a week, she received her officiant license from the State of Indiana, as well as detailed procedural requirements and instructions for filing our wedding license. 
Now that the mandatory criteria was on hand, it was up to us to personalize the ceremony. We had several meetings with Patty to determine the overall flow — we really wanted to capture the moment and we preferred not to use a generic wedding ceremony template. We knew we wanted to incorporate a moment of silence for loved ones who could not be there with us, a sand ceremony to represent the blending of families and a special poem that we could share with our guests.
Unsurprisingly, writing our own vows proved to be the most challenging aspect of this process. We wrote our vows to each other in private and had one-on-one meetings with Patty to make sure that we were all on the same page. Both Claudia and I wanted them to be heartfelt with a small touch of humor to match our personalities (without turning the ceremony into a stand-up comedy routine). Having Patty review our vows numerous times was the key to making them perfect.

My Vows:

I promise to love, respect and cherish all of our days.
I promise to open my heart and accept all of your qualities.
I promise to try my best to keep my mail off the countertop so it doesn't take over our space and drive you crazy.
I promise to respect all of your hobbies, even the ones I'm not too fond of (that collect dust around the house).
I vow to always love and care for all of our children and to be the best mother and wife that I can be.
I promise to always keep our family close to my heart and to embrace all of life's blessings.
I promise to always be true to you and myself.
My Groom's Vows:

I promise to love and respect you every day for the rest of my life.
I promise to support and encourage all of your goals and ambitions.
I promise that as long as I breathe, you will never endure hardships alone.
I promise to hold your hand on walks and push you on the swings at the park. (And when we are old, I will hold your players cards and push you in your wheelchair in the casino.)
I promise to laugh and cry with you.
I promise to love, teach, protect, and raise "your" children as our children.
I promise to always keep our love new and exciting.
And last but not least...I promise to walk beside you, hand in hand, throughout every step of our journey together.
Watch our ceremony here and check out 30+ examples of wedding vows!
Patty was involved in every aspect of the ceremony, including coordination of music during certain predetermined moments. She began the ceremony with a brief introduction, then a moment of silence followed by a prayer. Claudia and I took turns reading a few lines from our favorite poem to each other and our guests. Next, we had the unification sand ceremony with our children. This required some planning and rehearsal but it was perfect. Afterwards, we recited our vows to each other and were finally proclaimed as husband and wife.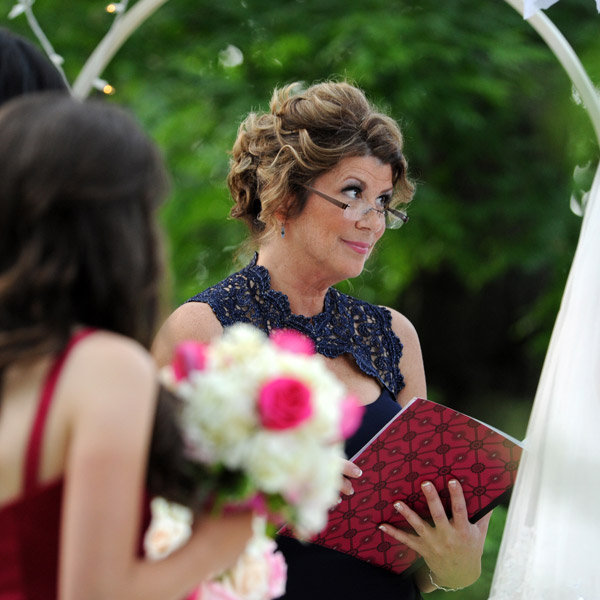 In my opinion, ceremony officiants often get overlooked and may even be included with the venue rental. But with a little planning, research, and work, this aspect of your wedding can go from routine procedure to a magical experience. Words cannot begin to explain how special our day was because our best friend married us. During times of anxiety, she was very calming and reassuring. She acted as the voice of reason when emotions may have otherwise taken over. She was with us during one of the most memorable moments in our life, and for that, we feel extremely grateful.
Photo Credits: Stephen Martin Photography
—Rigo Garcia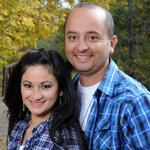 Meet the winners of our Pin to Win a Dream Wedding Design by David Tutera Contest, Rigo Garcia and Claudia Hernandez! Claudia is a registered nurse in the surgery department, which is where she met her fiancé Rigo Garcia, a nurse anesthetist. They became best friends and fell in love with very little effort, a trend that continues today. They were married on June 8, 2013 and they planned a fabulous wedding filled with traditions, entertainment, surprises, and many unique ideas inspired, in part, by David Tutera.