On my wedding day, I want to not only look stunning, but also express my fun personality through my hair and makeup. Knowing how important these beauty decisions would be, I started the process early on, and did a few things that made all the difference.
First, I was pleasantly surprised to learn that many salons will offer to do a free or discounted trial for brides—all you have to do is ask. They explained that it's worth the effort on their part because they book more brides (and even bridal parties) this way. I made an appointment with Salon Trisse in Dyer, Indiana, which came highly recommended by our venue.
I loved all of the different looks so much that the girls at the salon offered to come to my wedding to switch up my hair and makeup throughout my wedding day! Gretchen, the makeup artist, suggested doing softer makeup for the ceremony, moderate makeup for the reception, and an even more dramatic look to cap off the night. Also, knowing that they'll be there to help me with touch-ups is very comforting. 
This is what we came up with—which look is your favorite?
Look #1 Soft Curl with Tiara and Subtle Makeup
This demure, romantic look consisted of light eye makeup with rosy lipstick and bronzer.
Look #2: Elegant Sideswept Hair with Moderate Makeup
In the second option, they pinned my hair to the side. I love the fullness and texture! They added some extra makeup around the eyes, which made all the difference. 
Look #3: Vintage-Inspired Up-Do with Dramatic Makeup
For the last look, I thought it might be nice to have my hair up, to help keep cool while dancing! With the curls already in place, it was easy for Allison to re-pin my hair and give it a chic twist. This is the most dramatic makeup, by far.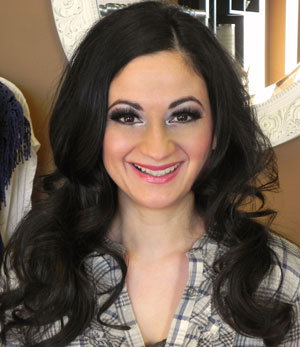 One last "surprise" will be releasing the updo and wearing my hair down, as pictured on the left. 
I feel fortunate that I found such a wonderful beauty team (Chaunah, Gretchen, and Allison) on the first shot, but don't be afraid to do more than one trial, if you're not 100% happy with the results. I can't stress the importance of testing out different looks with your hairstylist and makeup artist, rather than winging it on the wedding day. Don't forget to bring jewelry and hair accessories, which will give you a much better idea of the look as a whole.
Happy planning, everyone! 
—Claudia Hernandez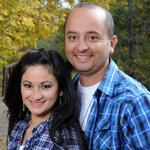 Meet the winners of our Pin to Win a Dream Wedding Design by David Tutera Contest, Rigo Garcia and Claudia Hernandez! Claudia is a registered nurse in the surgery department, which is where she met her fiancé Rigo Garcia, a nurse anesthetist. They became best friends and fell in love with very little effort, a trend that continues today. They will be married at Meyers Castle in Indiana on June 8, 2013. They are planning a fabulous wedding filled with traditions, entertainment, surprises, and many unique ideas inspired, in part, by David Tutera.