I never get sick of telling the story of How I Found My Dress and How It Made Me Feel. Follow my journey to learn what to expect before you step into your bridal salon.
1. Bring at least one person who knows you EXTREMELY well and can read your facial expressions.
The first store I went to had about 10 dresses and they all looked horrendous on me. I panicked and my mind went into meltdown mode: What am I going to do? I hate everything in this shop! Oh my god, am I really that kind of a bride? The kind that hates everything? My maid of honor saved the day by Googling the nearest bridal shop and hightailing me out of there. She is Zen, in the form of a tall blonde girl. BG brides, when you're standing there in a big dress and random people in the store are "ohh-ing" and "ahh-ing" and all you want to do is take it off, you'll need an honest, reliable companion to say, "I love it. But it's just not you."
2. You probably won't buy the first dress you swear is The One.
When I walked into the Hobnob bridal boutique, I felt what it must be like to step into heaven. It was beautiful. White, ivory, and champagne-colored dresses floated around me everywhere. I told my lovely assistant Jac that we're having a vintage-styled wedding with a touch of modern (because Groomie can only handle THAT much vintage). I originally envisioned wearing this lace dress with a keyhole back, fishtail silhouette, no train, and a lace-trimmed veil:
Typing it now, I don't know what I was thinking. The moment I put the dress on, I knew it wasn't for me. My big "ahhh" moment was actually one big "blah" and I felt quite awkward in the gown. I couldn't feel more relieved when Jac shouted, "NEXT!"
3. Trust your assistant.
I was lucky to get someone who really just wanted to make sure it all went well for me, plus it helped that she'd been doing this for about 40 years! Being in retail myself, I never like it when people assume I should know everything about what I sell. But the ladies at Hobnob? They knew. The first dress Zac pulled out for me was a Mon Cheri for Sophia Tolli (pictured below). 
Jac had listened to what I said about how I wanted my gown to have a vintage flair, so she got me a dress with a drop waist. She recommended that petite brides like myself should stay far away from the fishtail silhouette. She put me in an A-line skirt as I am slightly pear-shaped and it totally flattered my figure! Ladies, we've officially found a winner.
4. Destination brides, your dress is the most precious cargo you'll ever pack.
Picking a dress knowing it'll have to "travel well" was at first a bit of a bungle. I didn't want to have to spend extra money on getting the dress to Vegas. So I simply asked around with other destination wedding brides and was informed that you basically pack your dress in as carry-on luggage. That way, you won't have to feel incredibly uneasy having anyone else handle it but yourself (See exhibit A: baggage handlers who pretty much yank and throw everything in sight). I also recommend shipping all of your other wedding-related items back to your hometown while you jet off to your honeymoon.
So, lovely BridalGuide.com readers, what was your wedding gown shopping experience like?
—Theresa Misso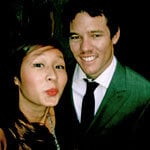 Theresa Misso is a real bride who originally hails from Singapore, but is currently living in Australia. This vintage-loving college student is getting married in Las Vegas (nearly 9530.99 miles away!) in an intimate, 30-person ceremony. Expect pops of color and lots of clean lines in her untraditional November 2011 wedding to fiancé Luke William Anthony.