Despite being engaged for six months, it felt surreal to call bridal salons and schedule appointments to try on wedding gowns. I spent the previous months researching various bridal designers, trying to determine which collections best fit my style. I found myself drawn to the designs of Amsale Aberra, founder of the eponymous Amsale label and the creative director for Christos and Kenneth Pool.
After careful consideration, I thought it would benefit me to visit more than one bridal salon, so I ultimately scheduled appointments with Priscilla of Boston, the Amsale Flagship Store, and Kleinfeld.
First up: Priscilla of Boston. I arrived at the salon with my parents and two sisters, Lisa and Laura, only to be kept waiting for 30 minutes. The wait didn't faze me – I was the bride-to-be looking for my wedding dress and it's very difficult to come down from that high. I tried on several dresses and by my fifth gown, my whole family was convinced that I had found The One.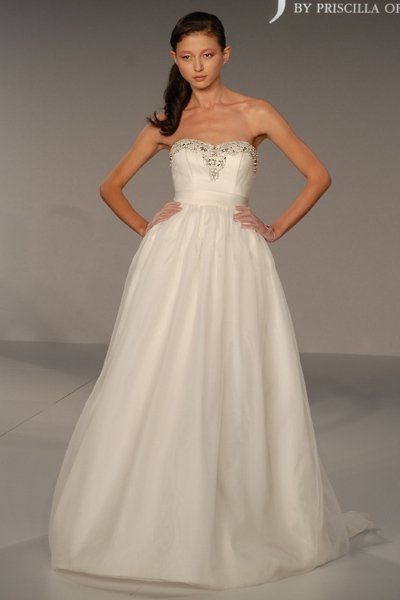 Priced at $1,975 (way under budget—score!), Jewel Style JL208 was a simple, strapless ball gown with an embellished sweetheart neckline (pictured above). As I gazed upon my reflection, I noticed my family standing around me, teary-eyed. Although I was touched by their reaction, I wondered, "Why aren't I crying?" As I mentioned in last week's post, I am obsessed with TLC's hit show Say Yes to the Dress, where I've watched countless brides cry as they stepped into their dream dress. I decided not to purchase that dress and left the salon contemplating my shopping experience. "I think it's the one!" exclaimed my mother on the car ride home. "It's very pretty," I replied, "but, I didn't cry." My family began to convince me that I watched way too many bridal reality shows and needed to be realistic when shopping for my own dress.
My trip to the Amsale Flagship Salon was fast approaching and I hoped for a better outcome. I ventured into Manhattan with my mother, my future mother-in-law, and my two sisters. The salon itself is stunning: modern, elegant, and extremely organized. The appointment began right on time and I walked around the salon with my family, pulling gowns.
Below are some dresses that made it into my dressing room:
Primrose by Christos Bridal
Harlow by Amsale
Amour by Kenneth Pool
The sixth gown I tried on was Kenneth Pool's "Amour" (pictured above, third from the top). It featured a sweetheart neckline, embellished natural waist, and full skirt. My family began to ooh and aah, and I liked this gown more than the POB dress, but there still wasn't any waterworks. I was frustrated as I trudged back to my dressing room. My consultant, Lauren, comforted me, reminding me that not every bride has that strong emotional reaction that I was hoping for.
Then my sister Lisa approached me, urging me to try on a gown that was hanging in my dressing room prior to my appointment. Although the gown was stunning, I originally passed on it because the style wasn't what I thought I had wanted. Laura chimed in too and before I knew it I was stepping into the dress. The moment my consultant zipped me in, I began smiling from ear to ear. By the time I walked out into the main area where my family waited, tears began to fill my eyes. My consultant exclaimed, "You're crying!" I was beaming as she placed a veil in my hair. I stood there on the pedestal and said, "This is the dress I'm going to wear when I marry Michael!" My family was ecstatic, yet shocked—my wedding was still a year and a half away and I had already found my wedding dress. I purchased the gown then and there and canceled my appointment with Kleinfeld as I exited the salon.
My advice to BG brides? Research, research, research! Spend time perusing designers online to determine which one may work for you and, most importantly, be open-minded. Without my sisters' wisdom and encouragement, I would have missed out on my dream gown. Here's hoping your eyes fill with happy tears too!
Crista asks: How did you react when you found your wedding gown?
Photos courtesy of the Ring Bearer
—Crista Camerlengo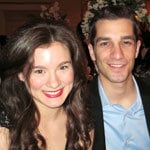 Crista Camerlengo is a real bride and the co-founder of Style She Wrote, who will tie the knot in July 2012 with Michael, her fiancé of six years. This chic NYC couple describes their wedding style as "modern romance"—fitting for a pair who had their first date at a quaint seaport and became engaged in the same spot, overlooking the Brooklyn Bridge. This fashion-forward blogger loves to infuse her traditional taste with unexpected contemporary accents.