Right now, Corey and I are in the middle of deciding who we want to DJ our big day; it's a big decision! Here are some dos and don'ts we're following to find the best vendor for our music preferences.
Photo courtesy of Scratch Weddings

DJ Dos:
1. Make it a party! A DJ acts as your wedding's emcee or host. Their enthusiasm (or lack thereof) will guide the overall feel of the entire reception. If they sound excited, your guests will act excited. I want a DJ who will lead the party and make it fun.
2. Play the requested songs. If you're like me and have a very specific list of songs you want to hear at your wedding…then they should be played! Select a DJ who will spin your desired tracks at some point during the festivities. Whether it's you and your hubby, parents, or family members, someone is spending good money for their services, and it will only stress you out if you choose someone who demands free reign.
3. Get a feel for the couple's music preferences. You need to be able to trust your DJ. This relationship between the couple and the DJ will be important come "game day." You'll want to make sure your DJ understands the music you and your future hub enjoy. For us, a challenge will be finding a DJ who can naturally transition between classic rock, indie rock, dance songs and rap (hey DJs, who's ready for a challenge?)!
DJ Don'ts:
1. Making it about him/her. Sure, a great DJ will take control of the night's entertainment, but it's a slippery slope: I don't want someone who feels the need to narrate every song. A good tip is to check out real bride reviews for the DJ's you're considering—if they have a reputation for being a bit too tacky or annoying during receptions, you'll find out about it. Talk to candidates on the phone or in person to see if your personalities jive well together. 
2. Looking unprofessional. Speak to your DJ ahead of time about attire requirements for your wedding. He/she will look out of place and distracting if they're wearing jeans when everyone else is in formalwear. On the flip side, if you're having a more laid-back wedding, make sure they know to leave the tux at home.
3. Failing to transition well. When you're out at a club, it's rare to hear a song in its entirety. I want a DJ who's ready to keep the party flowing by transitioning from one great song to another. They should also be able to effortlessly switch between slow and fast songs, as well as new and older hits. If they're playing 4 ½ minutes of the same song, it might get kind of old.
Tell us: Have you booked your DJ yet? Which vendor did you choose and why?
—Nikki Stroud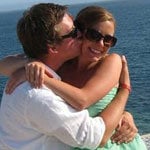 Nikki Stroud is a real bride who is learning every step of the way when it comes to wedding planning. She and her fiancé, Corey Allan (both Ball State alums), will be married in September of 2012 in front of their friends and family in Indianapolis. Glittering ivory lights, exposed plumbing and sleek wood floors depict their romantic yet rustic venue in the Downtown area. The couple hopes to incorporate personal touches to make the celebration truly reflect their relationship.