Now that our wedding date has dropped to a two-digit countdown (YAY!), I thought I might share with you what this has meant to us in numbers and dollar signs. I also decided it would be good to give you lovely ladies an honest look at why we chose the things we chose, why we didn't choose the things we left out and which vendors we thought were worth spending the big bucks on!
1. Ceremony location: $2,500
As soon as we decided to get married in Vegas, we knew we didn't want a chapel wedding. (Exhibit A: That scene in The Hangover when dentist Stu weds a stripper in a gaudy chapel overflowing with fabric flowers. Exhibit B: Britney Spears—enough said.) Besides, despite The Man and I not being The World's Most Outdoorsy Couple, we've always wanted to be married in the sunshine, out in the open. We picked The Valley of The Falls (pictured above) after we realized that our first-choice, Mandalay Bay, didn't offer their Cabana Wedding Ceremony between September and February. 
2. Reception venue + Catering: $4,000
For our 3-course meal, we will be serving salad, steak, and wedding cake at The Excalibur Hotel, costing us just over $50 per person. We also purchased a 4-hour alcohol package including our signature drink, "The Singapore Sling," (to represent, ya'll!) for $40 per person. (Editor's Note: This cocktail was invented in 1915 by a bartender and contains gin, cherry heering (liqueur), benedictine DOM, cointreau, grenadine, lemon juice, a dash of angostura bitters and fresh pineapple). Total cost per person: Just under $100.
3. Floral (ceremony): $400
I went into the wedding flower planning shindig with two thoughts: go seasonal and less is more. I love the look of lush peonies, but it is for one day and sadly, flowers don't last forever. So I went with red gerber daisies (for the bold pop of color I want) and baby's breath (to add volume). My venue coordinator is managing the florist, so I only had to communicate my wishes to her, which was a huge help! 
4. Photography: $800
My cost covers 6 hours of footage. Since I myself am a photography enthusiast, I knew if we found someone whose business was still "in the making," we'd be able to save money while still getting quality pictures from a photog who would constantly be working at getting better. We found Joey Allen via another bride whose pics I'd admired. Over the months, I have been able to preview other weddings he has shot, and it is wonderful to watch his business grow— Luke and I have complete faith in him!
5. Stationery + Postage: $300
We used Minted for our invitations. They were actually designed to be Save-the-Dates, but Minted allows you to personalize everything—from font type to the positioning of your wording—so we were able to rejigger them as wedding invites. I never expected to care that much about stationery until it came to pick it for our big day. Minted made it so easy, and the price was pretty awesome, too.
6. Transport: Unknown as of yet
We are still in the midst of hunting down a limo service that will drive us around to take photos after the ceremony, before our reception. Joey, our photographer, has all these lovely ideas and now we just need a transportation unit to get us to all those beautiful spots.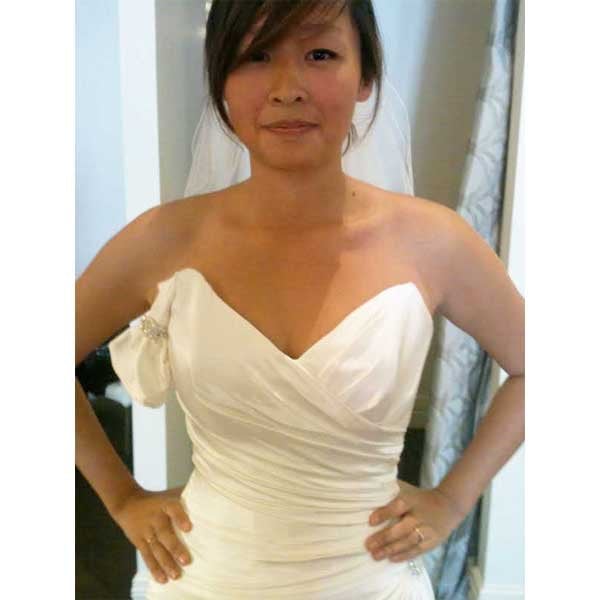 7. Attire: $3,350
I delved into my wedding dress in last week's post, but basically, it's amazing. Okay, okay, I'll share a touch more:  I scored my Sophia Tolli beauty for just over $2,000, including a flyaway veil that just skims my shoulders. I love it! My shoes are Badgley Mischka and cost just $150 online. The Mister got a suit made for $900—we have yet to discuss the footwear department because it's just too much for him to tackle both in one go.
8. Favors: $200
We are giving out personalized playing cards, since they tie into our Vegas theme.
9. Rings: $1,000
My diamond wedding band with a slight curve (from Michael Hill) cost us $700 and Luke's will be $300. We are getting him a titanium ring and engraving it with the message "This Old Love – Nov, 8 2011" because we are dancing to "This Old Love" by Lior as our first dance.
10. Pre-wedding pampering: $500
We are both getting an allowance to get massages on the day before the wedding. I think this is very essential: I'm such an anxious person by nature that I will probably require quite a bit of relaxation to avoid stressing over all of the details. Besides, The Boy would never pass up a good excuse for a massage.
11. Webcam: $60
With our wedding being so far away from our extended family, we have opted to broadcast the ceremony online so family and friends who cannot be with us in person can still catch the entire ceremony on the internet! How cool is that?
Theresa asks: BG brides: What does your budget breakdown look like?
—Theresa Misso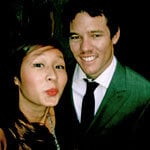 Theresa Misso is a real bride who originally hails from Singapore, but is currently living in Australia. This vintage-loving college student is getting married in Las Vegas (nearly 9530.99 miles away!) in an intimate, 30-person ceremony. Expect pops of color and lots of clean lines in her untraditional November 2011 wedding to fiancé Luke William Anthony.