With less than five and a half months to go, Michael and I visited our jeweler last week to design our wedding bands. He opted for a solid platinum band, while I selected a platinum diamond eternity band with the same hand-carved leaf detailing featured on my engagement ring. I love that my ring has a classic design yet enough accents to make it entirely my own. Display your eternal commitment with a ring that is just as unique as the love you share for one another.
1. Think Pink
Love how bridal designers are infusing color into their gowns, but not sure if you could pull off pink on your wedding day? Embrace the trend by selecting a delicate pink gold wedding band, instead, like this 18k Cartier band set with a diamond. Priced at $800.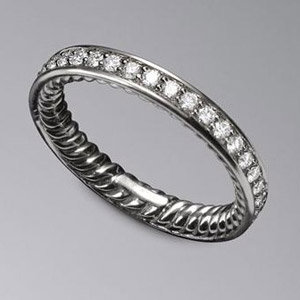 2. Get Twisted
A classic diamond eternity band with a twist. Featuring David Yurman's signature cable detailing, this platinum band contains .74 carats of diamonds. Priced at $3,950.
3. Infinity and Beyond
Featuring the symbol for infinity, this elegant Tiffany ring is set in platinum and features .13 carats of diamonds. Priced at $2,300.
4. Heart of Hearts
This Paloma's Crown of Hearts band serves as a reminder that his heart is always in your hands. It features two-tone gold and round brilliant diamonds totaling .16 carats. Priced at $2,900.
5. Say It with Words
Simple and sweet, this "I Love You" band features elegant script inspired by handwritten invitations. Priced at $1,175 for platinum and $125 for sterling silver.
Crista asks: Which band is your favorite?
— Crista Camerlengo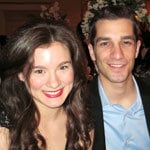 Crista Camerlengo is a real bride and the co-founder of Style She Wrote, who will tie the knot in July 2012 with Michael, her fiancé of six years. This chic NYC couple describes their wedding style as "modern romance"—fitting for a pair who had their first date at a quaint seaport and became engaged in the same spot, overlooking the Brooklyn Bridge. This fashion-forward blogger loves to infuse her traditional taste with unexpected contemporary accents.