Hey, gorgeous! I'm Angelica, the newest bridal blogger, and I couldn't be more excited to share my journey to the aisle with you.
I gush about amazing wedding inspirations on my blog, The Bridal Detective, but I must confess that I have had an equally crazy ride with my future groom, Edwin. After a five-year engagement (complete with a long distance factor), you're bound to learn a few things. What may surprise many is that we've planned our wedding twice before: we had to cancel it both times due to an economy that just isn't pretty and a culture clash that cost us not just the wedding deposits, but our voices as well.
I met Edwin 13 years ago, before Match.com and eHarmony, when there was just instant messenger (remember the good old days?). Somehow he ended up on my buddy list, and after a few interrogations about how he magically got there, we talked daily for six years. He asked to finally meet his best friend, and like a good Southern girl, I happily obliged—so began our life together. The first time that he hugged me, I knew he was "the one"...I felt complete, as if I'd been missing something my entire life, and it was him. 
I must confess that I've never had that dream engagement scenario. You know the one: that photo every wedding fanatic shares on Pinterest, hoping that their future groom will somehow re-enact it by stashing an award-winning photographer in the bushes (all while cueing snowfall for a perfect backdrop). Yes, that image. My guy asked me to be his wife over the phone the night before Thanksgiving. Now I know that's not the most romantic proposal, but he said everything a girl could ever ask for, and given the long-distance factor in our relationship, it was beyond fitting. (P.S. He did ask me to be his wife again in downtown St. Augustine, after a carriage ride underneath the stars by the marina, but he first time he popped the question will forever be my favorite!).
We're planning a destination wedding in the land of la dolce vita, Italy, and it's entirely "us." My wedding venue is my latest obsession, but what I really adore most is a stunning gown—I'm known for sharing the best couture creations around Bridal Land. In addition to the eye candy overload I will gladly send your way, I'll provide tips on how to survive a chaotic engagement. Although our journey has had our fair share of bumps, I wouldn't change a moment because at the end of the day, I'm marrying the greatest guy I know, my best friend. Come along for the ride!
Here, some of the inspirations for my Italian wedding: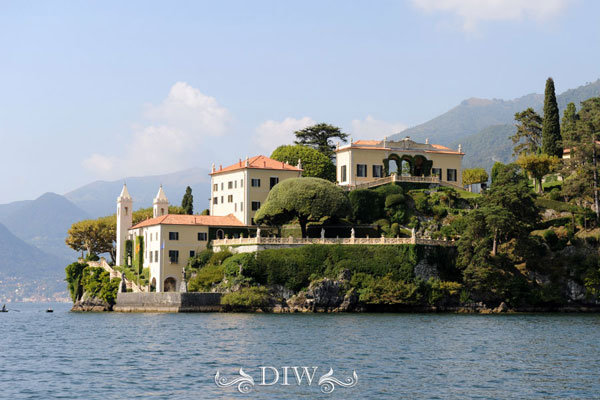 Villa Balbianello
Photo Credit: Distinctive Italy Weddings
Villa Balbianello
Photo Credit: Jonathan Becker/Vanity Fair
Ceremony Setup at The Resort at Pelican Hill
Photo Credit: Kimberly Bradford via Belle the Magazine

My Favorite Wedding Gown: Marchesa Style "Delilah"
Photo Credit: Maloman Photographer
Reception/Tent Décor
Designed by Mindy Weiss via The Bridal Detective

Photo Credit: Simone and Martin Photography
P.S. I'm going to let you in on a little surprise that I'm planning for my groom-to-be. In just a few short weeks, he'll return home after a year of volunteer work in Armenia. It's been far too long since I've seen his handsome face, and so many things have changed since then (surprise: one change is that I've lost over 30 pounds). Stay tuned for our reunion "first look" captured on film—it's not to be missed.
—Angelica Bragg


Angelica Bragg is a real bride and the blog maven of The Bridal Detective. She and her fiancé, Edwin Mirzayans (a published author), are planning a destination wedding at the Italian Lakes in Summer 2014. With a stunning backdrop and "la dolce vita" attitude, the couple's soirée will be intimate and romantic, all while celebrating two cultures. When the couple returns from their Italian road trip honeymoon, they will throw a glam after-party with all of their loved ones back home in Jacksonville, Florida.